What You Need to Know About Pressure Washing in Brighton, CO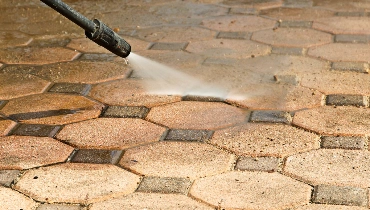 Property owners in Brighton, CO take their home maintenance tasks very seriously. If they are not busy skiing or snowboarding in the winter or doing other outdoor activities in the summer, they're likely taking care of their homes by ensuring that all routine maintenance is complete. Maintaining your outdoor living space is one of the most essential tasks and should include Brighton pressure washing.
It's often not until snow melts that you get to see what winter has left behind, and that wear will build over many years. Over time, your deck or patio will get covered with grime, your siding will stain with layers of dust, dirt will build up on your fence, and all your exterior materials will slowly deteriorate. It's time to make a list and keep them clean. Not only so that they look great, but also so that the layers of debris don't hide other hidden problems. Unfortunately, that's easier said than done.
If you grimace when you picture yourself scrubbing all the hardscape on your property, don't worry, your local Brighton handyman from Mr. Handyman of Brighton and Surrounding Area has the skill and expertise to help save you an immense amount of time. We bring many years of experience in helping out our community with home maintenance and repair services, from gutter and downspout cleaning to installing outdoor furniture to pressure washing. Brighton CO homeowners can count on us to bring back their home's natural shine.
How On Earth Do You Pressure Wash?
Pressure washing—sometimes called power washing—is a method for quickly and completely cleaning many surfaces by blasting them with powerful jets of water. The high-pressure jets have psi levels going as intense as 3000, more than enough to clear away moss and grime that has been settling for years.
Pressure washers differ in size and types, and Brighton CO residents should always consult a certified Brighton handyman to inspect any surface material first to determine whether it's in a good enough condition to withstand the force of a power washer. Choosing the right psi and cleaning solution is an important factor to keep in mind. Commercial cleaners often contain chemical agents, whereas enzymatic cleaners are more environmentally-friendly and biodegradable. If you're unsure about which type of equipment you need, don't hesitate to consult a pro.
What Are The Key Areas That Need Pressure Washing in Brighton, CO?
Residential and commercial properties in Brighton need a thorough inspection of their exterior surfaces each year, especially those that may have suffered cracks from freezing temperatures. If you get lucky and no major repairs are required, then you can look at areas that need to be cleaned, so that you can recover their appearance and ensure they're working properly. Be sure to
Keep an eye out for any signs of grime, dirt, moss and other debris built up around the exterior of your home or business, and be sure to check all the key areas around your exterior, including:
Hardscape exteriors
Since Colorado's soil is primarily heavy clay, you will most likely find hardscape environments on residential properties. However, many dedicated gardeners still make the effort to maintain garden beds.
Do you have a bed border that separates your unique plants from dirty concrete or perhaps some rock arrangements that became grimy over the winter months? If so, Brighton pressure washing will recover your home exterior's original looks. Our Brighton handyman will be careful and make sure your plants are safe.
Decks
You don't have to create a mixture of dish soap and vinegar to scrub off built-up grime on your deck in Brighton. Pressure washing can be done expertly by a trained service professional within an hour, and that includes deck board inspection for any additional repairs you may need. This way, you can rest assured that you can safely invite people to enjoy your deck. Pressure washing is also a perfect way to clean your deck before applying a new layer of sealant to protect it further.
Siding
Have you already received a full inspection stating that your siding is free from cracks and other damage, and you can safely go ahead with pressure washing? Brighton CO homes have a great variety of siding types, from wood to fiber cement to vinyl, and not all materials are suitable for pressure washing. That's another reason why it pays to hire a pro, especially if you can't determine how low or high you should set the pressure.
In most cases, it will depend on your siding's overall condition and age. Soft washing vinyl with biodegradable concentrate or a vinegar-based mixture is fine, as well as using a low pressure of around 750 to clean fiber cement. Your local Brighton handyman will be able to give you the best solutions and use their judgment to ensure that your siding isn't damaged during the cleaning process.
Fences
Whether you have wood, vinyl, or steel, dirt and grime will develop over time, especially if your fence is close to touching the ground. You will get the best cleaning results from pressure washing. Brighton, CO residents who take advantage of professional service can expect a spotless exterior space. You can also rely on your handyman for additional fence maintenance services at the same time, including sanding, resealing, and termite checks.
Rain Gutters
Many homeowners express dread toward gutter cleaning, and we don't blame them. Not everyone is equipped with gutter scoops and a well-inspected ladder, but it still needs to be done at least once or twice a year, and depending on your gutter's condition, Brighton pressure washing is an option.
Your fully insured Brighton handyman will first inspect your rain gutter's health as well as your soffit and fascia before deciding on pressure washing. Brighton CO technicians may decide that it's safer to use a gutter scoop instead and give you options of how to enhance your eavestrough's performance.
Other Areas You Can Pressure-Wash:
Driveways
Garage floors
Walkways
Tile stones
And more!
Whether you have clogged gutters, tough oil stains on concrete or merely stubborn grime that you need to get rid of, exterior cleaning has never been easier with Mr. Handyman. Not only do we clean, we provide you with the necessary diagnosis and inspection services to ensure the exterior surface of your property is in excellent condition and will keep you and the rest of your home safe.
Need Brighton Pressure Washing? Count On Mr. Handyman To Get It Done!
Are you in Brighton, a surrounding area such as Thornton or even a nearby community in Denver, like Central Park? If so, rely on our dependable experts for professional pressure washing services. At Mr. Handyman of Brighton and Surrounding Area, we care about delivering exceptional standards of workmanship and customer service.
Add residential and commercial pressure washing services to your seasonal maintenance and let us handle the job for you.
Feel free to give us a call today to learn more about our wide range of Brighton handyman services, for everything from pressure washing to drywall repair.