Maintaining the condition of your home's drywall is crucial for enhancing its value and overall aesthetic over time. If you require top-notch drywall repair services, installation solutions, or comprehensive finishing packages for your home's drywall or ceilings, look no further than Mr. Handyman. Serving the areas of Wilmington and Cape Fear, Mr. Handyman is your trusted partner for all your drywall repair needs.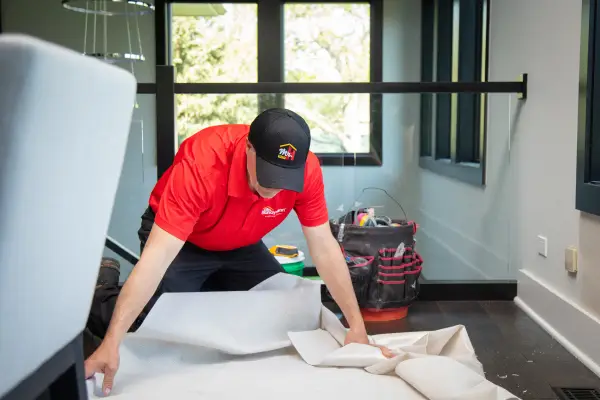 Drywall Repair Services
When it comes to repairing or installing drywall in your home, it's always best to rely on the expertise of professionals. At Mr. Handyman, our skilled team will thoroughly inspect your home's drywall, identifying any cracks, holes, or moisture-related issues. With our professionals by your side, we can determine the most suitable approach, whether it involves basic patching, comprehensive finishing services, or even installing brand-new drywall.
Drywall Ceiling Repair
Over time, it's common to notice cracks in drywall ceilings, particularly in older homes. As houses age, settling occurs, leading to cracks in both ceilings and walls. If you need more clarification about the cause of the cracks or holes in your ceiling, rely on Mr. Handyman to repair drywall issues in your home.
Drywall Crack Repair
Sometimes, drywall crack repair services become necessary due to poor ventilation, moisture buildup, or significant settling issues within a home. Our professionals at Mr. Handyman will assess the root cause of the cracks in your drywall and present you with various options. From traditional patching and sanding to complete finishing or installing new drywall, we offer a range of solutions to effectively address the cracks throughout your home.
Drywall Hole Repair
Over time, drywall holes can accumulate for various reasons, such as hanging plants, photographs, or even pest infestations. For optimal drywall hole repair, trust the expertise of the professionals at Mr. Handyman. We provide viable solutions tailored to your needs, ensuring your drywall looks seamless and impeccable.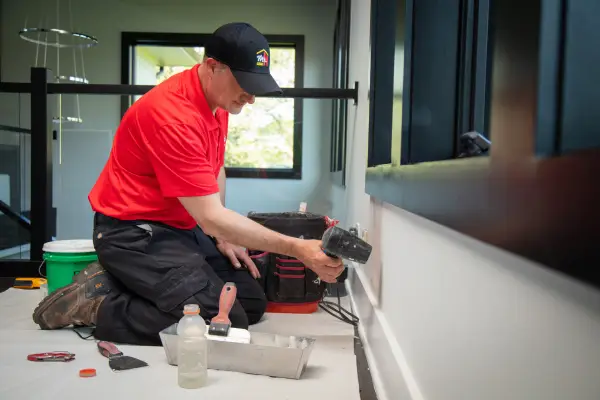 Drywall Installation and Finishing
At Mr. Handyman, we go beyond drywall repairs and offer exceptional installation and finishing services. Whether you suspect a leak in your home or have cracks in your ceilings due to settling, our experienced team has the perfect solution. Schedule an appointment with us today and experience our Neighborly Done Right Promise™, which ensures the highest quality and customer satisfaction standards.