Everybody wants a home they can be proud of when entertaining family, friends, and guests. Home remodels can boost the resale value of your property, adds fresh new visual appeal to your home, and it can fix any existing damage to its structure. Whether you're a home chef who wants to upgrade the kitchen or your bathroom could better reflect your personal style, Mr. Handyman of Cinco Ranch, South Katy, Western Houston is here to lend a hand with our home remodeling services.
---
Ready to get started with our Katy handyman services? Call to get started on your residential bathroom or kitchen remodeling project today!
---
Why Hire Handyman Services for Home Remodeling in Cinco Ranch, South Katy, Western Houston?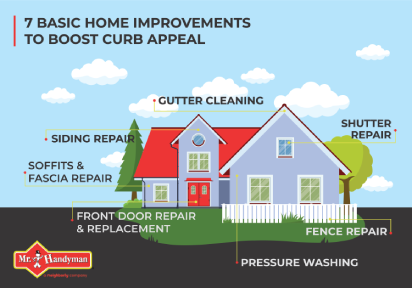 When it comes to home remodeling services, a lot of people put it off. It stands to reason that a home remodeling project isn't the first thing on your to-do list and would get pushed back. It is, after all, an investment and can be time-consuming. This is especially true if you are planning to roll up your sleeves and tackle the job yourself, and doubly the case if you're not a trained handyman. You could make an error and have to backtrack, thus wasting precious time and money, when you could've enlisted the help of trusted, insured, and skilled handymen from the get-go.
We can help with the following tasks in the bathrooms:
Installing new cabinets
Upgrading shower, tub, or toilet
Removing wallpaper
Repairing or installing tile
Vanity installation
Interior painting
And we'll be in the kitchen working on these tasks:
Sink installations
Window or door installation
Updating backsplash
Adding new cabinets
New flooring or tiles
Custom shelving
Experience the Difference a Professional Handyman Service Makes
Your neighbors may have told you their home remodeling project took months and months and many different contractors. That won't be the case when you hire Mr. Handyman. Customers choose us for their residential remodeling projects over other remodeling companies and contractors in Cinco Ranch, South Katy, Western Houston because we offer comprehensive services and provide quality that cannot be matched. In fact, we have the tools, skills, and a Done Right Promise® that you can have confidence we'll match your final design and ideas to a T. Our insured, professional experts are leaders in their fields and are sure to complete their tasks in budget, on schedule, and on target. But these are just a few of the reasons you'll be glad you chose us for your remodeling project.
When you're ready, dial in to get started on your residential remodeling project with a handyman near you. We'll bring your remodeling ideas to stunning, vibrant life!