Professional drywall repair keeps your home looking great and structurally sound. Whatever caused the damage - settling, moisture, or kids and pets, we're here to repair drywall issues quickly, professionally, and reliably. Mr. Handyman of East Solon and Aurora will arrive on time, get the job done on the first visit, and clean up afterward. Even better, you get total peace of mind with our Neighborly Done Right Promise™.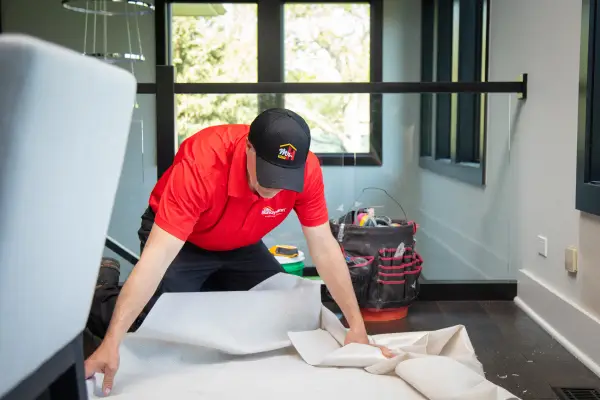 Drywall Repair Services
When you choose Mr. Handyman, you're in safe hands. We don't simply offer drywall repair; we'll also assess the problem carefully to confirm no other underlying issues. If poor ventilation or a roof leak is damaging your drywall, we'll ensure that doesn't happen again. We're here for you.
Drywall Ceiling Repair


Who wants to fix a cracked ceiling when you could be relaxing at the weekend? Mr. Handyman is here to solve your problem with professional drywall ceiling repair services. Our trusted professionals arrive in branded vans with all the necessary kits. Your expert will do the job perfectly and finish it so that the ceiling's as good as new again.
Drywall Crack Repair


When you notice a crack in your wall, it's crucial not to overlook it or pretend it doesn't exist. Ignoring a tiny crack can lead to further issues as it expands across the wall, causing the paint to chip and flake away. At Mr. Handyman, our team of drywall experts is here to help. We offer top-notch drywall crack repair services, ensuring high-quality repairs and addressing any underlying causes to prevent future damage.
Drywall Hole Repair


Every drywall hole repair job needs careful assessment and a tailored approach, from spackle and wall paint to full meshing and structural support. Our Mr. Handyman professionals have an average of ten years of experience on the job, so you're in safe hands.
Drywall Installation and Finishing


Hanging drywall is an art form; it takes real skill to finish the job perfectly. Find out why nearly a million US customers have trusted their local Mr. Handyman to deliver their home DIY, repair, and improvement services since 1996! One call is all it takes to book your service appointment in East Solon and Aurora. Call us today or schedule an appointment online!