Warning Signs You Need Fairfax Gutter Repair, Plus DIY Tips!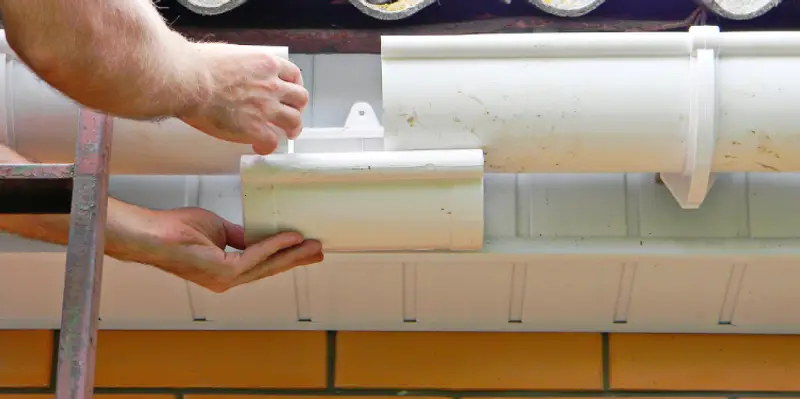 Gutter cleaning may be one of the most overlooked maintenance duties during spring cleaning and winterization until sections break and cause catastrophic water damage to your roof system and—in the worst-case scenario—foundation. Virginia gets 42 to 43 inches of rain on average every year, which requires homeowners to take the necessary measures to protect their houses, including ensuring that they're not overdue for Fairfax gutter repair services.
If you don't remember the last time you checked for gutter clogs and damage, now is the time to climb that ladder and look for yourself. That said, we recommend that you take your ladder in for inspection to ensure that your insurance company will cover any potential accidents. But if these are way too many steps and you just don't have the time to commit to these duties, you can always count on your local Fairfax handyman from Mr. Handyman of Fairfax and Eastern Loudoun Counties to get the job done for you.
We are a locally owned and operated business that only hires service providers who have passed their background checks and drug screens and bring many years of experience in home maintenance and repairs. Trust your uniformed handyman to arrive on time in a clearly marked company vehicle. As your versatile one-call solution, we deliver high standards of workmanship that exceed expectations, especially for Fairfax gutter repair services.
What Are Gutters?
They are the horizontal, U-shaped metal traps attached to fascia boards on the edge of your roofline. In other parts of the country, they are also known as "eavestroughs." They are designed to direct rainwater away from your roof to protect your home from potential moisture and water damage. Gutters connect to a vertical drainpipe, also known as the downspout, which is usually three to four inches in diameter. Before the vertical tube touches the ground, it connects to an extension elbow that effectively redirects rainwater to the ground.
Well-performing rain gutters protect homes from roof damage that could lead to moisture buildup and infestations. They also protect your structural integrity by stopping water from seeping through cracks in your siding.
The sooner you call for Fairfax gutter repair or cleaning, the better your chances are of protecting your home from the next rainy season. One added benefit that you will get with professional service is a thorough inspection to determine the type of cleaning or repairs you need. It often depends on what material type you have for gutters. Some of the common types include:
Aluminum:
Aluminum is widely used during gutter installation, and there are some good reasons for that.
Pros:
Lighter than most kinds of metal
Inexpensive
Durable
Easy to install
Rust-proof
Lasts up to 20 years
Cons:
Needs frequent maintenance to remain corrosion-resistant (i.e., electrostatic powder coating)
Need to watch out for chalky aluminum oxide buildup
May expand and constrict during extreme temperatures
Can acquire dents easily during severe hailstorms
Even when coated, it's not entirely scratch-resistant. We recommend being careful when using a metal scoop for cleaning.
Anodizing is also another process that uses electrochemical energy to improve aluminum's corrosion resistance. It may help reduce the need for early gutter repair. Fairfax, VA homeowners who have more questions regarding aluminum material can feel free to ask us any time.
Stainless Steel:
This is probably the second most common type you will find on properties in Fairfax and Loudoun County.
Pros:
Durable
Temperature-resistant
Superior 316 stainless steel recommended (has an additional two percent of molybdenum that enhances corrosion resistance)
Cons:
Requires annual recoating to prevent erosion
It may not be 100 percent rust-proof (unless it's 316)
Grade level 304 steel needs frequent maintenance to minimize risks of oxidation
Expensive
Heavy
Difficult to install
Similar to aluminum, stainless steel is still widely used and suited for hot, humid weather. Although it has a protective coat, it requires slightly more maintenance than aluminum. If not well-maintained, you may require replacement every five to ten years. If you schedule a routine inspection and minor Fairfax gutter repairs, they will serve you for longer.
Vinyl:
Virginia is known to have a Goldilocks climate that is not too hot or too cold. This makes vinyl a good choice for local gutter systems, and you will find it throughout the state.
Pros:
Cost-effective
Rust and corrosion-resistant
DIY friendly
Cons:
Can be vulnerable to strong wind and heavy rain
Sensitive to extreme temperatures
Can sag and warp easily
Not entirely weatherproof for all regions in VA
Copper:
Copper types are stylish and pretty, but when it comes to the pros and cons, it may be difficult to make a definite choice.
Pros:
Rust-resistant
Crack-resistant
Highly durable
Lasts up to 50 years
Low maintenance
Cons:
Most expensive
Susceptible to oxidation
Complex installation requirements (includes soldering)
While highly durable, you shouldn't install copper next to other metals like aluminum or steel. Purchasing quality material like copper is expensive, as well as the installation process itself. You will have to ensure your handyman is experienced in working with copper materials, whether it's for installation or repair purposes.
What's The Difference between Sectional and Seamless Gutters?
Sectional means that gutters are cut into different lengths or sections to fit your roofing system. They are also more visible to the naked eye. However, they are becoming less and less frequent, especially in newly built homes. Some drawbacks include that they're prone to cracks and leaks due to joint areas that can be potential weak points, especially if your installers have used non-durable materials. When you call your local handyman for Fairfax gutter cleaning or repair, they will examine the initial installation for you to find out if your system is at risk.
Seamless, on the other hand, is cut from one single coil and typically made of heavy-duty metal material like thick aluminum. Unlike sectional types, seamless is typically measured and cut on-site. They're called seamless because they're manufactured in longer sections with no seams or joints. This makes your system less likely to need future repairs, yet they can still clog and cause flooding by overflowing your roofline, and you might not notice until it's too late.
Unless you schedule your annual inspection to ensure high performance, you might not even know that you require Fairfax gutter repair. If your system is suffering from rust or clogs, you risk having your soffit and fascia boards damaged. Repair costs that involve your roof and attic could be high.
Whether you have a sectional or seamless system, warning signs of damage are similar in many ways, such as broken sections and sagging. It's better to be safe than sorry and book your long-awaited gutter repair. Fairfax, VA homeowners can count on us to use expert tools for inspections and repairs.
Warning Signs You Need Fairfax Gutter Repair—Plus DIY Tips
As a conscientious property owner, you likely do your best to make sure your roof is healthy and know that keeping clean gutters contributes a lot to having a flawless exterior drainage system and not just curb appeal. But even if you keep up with your regular cleaning schedule, you can't predict how harshly certain external forces could impact your home, resulting in damage. When that happens, it's important that you spot the signs your system is damaged.
Here are some warning signs that you require Fairfax gutter repair services:
Cracks
Older gutter systems may develop cracks that cause water leaks. The heavy impact of a clogged gutter is also a contributor. When you encounter a crack, check for loose or rusty brackets and braces at the joint areas. When you locate the cracked area, it will require immediate repair; otherwise, the next rainy day could damage your fascia boards and roof shingles, inviting moisture to seep into your attic.
DIY:
The first step is to thoroughly clean the affected area from grime and other debris.
Gather some plastic roofing cement or other high-quality, water-resistant sealant to repair the damage. (If cracks or holes are larger, we recommend cutting flashing strips as additional support to seal the hole.)
Apply the roofing cement or sealant with good pressure.
Let it cure for 24 hours.
This method is more of a temporary fix, especially if the issue is of a more severe nature. To be on the safe side, you can book an inspection with your trusted handyman, who can determine whether a replacement might be your best option.
Leaky Gutters
If a particular area is dripping, it could be a severe crack, a hole, or a clog somewhere in the system that you need to investigate. Loose gutters, rusty hanger brackets, or unsecured joints could also be the culprits. When you identify a hole, follow steps one, two, and three as per the previous point, otherwise:
DIY—Unsecured Joints:
If you find unsecured joints, you can repair the affected areas with a polyurethane sealant, which is highly effective for permanent bonding.
Apply the sealant to the joint, ensuring the seam is completely sealed and covered.
Smooth out the sealant with your fingers so rainwater doesn't cause a dam.
After recoating, allow it to dry and cure for 24 hours.
DIY—Loose Gutters:
The first generation of Fairfax gutter installations involved spikes and ferrules in holding the system together. If you find that you still have ferrules, simply pounding them back in is the best temporary solution.
For better results, try installing fascia hanger brackets that wrap around the gutter system.
Peeling Paint
If the paint is peeling, it has probably withstood a fair amount of weather damage, particularly from standing water and sun exposure. Eventually, the paint will get flaky and cause further damage underneath the material if paint adhesion or other types of coating aren't applied properly. It may seem like a paint issue, but it could be a case that requires professional gutter repair. Fairfax, VA homeowners, can, however, tackle exterior peeling paint issues.
DIY—Peeling Paint:
Clean the affected area
Scrape off the peeling paint with a paint scraper (preferably plastic if you have non-scratch-resistant material)
Sand the surface. (If you have aluminum, we recommend using aluminum oxide or silicon carbide sandpaper to sand the surface)
Use warm water, dish soap, and a sponge to clean the surface. (Or for cleaner results: hire a licensed and insured handyman to do a proper power washing service.)
Let it dry.
Apply a coat of acrylic bonding primer and let it dry for 48 hours.
Apply an oil-based enamel (this type is known to optimize rainwater flow). Give it time to dry and apply a second layer and wait 48 hours.
It's important that your paint choice is compatible with the primer and enamel used. Choose a high-quality 100 percent acrylic paint (ammonia-free) that has UV protection.
Apply paint evenly and give it time to dry.
Other Signs You Need Fairfax Gutter Repairs:
Mold in Attic
Do you have high moisture content in your attic? If so, you likely have moisture damage in your soffits or clogged soffit vents. When you have clogged gutters, stormwater has nowhere to go and will spill over your roof and damage your soffit and fascia boards, which are designed to keep moisture and condensation away. This will require more than just gutter repair. Fairfax, VA homeowners with this problem, may need to prepare for new attic insulation and a detailed roof inspection.
Siding Damage
You will need house siding services if you notice water lines running down the wall due to a damaged gutter section, especially if you haven't had a siding inspection to check for foundation cracks. If water seeps through any cracks, the consequences can be disastrous. Soil shifting and home settling are common in newer homes and are known to cause cracks on drywall and siding. Those cracks can also lead to water running down your basement wall and ceiling, putting your home at risk for flooding. It's crucial that you seek Fairfax gutter repair before this situation causes serious issues.
Ice Dams
Imagine having clogged gutters without you knowing, and winter has just started. All that standing water has turned into ice, but the dam is only just starting to build. This situation will escalate when it begins to snow. The ice dam will increase in size and create a weight that's hard on your system. Although Virginia has a short winter, if you have ice dams that go unaddressed, you probably won't get away without gutter repair. Fairfax, VA homeowners can rely on our service professionals to stop the worst from happening!
Water Damage Can Easily Be Prevented with Fairfax Gutter Repair Service from Mr. Handyman
Whether you notice problems with your gutters during seasonal maintenance, need repairs, or are looking for an upgrade, get in touch with your local handyman to get the job done right. Our experienced service technicians have been taking care of gutter systems and downspouts for many years.
Are you ready to get started on the gutter repair with the help of the professionals at Mr. Handyman of Fairfax and Eastern Loudoun Counties? Our team of experts has helped numerous homeowners in and near Fairfax, including Centreville and Sterling, with all kinds of home maintenance, repairs, and improvements.
Call us to chat with our friendly customer service reps and learn more about other professional handyman services.