Despite a patio being a more subtle alternative, it just doesn't do you justice as it sits plain and flat on the ground while a deck stands upright at an elevation. If you're the type of person to admire your surroundings from afar, then a deck is the best place to do so. Without a refurbished platform, your backyard would look barren and the rear end of your house limp, so do yourself a favor and ask for a deck repair. Fairfax, VA residents who are first-time homeowners must be adamant about deck repair regardless of if they have a pre-owned or newly built property as a rickety platform can not only cause your home's resale value to plummet, but you bargain away your safety by no longer having a structurally sound deck. Supposing most Fairfax homeowners use their deck every day during the warmer months, at times, they don't exactly understand that they must be extra diligent about proper upkeep for their decks. Through routine maintenance, including an annual inspection and a professional maintenance and cleaning service such as adding a fresh polish of stain and power washing, they can reduce the likelihood of needing frequent deck repairs, Fairfax, VA homeowners must note, let alone a deck replacement. In doing so, they will get rid of debris that would otherwise rot away wood or rust down aluminum or steel decking, which, if left undealt with, will result in further damage to the floorboards and the joists that uphold them.
How Can Fairfax Homeowners Best Preserve Their Deck?
A well-built deck will be constructed with the details in mind and will showcase aesthetic appeal, which hikes your home's value alongside long-lasting durability. Fairfax homeowners who participate in preventive maintenance will find there is little chance they require constant deck repair. Fairfax, VA property owners who have become complacent and completely ignore any deck repairs at all will have not only put at risk the structural integrity of their decking but their family members and guests' safety and security. As of late, if you've noticed peeling and sagging floorboards, shaky posts or railings, and discolored and rusty areas from corrosion, these are all obvious signs your platform is deteriorating and needs a deck repair. Fairfax, VA residents who tend to procrastinate for quick fixes from a professional carpenter only regret that they did so if they happen to trip up on a weak spot and badly injure themselves. Some Faifax property owners incorrectly assume their platform can brave local weather conditions, especially if it's made of metal and can withstand rainfall, blizzards, hailstorms, and heavy amounts of pressure such as constant foot traffic. Although that's mostly true, it doesn't change the fact that the material itself can still corrupt if it's exposed to water and moisture damage for prolonged periods. Even those of you who have always been keen on preserving your shiny new platform by staining, painting, and cleaning may not be able to entirely avoid a Fairfax deck repair. Fairfax, VA must not dawdle and ask for help instead of waiting until their platform randomly collapses on them.
What Makes Us A Topnotch Carpentry Services Provider?
At Mr. Handyman of Fairfax and Eastern Loudoun Counties, we demonstrate an impressive track record of 15 years and counting and have been of service to not only Fairfax but also nearby areas of Centreville, Sterling, and Vienna, offering the triple whammy of exceptional products and services, quality craftsmanship and excellent customer satisfaction. Our expert and experienced handyman team members are well-equipped with the skills, techniques, and know-how for Fairfax deck repair as we actively listen to your concerns to offer authentic and efficient solutions. A deck repair can work wonders for your otherwise drab backside outdoor living area, but if you are indecisive and want to help to envision this go ahead and book a no-obligation consultation for deck repair. Fairfax, VA clients will also be pleased to find we offer transparent, upfront pricing alongside a one-year part and labor guarantee and if your platform begins to wobble again, we will make the appropriate adjustments if necessary. Our trustworthy handyman always shows up suited and booted and will adjust to your flexible schedule, as we know most of us to leave things like a deck repair on the backburner given our busy lives. Be rest assured that, unlike many sketchy contractors you find online, as an accredited service provider, we train our team members to the highest of industry standards and take responsibility from the getgo from the initial consult to their very final work shift and cleaning up after themselves and never leave any mess lying around and discarding any waste on their way out.
How Do We Approach Deck Repair?
Surprisingly, there is a diverse palette of deck material types to opt for besides just wood. The beauty of decking is that you don't have to stick to the same material, but you can get creative and change things up. For example, fiberglass will look elegant in your backyard, especially if the entrance/exit door is at a higher elevation and sits a few meters away from the ground. But wood would look amazing for your front yard as its porch style would make your home look more picturesque. Whichever type of material you decide on will also determine how much effort and motivation you have to invest in routine maintenance and the occasional deck repair. Fairfax, VA clients can expect our expert handyman to handle any deck repair regardless of material as this is their area of expertise:
TYPES OF DECK MATERIALS USED IN A FAIRFAX DECK REPAIR SERVICE
Vinyl: Plastic is the entry-level choice for most home upgrades and it makes sense given its versatile nature. Vinyl can handle fluctuating temperatures, withstand heavy pressure and won't warp or have its color fade. Plus, there is a wide variety of designs and colors to choose from and you can swap out authentic wood for a copycat material that mimics its appearance. But the only downside is that being a man-made material, it cannot be refinished for a deck repair. Fairfax, VA residents will notice that it does cause pollution as flecks of plastic are chipped off and contaminate the environment. It can be a hassle to pick up plastic rubble pieces, so that's something to keep in mind.
Wood/Pressure-Treated Wood: Pressure-treated wood is the most commonplace deck material as it better resists rot compared to its natural wood counterparts, engineered wood is more cost-effective as it would require fewer deck repairs. Plus, it's also pest-resistant and bodes well in moist environments. The only downside is that it is susceptible to damage if exposed to direct sunlight for long periods so if you overlook any maintenance, it will quickly crack, fracture, warp, and lose its wood-grain color.
Cedar Wood: As an organic and natural material, cedar is durable, can handle floating temperatures, can withstand moisture and water damage, and does not require stain. Plus, it can naturally ward off a pest infestation and any mold and mildew growth resulting in wood rot. The only thing to keep in mind is that it's more expensive to install upfront and can fade and pale to grayish color over time due to being exposed to radiation from the sun's ultraviolet rays which break down the lignin in the wood's cellulose.
Redwood: Yet another durable material that doesn't warp or split easily and serves as a natural insect repellent. Plus, its vibrant red color and tones illustrate a rustic appeal unlike any other deck material, and best of all, redwood requires minimal maintenance as it doesn't have to be stained. Just be aware that you still need to be persistent about cleaning off any debris to retain its decadent red color from fading away. And also, redwood can easily dent under heavy amounts of pressure as it's a softer material, so be careful if lugging around large furniture on your redwood deck.
Aluminum: Wood may be the popular choice for a Fairfax deck repair given its the most requested material, but oftentimes homeowners aim to swap out their material for another–these are all options we can discuss during your consultation appointment. Aluminum is lightweight, durable, resistant to mold, and won't crack, fracture, or warp if exposed to sunlight. The only drawback is that it can get loud due to noise pollution if too many people are walking around on it and it gets slippery once exposed to the ice during wintertime.
Steel: Steel is not usually a common deck material, but still a valid option as it's incredibly durable, is not prone to moisture or water damage, withstands heavy pressure, and bodes well under fluctuating temperatures no matter the season. The only drawback is that this material is not foolproof and you still have to clean its surface once in a while to get rid of any accumulated debris, such as dirt, leaves, twigs, and more, and clear of standing water puddles. If not, your steel deck will rust over, resulting in costly and permanent damage due to corrosion. If left unaddressed, the rusted area will begin to leak, rendering your deck even more damaged and unsafe for your daily use.
Fiberglass: This elegant material is popping up in backyards all over Fairfax as it's a featherweight and waterproof material. Plus it illuminates your decking area, given its ability to reflect light being made of glass. We daresay your guest will be dazzled sitting atop your fiberglass deck! The only thing to be aware of is that if it ever cracks or fractures, it cannot easily be fixed with a deck repair, Fairfax, VA clients must note, and mostly, the entire panel will have to be replaced so its upkeep is more expensive.
Why We Are The Formidable Choice For Fairfax Deck Repair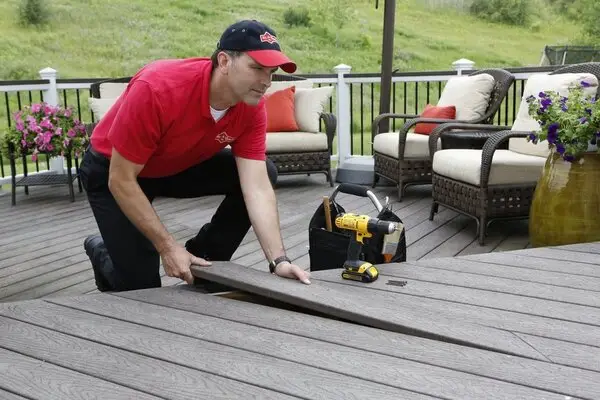 Every Fairfax homeowner wants to walk out onto their decks to stretch their legs without giving a second thought as to whether their decking is sturdy enough. If your platform looks shabby, though, you are best advised to ask a dependable handyman for a deck repair, Fairfax, VA will find that it is only to their advantage for their peace of mind to hire someone who does a proper job the first time around. Quit worrying and begin to bask in the warmth and sunlight of your platform upon the completion of a Fairfax deck repair.
Frequently Asked Questions About Deck Repair
WHAT QUESTIONS SHOULD I ASK A PROFESSIONAL DECK CONTRACTOR?
It's always a good idea to do your research and do a short informational interview when hiring a professional deck contractor. Here are some questions you can consider asking them:
What is your background experience in building residential decks? Do you have any examples from your portfolio?
Can you show me proof of accredited credentials such as license and insurance?
Do you have your in-house staff or technicians or do you rely on subcontractors?
Is there any warranty on parts and labor for a deck repair?
What is a ballpark estimate for a deck repair?
How long will it take to repair a deck and how will I be updated on its progress?
What preparation, including safety precautions, should I take before a deck repair?
DO I HAVE TO SAND MY WOOD DECK BEFORE RESEALING IT?
Yes–if you skip out on sanding, the wood's fibers will stand on end and result in frayed splinters, so we recommend sanding your wood deck throughout before staining or sealing to help the final result.
WHAT IS THE BEST TREATMENT FOR OLD DECKING?
Staining is the best for decking that has already deteriorated, especially if the color has faded. But if your deck is looking too shabby, we suggest a fresh coat of paint as not only will the new shade add vibrancy but add an extra layer of protection. And last but not least, if your deck is looking grayed out, especially if it's made of cedar wood and needs to be replenished, we recommend oiling it.
Everyone Hopes For A Trasceneding Terrace To Chillax On–Ask Us Today For Deck Repair!
For those of you who consider your backyard the farthest, they will ever go for the great outdoors, you know you can't miss out on a deck repair. Fairfax, VA residents know a quality deck repair is a win-win solution for preserving their home's value and their safety and security. Reach out to our courteous customer service representatives, who can inform you more about our other exterior residential and commercial services, from siding repair to fence installation and gutter installation. Or if you are raring to go, schedule a consultation or service appointment at your earliest convenience as we await to hear from you.