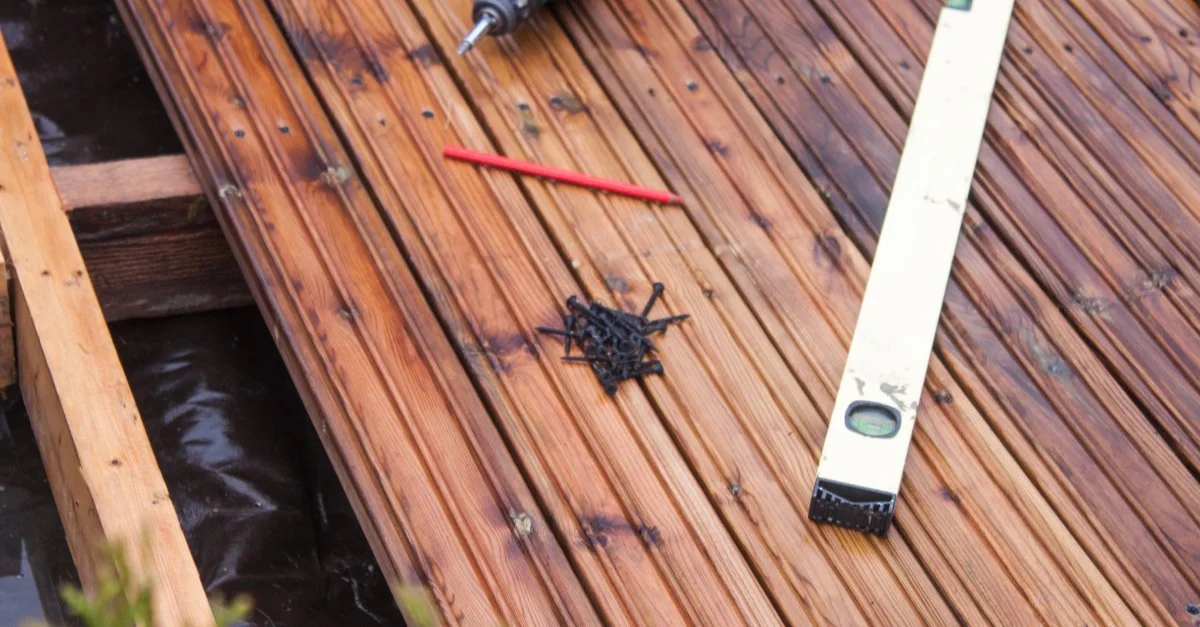 Cincinnati, Ohio, is a vibrant city with lots to see and do. Despite having cold winters, the warm summers make up for it. Though they complain, many residents enjoy being able to experience the four seasons each year, even when it leads to the need for Cincinnati deck repair services.
Unfortunately, the unpredictable weather isn't kind to local decks. Temperature fluctuations and wood aren't the best of friends, and their interaction can lead to warped wood. Melting snow and spring rain showers are perpetrators of wood rot, and those intense summer UV rays can crack and dry those boards right out.
Because the summer weather is fleeting, it's important to take advantage of those warm, sunny days. Many Cincinnati residents do so by having friends and family over to socialize on their deck or porch. Attractive outdoor living space also adds to your curb appeal and increases the value of your home, so it's important to keep your deck in great shape.
Fortunately, an experienced professional Cincinnati handyman from Mr. Handyman can provide top-quality Cincinnati deck repair services to make your outdoor space look new again.
Common Causes of Cincinnati Deck Repair Problems
In Cincinnati, the main causes of deck damage are related to the weather. Because decks do not normally have roofs, they are at the mercy of the elements all year round. Generally, rain and snow are to blame for a majority of deck damage, but there are other possible sources. Determining the cause of damage will help you figure out the correct Cincinnati deck repair method. Common causes include:
Insects and Animals: The United States is home to several types of wood-destroying insects. In Ohio, we tend to think that our Southern neighbors are more susceptible to some of these creepy crawlies, but the truth is that Cincinnati homes can get them too. Woodworm larvae create paths through the inside of lumber, causing it to weaken. Because they create destruction internally, you may not even know you have them. Other popular wood-eating insects include powder post beetles, longhorn beetles, and sawflies.
Wood Rot and Mildew: When water is able to sit on, and within a surface for a period of time, rot and mildew can begin to grow. Even if you think your deck is drying out properly, debris like leaves, twigs, and dirt can retain moisture for longer.
Excessive Moisture: Water damage is often to blame for insect infestations and rot. Untreated wood will also absorb water, causing the resins in the wood to leach out and the wood to expand and contract in freezing temperatures. Loose railings and loose boards often indicate the presence of wood rot.
Galvanic Rot: When galvanized nails and screws are used with pressure-treated wood, the chemical reaction of oxidation can occur. This results in the deterioration of the wood around the nails. Once affected, the rot will continue to spread. Wood that appears to be rotting just around the nails is a clear indication of galvanic rot.
Bleached Boards: You wear sunscreen to protect your skin from harsh UV rays. Sun exposure doesn't just cause aging in people—it ages wood, too. Wood that is damaged by the sun takes on a silvery gray appearance and becomes brittle.
Though these issues are serious, in many cases, you can just repair or replace a rotting railing or board. In severe cases, a total replacement may be needed, but it doesn't hurt to try some of the affordable deck repair tips below first.
Top Cincinnati Deck Repair Tips
Whether you're an avid DIYer or require the help of a professional Cincinnati deck repair service, you can bring your outdoor space back up to snuff with less time and money than you might think.
When you think about the time you spend outside in the summer (and maybe even winter) months, isn't the investment worth it? With the help of our 7 top tips for deck repair in Cincinnati, OH, you'll be back to hosting soirées on your back porch and patio in no time.
Power Wash to Remove Grime and Mildew
Homeowners with heavily shaded yards may find it difficult to dry out their wood deck after those formidable spring and summer thunderstorms, which can lead to mildew, algae, and other types of grime. Once that grime develops, it can bury itself deep within the wood, making it difficult to get it all off by scrubbing the surface manually. Regular power washing is an effective way to eliminate any grime buildup.
The biggest drawback to using a pressure washer is that a high PSI (pound-force per square inch) can actually strip your deck of its sealant and stain, too. It can also damage the wood itself, requiring you to add sanding, staining, and sealing back on your Cincinnati deck repair to-do list. To minimize the chance of damaging your deck materials, use a fan-style tip on the pressure washer and stay within the low to medium power range. If at all in doubt about your ability to pressure wash your deck, call in a professional handyman.
Reapply Stains and Sealants
We'll let you in on a little secret that all homeowners should know but don't—your stain, sealant, and paint aren't meant to last more than a few years. That means without regular maintenance, your wooden boards and railings will be at the complete mercy of Cincinnati weather.
Here's another secret. Stains and sealants aren't actually the same thing. It is possible to purchase a 2-in-1 stain and sealant, but both provide a different function to deck protection. Stains can change the color of your deck and make basic hardware lumber look like expensive mahogany, but pigmentation in stains also serves to provide UV protection.
A basic stain does nothing to protect the wood from moisture. That's where sealants come in. Exterior wood maintenance is a constant battle with the elements. To win this battle, reapply a stain and sealant a minimum of once every three years. You'll be surprised by the change that a new stain can make to the appearance of your deck and your desire to spend your time on it.
Stop Rotting with Sealants and Epoxy Wood Filler
Crumbling, shrinking, and discolored boards are an indication that they've been seized by the unrelenting grasp of wood rot. But don't grab a crowbar and start ripping out those damaged boards just yet! Another solution exists.
There are two products you can purchase to stop wood rot in its tracks and restore a piece of wood so that it looks and feels like new: sealant and wood filler. This dual-product system involves two stages. First, you'll need to scrape out any rotted wood and apply a sealant to prevent it from spreading again. In the second stage, the epoxy filler can be used to fill in the holes and create a smooth surface. All you need to do is fill the hole, wait for it to dry, and sand it down.
The only drawback to this method is that the filler will not be the exact same color or have the same grain as the rest of the wood. However, as long as you plan to paint your deck, no one will ever know the difference.
Don't Skimp on Lumber
Sometimes, the best course of action for boards that are looking a little worse for wear is to simply remove the damaged boards and replace them with new ones. If you're on a tight budget, you may be tempted to purchase the lowest-cost replacement boards you can find, no matter how gnarly they look. You won't do yourself any favors by picking out boards that already show signs of warping and wear. Though quality products cost more, they also last longer.
Pressure-treated lumber is the number-one wood choice for budget-conscious Cincinnati deck repairs, but keep in mind that this type of wood is also more susceptible to rotting and developing other issues. If your budget allows for it, look into softwood options like cedar and redwood or even hardwood options like mahogany and teak. The determining factor for which woods you can use for board replacements will, of course, depend on the type of wood you already have installed, but stains can do an impressive job of helping new boards blend in.
Reinforce the Joists
A deck with flooring boards that look a little worse for wear can always be repaired, but once your joists are damaged beyond repair, you're looking at total deck demolition and replacement. If there's one recurring theme across all these tips, it's moisture. A properly built deck will have concrete footings to keep the wooden joists away from the damp ground.
Joists can be protected in much the same way that wooden deck boards are. If moisture and algae are present, thoroughly clean this off and allow your wood to dry out fully. Once completely dry, apply a sealant. For added protection, top them off with a joint guard—a type of moisture-repelling tape.
Choose the Right Decking Material
At a certain point, piecemeal Cincinnati deck repair will end up costing you more time and money than it is worth. At this point, your repair project should focus on a replacement as well. If you already know you'll probably need to replace all of your deck boards down the line, a more economical option may be to just replace them now. As long as your joints are still in good shape, replacing your decking is all you need to do for your Cincinnati deck repair.
Today, there is a wide range of options for deck-building materials. Though a wood deck looks visually stunning, it won't last as long as you'd probably like it to, thanks to Ohio's climate of extreme temperature changes.
Composite decking is one of the more popular material alternatives. Made from a combination of plastic and wood shavings, composite decks have the appearance of wood but much greater longevity. But don't be fooled by the presence of plastic—composite materials still require occasional maintenance to prevent water damage. To bypass wood altogether, an aluminum rail can make a nice classic addition to a deck.
Add an Overhang
Depending on where you grew up, you may use the terms 'deck' and 'porch' interchangeably. If you want to get technical, the term porch is actually used to describe a deck on the front of your property. A porch is also usually partially enclosed by an extended roof. If you're looking for a porch or other residential remodeling services, Mr. Handyman of Greater Cincinnati is here to help!
If you find yourself constantly needing deck repair in Cincinnati, OH, or you simply don't have enough time for maintenance, you can take inspiration from the porch and add an overhang or awning.
Retractable awnings can be pulled out when you want a little sun and rain protection and rolled right back up when you want to soak up a little more sun. This will reduce the frequency and surface area of deck repairs, as well as help you lower your energy bill. Even though it provides outdoor shelter, an awning can also reduce the interior temperature of your home by up to 15 percent and lower your air conditioning cost by up to 25 percent.
DIY vs. Professional Cincinnati Deck Repair
We get it. You want to keep more money in your pocket, and you believe that the best way to do this is by doing your Cincinnati deck repair all on your own. If you just want to repair a very small area of wood rot, we say go for it. For everyone but property owners with advanced carpentry skills, we suggest hiring a professional builder for deck repair in Cincinnati, OH, no matter your deck size.
Applying a stain and sealant is easy enough, but making sure your deck is fully clean and properly repaired for its new application is not. A deck contractor is an experienced professional who already has all the equipment and expertise to ensure the products are applied according to quality craftsmanship standards.
Additionally, some projects like deck extensions will require a building permit. A professional team of deck builders can get this permit for you and ensure the completed work will pass an inspection.
Contact Mr. Handyman of Greater Cincinnati Today for Deck Repair in Cincinnati, OH!
Mr. Handyman of Greater Cincinnati is one of the leading companies for deck repair in Cincinnati, OH. We provide quality service and quality workmanship to owners of both residential and commercial properties. Hear from your neighbors how we did with our impressive customer reviews.
Mr. Handyman of Greater Cincinnati has provided a wide range of services to our satisfied customers, including a wide range of home improvements, repairs, and maintenance. From pressure washing and staining to complete deck replacement, we can turn your backyard into the oasis you've always dreamed of with our extensive knowledge of home repairs.
Ready to schedule your appointment for Cincinnati deck repair? Give us a call today, and a member of our personable and knowledgeable team will be happy to schedule your appointment or answer any questions you may have. We proudly serve communities throughout Cincinnati and many nearby areas, such as Landen, Blue Ash, and Mason.