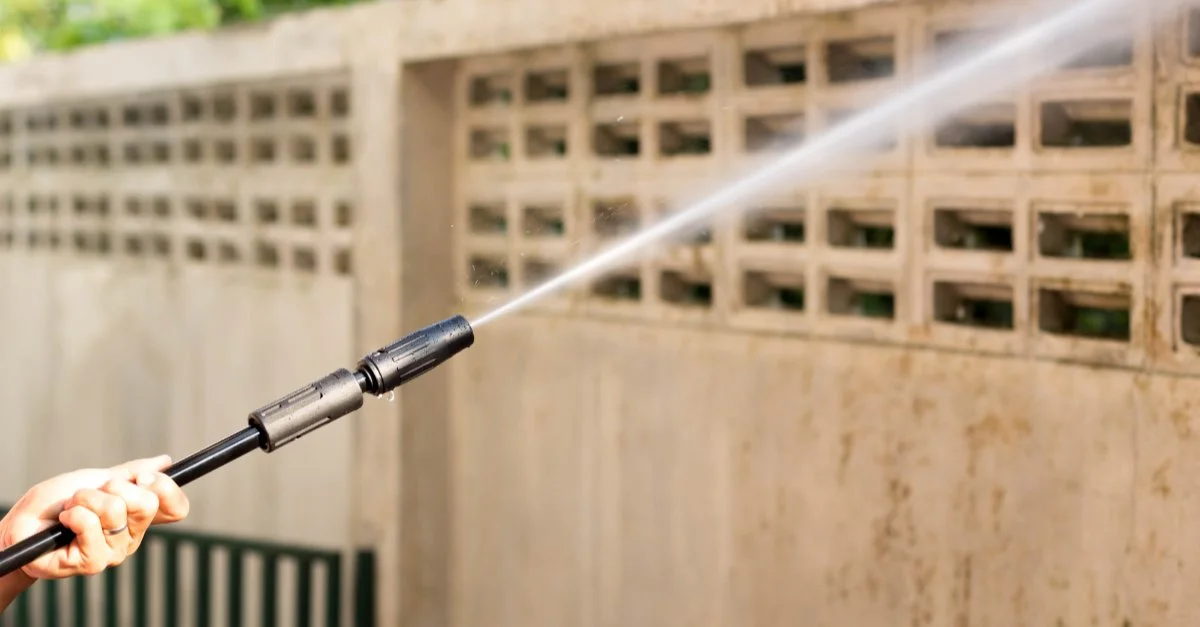 For residents of Cincinnati, nothing feels quite as good as that first jacket-free day after a long and brutally cold winter. With the days getting longer and the forecast for temperature highs increasing, you're much more inclined to leave the warmth of your home and explore all the blossoming parks and intriguing art displays, but before you do that, it's important to take care of routine maintenance like pressure washing.
With getting out more also comes the realization that the elements have not been kind to the exterior of your home. Your deck is covered in dirt, the roof looks like it hasn't been cleared for years, and the siding almost appears to be stained. You could get out a bucket of warm, soapy water and get to it, but who wants to spend their entire weekend—or two—on a project like that?
Professional pressure washing services are your solution. With pressure washing service, a professional Cincinnati handyman from Mr. Handyman of Greater Cincinnati can transform the exterior of your home from slightly macabre to show home status in just a couple of hours.
What is Pressure Washing?
Pressure washing is the process of cleaning a surface using highly pressurized water. Pressure washing machines can produce anywhere from between 750 and 30,000 psi (pound-force per square inch), but for home cleaning use, you won't need anything over 3000 psi. Using a pressure washer on dirt and grime effectively blasts it off the surface.
The pressure washing machine itself is composed of a few different parts:
A hose that connects the machine to the water supply
A gas or electric engine
A water pump
Nozzles and attachments
High-pressure tube to connect the cleaning attachments to the machine itself
Top Reasons to Consider Cincinnati Pressure Washing
There are plenty of aesthetic reasons you may wish to power wash your residential or commercial properties. A spotlessly clean home and place of business will increase your property value, restore your curb appeal, and boost your own pride in your property. But these aren't the only reasons you may choose to rent a pressure washer or hire a pressure washing service.
The benefits of pressure washing in Cincinnati, OH, extend beyond just appearance. In-depth exterior cleaning is also a form of preventative maintenance, which will save you money down the road. Exterior surfaces can become stained over time and even become susceptible to rot growth. Deep stains can't always be removed, requiring you to replace the stained material altogether. Wood rot and other fungi can also impact the health of your family or employees working at your premises.
From fence cleaning to scouring parking lots, there is a wide range of reasons you may wish to use pressure washing. Just make sure you follow a few essential dos and don't to stay safe and avoid damaging the exterior of your home.
The Dos and Don'ts of Cincinnati Pressure Washing
There's something about pressure washing that's just so addicting. It could be the satisfaction of seeing a nice, clean streak left behind in the midst of thick grime and previously unbudging stains, or maybe it's the relief of how it can turn a long, laborious task into a quick chore.
Either way, it can be tempting to begin to rely on pressure washing for every cleaning situation, but doing so can create more work for yourself down the line or cause you to become complacent with your safety and the safety of those around you. Follow the dos and don'ts below to make sure you only choose pressure washing when the situation calls for it.
Do Follow Safety Procedures
No one wants to talk about safety, but pressure washing in Cincinnati, Ohio, can be a dangerous business. If power washers can strip the paint right off a surface, what do you think they can do to your skin? Obviously, it'll hurt, you may say with a roll of your eyes. But untreated pressure-washing wounds can even be fatal.
A small laceration may look harmless, but underneath the surface of the skin, that pressure washer may have dispersed bacteria deeper than you can imagine. What seems like a minor pressure washer injury can turn into an infection that causes serious complications.
Pressure washing can also cause debris to fly at high speeds. Rocks, glass, and other hard objects can be propelled by the pressurized water and hit you or someone else, causing severe injury.
Always take the following safety precautions when using a pressure washing machine:
Never operate a power washer with a gas engine in a closed space, as this can cause carbon monoxide poisoning.
Never use a pressure washer to move objects out of the way. As tempting as it might be to just hit an object with water rather than shut off the machine and walk over to that object, it's always a bad idea.
Treat the pressure washer like a weapon. This means never pointing it at yourself or others.
Do Use the Correct PSI for the Surface Type
A wood deck and a concrete driveway have very different hardness levels and can therefore withstand many different levels of psi. If you use the same psi on your asphalt roof as you would on concrete surfaces, you'll end up with no shingles and a very costly and unexpected roof replacement. We recommend the following psi for each of the following surfaces:
3000 psi for concrete driveways, patios, and walkways
1500 psi for parking lots with paint
500 to 600 psi for decks made with softwoods like cedar and redwood
1200 to 1500 psi for decks made with hardwoods like mahogany and teak
1300 to 600 psi for vinyl siding
1200 to 1900 psi for vehicles
1200 to 1500 psi for gutter cleaning
Bear in mind that for all of these recommended ranges, you should start on the lowest setting and go up only as needed. Additionally, don't believe what you hear about washing your windows with pressure washing. While a pressure washer can be used to clean glass windows, it's not just the psi that matters, but the angle at which you hold the wand. Clean your windows the old-fashioned way with soap and water, or hire a Cincinnati pressure washing professional to do them for you.
Do Properly Treat the Surface After Pressure Washing
As we've already established, pressure washing is a powerful cleaning process. While it effectively eliminates deeply embedded dirt and organic material, it can also remove materials you'd rather it didn't.
This is something to keep in mind when pressure washing surfaces that are naturally porous, such as concrete and wood. Pressure washing a wooden deck will strip it of its stain and sealant, leaving it susceptible to the Cincinnati weather.
If you've wanted to re-stain or re-paint your deck for a while now, this is the perfect time to do so. When we're hired for deck staining, we usually combine this service with our Cincinnati pressure washing service, as pressure washing is a quick and easy way to prep the surface.
It's a good idea to seal a driveway with a concrete sealer following pressure washing in Cincinnati, Ohio as well. Doing so creates a barrier that prevents the concrete from soaking everything in.
Do Use the Right Solution
Wait a minute, you might be asking. Don't pressure washers just use water? They certainly do, but sometimes a pressure washing contractor will suggest adding a solution to eliminate tough stains. Some of the areas that you might want to use treated water in are:
Surfaces with graffiti
Surfaces that you want to remove paint from
Surfaces with algae and other organic material
Grease on driveways and in parking lots
Because these solutions are used on outdoor surfaces, it's paramount that they are biodegradable so as not to harm the environment. Thankfully, most are. In some cases, a more powerful cleaning solution will be required to effectively remove dirt and debris, but your Cincinnati pressure washing expert will inform you of this and the associated risks if this is the case. The majority of solutions contain everyday chemicals like:
Citric acid
Oxalic acid
Sodium hydroxide
Ammonia
Bleach
And plain ol' vinegar
If you're worried about the ingredients or impact of the pressure washing solution being used by your handyman, simply ask them about it and request a different product if you don't like what you hear.
Don't Use it On Every Surface.
You're just about done pressure washing your vinyl siding, but the sparkling clean exterior of your home now makes your dirty windows stand out more than ever. A little voice inside your head says it would be so easy to give those windows a quick spray while you're at it. It couldn't hurt to try, could it?
Yes. It certainly could.
Never—and we mean never—pressure wash a surface without finding out if it's safe to do so. That spontaneous decision could result in a huge mess, injury, and very costly damage. Some surfaces that aren't recommended for pressure washing unless done by a Cincinnati pressure washing expert include:
Windows
Roofs
Gutters
Surfaces you don't want to strip paint or stains from
Electrical fixtures like porch lights
Metal air conditioner boxes
Old brick siding
Pressure washer nozzles can be used to alter the angle of the stream and reduce the pressure, but only a professional can accurately determine whether a nozzle change can reduce the potential for damage. Professionals also know exactly how far away from the surface to spray. A small miscalculation on your part could cause significant structural damage.
Don't Take Unnecessary Risks.
At the end of the day, it's important to remember that a pressure washer is a powerful tool, not a toy. Using a pressure washer is undoubtedly fun but also carries an inherent risk.
A reputable power washing company will employ Cincinnati pressure washing professionals that are licensed, bonded, and insured. They've received the necessary training to safely operate a power washer and will be liable for any unintentional damage they caused. Professional pressure washing in Cincinnati, Ohio, is also relatively inexpensive, so hiring an expert is really a win-win.
Don't Mix Up Pressure Washing and Power Washing.
The terms 'pressure washing' and 'power washing' are often used interchangeably, but whether a difference between them actually exists often comes down to personal opinion. Some will say that the difference between pressure washing and power washing is the use of heated water in the latter, but others argue that heated water can be used in either.
Though there is disagreement about whether a difference exists in the words themselves, there is undoubtedly a difference between using hot or cold water while pressure washing. Just think about what you do when you wash dishes at home. Do you use hot, soapy water or cold water? You'd say you use hot water and soap because it cleans better, right?
The same is true when using hot water for power washing. This makes it more powerful than a cold water pressure washing, so be sure you know when it's safe to use and when it's not.
Don't Discount Soft Washing.
An alternative to pressure washing and power washing is soft washing, which never uses more than 1000 psi. While it may take a little longer to clean a surface with soft washing, you can also trust it to be more gentle—and still get the job done much more efficiently than you would with your bare hands.
Soft washing is suitable for glass windows (on a very low setting), vehicle windows, and roof cleaning.
For Cincinnati Pressure Washing, Choose Mr. Handyman of Greater Cincinnati
For quality pressure washing in Cincinnati, Ohio, Mr. Handyman of Greater Cincinnati is here to help. We provide commercial cleaning and residential cleaning through our power washing, pressure washing, and soft washing services for people throughout many areas in and around Cincinnati, such as Mason, Blue Ash, or Landen.
Mr. Handyman of Greater Cincinnati always seeks to provide quality workmanship and excellent customer service rooted in respect and integrity. Whether you choose to use our team for pressure washing service, drywall repair, or bathroom remodeling, we'll provide you with a full customer satisfaction guarantee.
If you're ready to get the exterior of your home looking like new again, give us a call today.