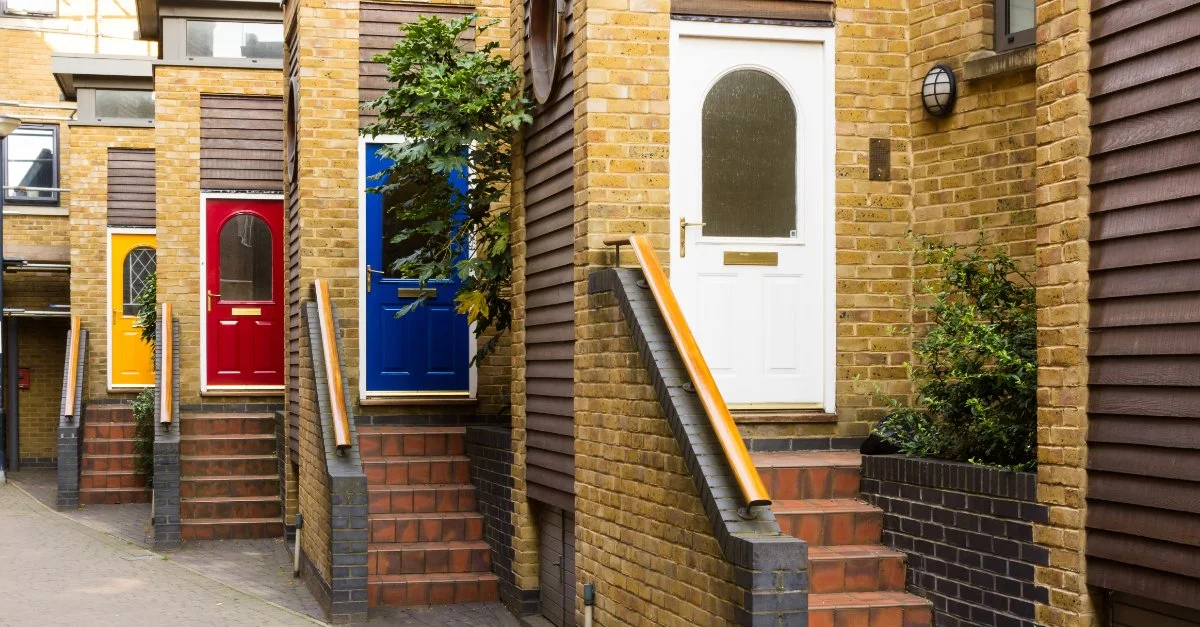 That squeaky door that sticks and takes a few tries to lock properly is certainly a nuisance—but did you know that it could also be a hazard? Damaged doors that don't lock properly or have a gap between the panel and the frame can be more easily broken into by unwanted intruders than one that is well-fitted. When not properly sealed, they also don't insulate well, leading to drafts that drive up your energy bill.
If this sounds familiar, it may be time to consider investing in a replacement. Making an upgrade will not only reduce your energy bill and keep your home secure, but it will also give you the opportunity to upgrade to a style that fits your home's design.
The thought of installing a door yourself can be daunting, particularly if you've never done this type of project on your own before. DIY installation is possible but can be greatly challenging to do properly if you're not a trained carpenter. With the help of a Cincinnati handyman from Mr. Handyman of Greater Cincinnati, installation couldn't be any easier. Mr. Handyman's team is composed of expert carpentry and handyman professionals with an average of 10 years of experience. Since our founding, we've completed countless entryway installation projects to quality workmanship standards.
In this article, you'll learn about the various replacement options available for your home, when you can tackle a replacement project on your own, and when it's best to contact a professional door installation in Cincinnati, OH specialist.
Pre-Hung vs. Slab: Which Door Type is Right for Me?
When shopping for doors, there are two broad categories you can choose from, pre-hung and slab.
Pre-Hung Doors
Pre-hung doors are, as the name suggests, pre-hung. This means that they come with the hinges already attached. Often marketed as an all-in-one kit, they come in a package that includes a cut-out for the knob and the frame as well. With the hinges already attached to both the slab and frame, all you have to do is secure the frame to the opening in the wall. Pre-hung kits have both benefits and drawbacks:
Pros
A great option for spaces that don't already have a frame, such as a new home under construction or an old home with a frame that needs to be replaced.
Generally budget-friendly, as they're easier to install yourself.
Cons
Basic, standard appearance. Pre-hung options rarely come in contemporary or unique styles. If you're looking for something very simple, however, this may not be a con.
Don't work with existing frames. If you already have a frame installed, it will be much easier to get a slab door than it would be to remove the frame and replace it entirely with a pre-hung model.
Slab Doors
Unlike those that are pre-hung, a slab door consists of just the panel itself. Slabs will sometimes have a pre-cut hole for knob installation—but not always.
Pros
Comes in a wide variety of styles.
No need for frame replacement, as they are made to fit with existing frames.
Cons
Not recommended for entryways. Getting a tight seal between the slab and an existing frame is challenging, even for skilled carpenters.
Sometimes argued that they can be less expensive than pre-hung, but this is usually only true when you install them yourself. Correct installation is very difficult without carpentry experience.
What Is the Best Type of Door Material for Door Installation in Cincinnati, OH?
Interior and exterior panels come in many different materials. If you're wondering which material is the best, the answer is unfortunately not so clear-cut. The best type of material depends on your own needs, preferences, and area of the home in which you plan to install it.
Entry Doors
Entryway panels are usually made of three main materials: wood, fiberglass, and steel. They may be a solid panel or include cut-outs for glass. Deciding whether you want glass will depend on which is more important to you: letting more light into your home or privacy. A good compromise between the two is to opt for frosted glass, which still lets in the sun but also offers a bit more privacy.
Wood. Wood panels come in both modern and traditional styles. Though they're sturdy enough, they come with a couple of drawbacks. Wood is susceptible to warping and denting, and therefore requires occasional maintenance to keep them looking like new. They're also some of the most expensive panels on the market, so you'll need a substantial budget.
Fiberglass: Made to look like wood, fiberglass panels are generally available at a more affordable price point. They also come with the added bonus of not rusting or denting. It's a win-win!
Steel: More expensive than fiberglass but available for less than some wood panels, steel panels have a modern appearance and unbeatable durability. They're also incredibly great for energy efficiency.
A properly installed exterior door is important for keeping out the elements and keeping your family and possessions safe and secure. Mr. Handyman's entryway installation service will get the job done right.
Interior Doors
Unlike entryway doors, interior doors do not need to keep out the elements. Material options are therefore wider than entryway panels and are often less heavy.
Solid wood: Some interior panels do come in solid wood, but they're both heavy and expensive. They're often used as statement pieces rather than for practicality.
MDF: A more budget-friendly option is MDF, which has the appearance of solid wood but costs less and is lighter, making these easier to open and close. MDF panels come in two options:
Solid Core: The core of these panels is made from a combination of real wood and synthetic wood. A wood veneer is placed around the core, giving it the look of solid wood. For rooms where you need durability or want some sound-proofing, solid core panels are the way to go.
Hollow Core: These panels are composed of a cardboard interior and a fiberboard covering. They're much lighter than solid core panels, but because they don't provide much sound-proofing, they're best for closets and the bathroom.
Metal and glass: Falling in between solid wood and MDF with its price point, glass and metal can be used in spaces where you want to let more light in. These materials also work well in homes with a modern, contemporary design.
What Door Styles Are Available?
This is the fun part of the installation process—picking the style! The style you choose says a lot about your interior design style. That being said, you also have to think about how functional a certain style of door will be in a given space. Your doors should support the overall room design rather than be the star of the show.
Interior Rooms
French: Perfect for separating two rooms without closing them off completely, this style is composed of two panels that swing out from the center. They're also sometimes called window doors, which refers to the fact that they are made from one large glass panel that is sectioned into a grid using wood or metal.
Barn: As a type of sliding door, barn doors are attached to a track above the entryway. One or two panels may be used, depending on the size of the space. Traditionally, these panels were made of reclaimed wood to look like an actual barn door. Today, you can get contemporary glass barn doors as well.
Pocket: For small areas without enough space for a hinged door, pocket doors are a great option. Rather than swinging in and out, pocket doors simply slide in and out of the frame. They're commonly used in small powder rooms, en suite bathrooms, and closets.
Bi fold: This accordion-style type of door is traditionally used for closet spaces, but they can be used for patios as well. They're easier to install than pocket doors and still provide some space-saving benefits, but do require a little room to fold outwards.
Entryways
Solid Slab: A solid slab is a great option for those who want full insulation and privacy. Being window-free, they are the most energy-efficient entryway option.
Screens: To enjoy the sunshine and warm breeze during the spring and summer months, adding a screen to your slab door will allow you to have your privacy when you want it without sacrificing the opportunity to enjoy nice weather (minus the bugs).
Storm Door: An alternative to a slab and screen combination is a storm door. These solid panels include a cut-out for a window and screen so that you can enjoy sunny days without having to open the door, while still providing lots of insulation.
Deck and Patio Door Installation in Cincinnati, OH
Sliding Glass: If privacy isn't a concern, sliding glass doors are a fantastic option for a patio or deck. Made entirely of glass with a metal frame, sliding glass helps bring the outside in. Not only do they work well in small spaces thanks to using tracks instead of hinges, but they also help to make small spaces feel bigger.
Pet Doors: Don't forget about Fido when you upgrade your doors! If you're tired of having to open up the back door for your pet every time he or she wants to go sniff things out, a pet door is a great option. At Mr. Handyman, we provide custom pet door installation services for both new and existing panels.
When Should I Use a Professional Cincinnati Door Installation Service?
Technically, you can install any type of door on your own. However, if you want to ensure that they are installed properly, securely, and damage-free, it's best to call a professional for door installation in Cincinnati, OH.
Pre-hung doors made from hollow-core MDF are relatively simple to install if you have a little bit of carpentry know-how. But if you want to install a slab panel, you'll probably want to hire a carpentry expert. It's difficult even for those who are highly trained to get the slab and the frame perfectly flush. If this is an exterior door, ensuring there is a tight enough seal to keep out the cold weather is especially important.
An added benefit of hiring a Cincinnati door installation expert from Mr. Handyman of Greater Cincinnati is that our team of professionals can help you decide which types of doors are right for your needs, personal style, and budget. We'll help you pick the perfect door for your space and offer a guarantee that the job will be done to your satisfaction.
How Much Does Cincinnati Door Installation Cost?
The cost of Cincinnati door installation depends on two factors:
The type of door you want to be installed
The number of doors you need to be replaced
For door installation in Cincinnati, OH, you'll need to factor in the price of the service and the price of the product itself. Because there are so many variables, it's impossible to provide price guidelines without discussing your project details. At Mr. Handyman of Greater Cincinnati, we offer no-obligation quotes so you know exactly what to expect.
After filling out our online service request form, you can expect a call from one of our professional and experienced team members. We're happy to discuss your project, expectations, and budget in-depth, as well as discuss pricing options. When you're ready we'll schedule your Cincinnati door installation appointment.
In addition to getting to use the services of a highly experienced and customer-focused service technician, we offer a quality guarantee. We strive to make sure the job is done properly the first time, but if anything happens within the first six months of service, we'll come back and make sure it meets your expectation of quality craftsmanship.
Door Installation Cincinnati, OH: Call Mr. Handyman of Greater Cincinnati Today!
Are you ready to replace those old, weathered, creaky doors with the door of your dreams? Take a look at our reviews to see if our services are right for you, and then give Mr. Handyman of Greater Cincinnati a call today to discuss your project and get yourself booked in for an appointment. We offer excellent service for numerous styles such as screen doors, wood doors, double doors, and much more.
Whether you're in Cincinnati itself or one of the surrounding communities like Blue Ash, Landen, or Mason, we'll be happy to handle your commercial or residential door installation project for you, as well as provide a wide range of additional installation services and other handyman services for many different projects, including everything from bathroom remodeling to drywall repair.