The shower door in your home faces normal wear and tear with daily showers. When your shower door won't close properly or has cracks, let our professionals help you. Mr. Handyman of Nashville offers shower door installation and repair services in Nashville, TN. We can install and repair framed and frameless shower doors. Our service professionals are highly trained in the best methods to install and repair shower doors. Contact us today to learn more about our comprehensive shower door services.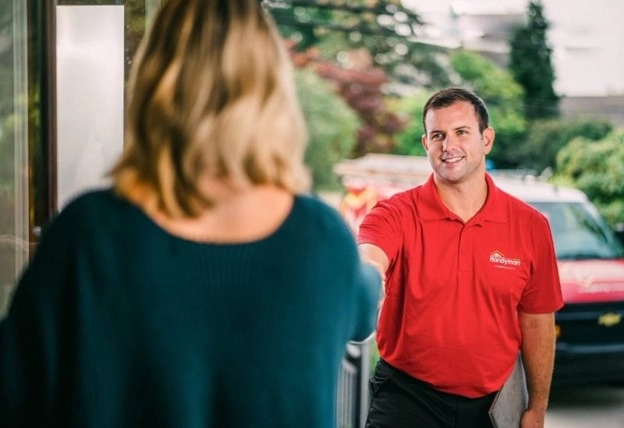 Benefits Of Installing A Shower Door
Our service professionals can install any type of shower door for your home. The most significant benefits of shower door installation services include the following:
Shower doors help contain warm temperatures inside the shower.
Your shower door lets in more light than a curtain.
You can enjoy more privacy inside your shower.
You can choose a decorative shower door that meets your style preferences.
Frameless Shower Door Installation
Frameless shower doors offer a stunning look and feel. We use thick, heavy glass for a durable fit. Many people love that frameless shower doors don't usually have any metal between the panels and doors. Our team offers multiple glass and hardware options to ensure your shower door meets your style preferences.
Frameless Shower Door Repair
It can be stressful to see cracks and scratches on your frameless shower door. These tiny crevices can affect the function and structure of your shower door. We can perform shower door repairs for any size of issue to ensure your door is in perfect condition.
Professional Sliding & Hinged Shower Door Installation
Many homeowners choose a hinged or sliding shower glass door for their bathroom. We offer glass shower enclosures and frameless shower doors that can work with any bathroom style. Our professionals can help you choose the best hinged or sliding shower door for your bathroom.
Providing Expert Glass Shower Door Repairs
Our Mr. Handyman of Nashville, West, South, and Central service professionals perform high-quality glass shower door repairs. You can help us with minor repairs by tightening any loose screws or cleaning your shower door with vinegar and lemon water. The most common shower door repairs we perform include the following:
Scratches – We can quickly eliminate scratches and fill-in issues without harming your shower door glass.
Dragging Shower Door – When your sliding shower door drags, we can adjust or realign it.
Leaky Door – The most common causes of leaky doors are loose seals, so we can effectively reapply them.
Shower Door Drags – If your sliding shower door is dragging, it may need to be realigned or adjusted.
Should I Get A New Shower Door?
Shower doors get scratches and stains as they age. Our service professionals will inspect your shower door damage to determine if you need us to repair or replace it. We recommend a new shower door installation in the following instances:
You want to change the look of your bathroom.
You need to restore the door to its original condition.
Your existing shower door faces multiple repairs.
You need to increase the safety of your shower door.
The Importance Of Professional Shower Door Installation
We don't recommend trying to repair or install a shower door yourself. Glass shower installation services should be done by a professional that is trained to properly install your door. We know the best ways to prevent leaks. A slight error can result in a leaking glass door or gummy caulking. Even the slightest chip in the glass during installation can cause your glass to shatter. Trust our service professionals to safely install your shower door.
Schedule Your Caulking Repairs Today
Mr. Handyman of Nashville, West, South, and Central offers installation and repair services for all your shower door needs. We provide home improvement services in Antioch, Nashville, and LaVergne, TN. Our service professionals inspect your shower door problems and offer a fast and effective solution. We always offer upfront pricing and estimates for our services. Our work and products are backed with a guarantee for your peace of mind. You can trust us to treat you like family. Contact us today to schedule shower door installation and repair services.
Mr. Handyman of Nashville, West, South, and Central proudly serves Nashville, Antioch, LaVergne, and surrounding areas.