To repair drywall, you need a team of professionals you can rely on. Look no further than Mr. Handyman of Nassau County. We do everything so your drywall is structurally sound and looks great! Plus, we guarantee your satisfaction through the Neighborly Done Right Promise™.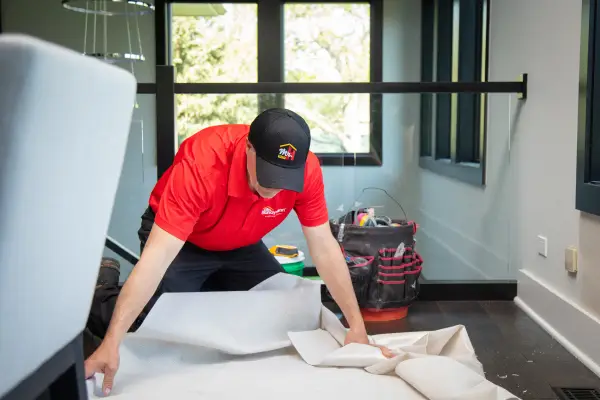 Drywall Repair Services
Drywall repair services that we perform for our clients include repairing cracks and holes in walls and ceilings and full-out replacements of drywall.
Drywall Ceiling Repair
Drywall ceiling repair services are critical as you do not want your ceiling coming down! What is causing that damage, though? We will spend time identifying this to fix the ceiling and the source of the problem.
Drywall Crack Repair
The width of the crack determines the method we employ for a drywall crack repair. Are you dealing with a hairline crack, or is there a more significant issue? The crack may result from the home settling, ventilation problems, or other underlying causes. Identifying the source of the crack is crucial as it simplifies the repair process for a long-lasting solution.
Drywall Hole Repair
Drywall hole repair will vary depending on the size of the existing hole. The source of the hole is irrelevant since most drywall holes are due to an accident. It could be a door knob that has put a hole through the drywall, a chair, or other furniture you are moving. We find the proper drywall patch size and then piece it together to make the drywall sound again.
Drywall Installation and Finishing
The
drywall installation
and finishing services we provide at
Mr. Handyman of Nassau County
include mudding, sanding, and joint taping. We do this for drywall, but we also work on various other materials, including green board, cement board, gypsum board, stucco, and sheetrock. When you work with our team, we will set you up with a quality finish and prepare you for one of our neighborly friends to help you out with a paint job as well!