At Mr. Handyman of Northville, Canton, and Plymouth, we believe in helping our clients preserve their home's beauty. Unfortunately, many beautiful homes become damaged from moving furniture or hanging pictures on the wall. Let us help you repair your drywall and restore the pleasing aesthetics of your home.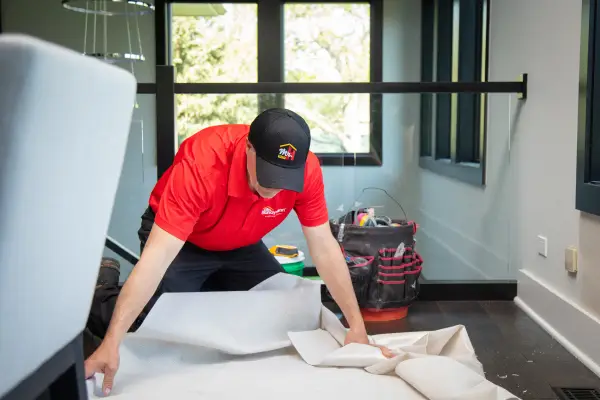 Drywall Repair Services
The drywall experts at Mr. Handyman will determine the cause of the damage and the best way to repair it. We do everything from start to finish when we repair drywall, including removing, replacing, patching, sanding, and finishing. When we leave your home, your walls will look as good as new.
Drywall Ceiling Repair
Ceilings can become cracked from the foundation settling or damaged by other environmental conditions, including water damage. Our drywall ceiling repair services provide peace of mind. When we leave, there will be no signs that your ceiling was ever damaged.
Drywall Crack Repair
Cracked walls look unsightly, but they may also indicate a more severe condition in the home. Mr. Handyman specialists not only help with drywall crack repair, but we also identify the cause of the crack and offer guidance on how to fix the problem and prevent future damage.
Drywall Hole Repair
Everyday living can cause significant wear and tear on your walls, often resulting in holes—especially when you have kids. As part of our catalog of local services, Mr. Handyman of Northville, Canton, and Plymouth offers drywall hole repair services to fix holes in your walls.
Drywall Installation and Finishing
In addition to drywall repair, Mr. Handyman of Northville, Canton, and Plymouth offers installation and finishing services. Whether you're remodeling and renovating your home or the drywall is too damaged to patch and repair, we can help install new drywall. Our drywall installation services include all finishing touches, including mudding, sanding, seam and joint taping, painting, and re-installing or adding crown molding and floorboards.
Our drywall experts have the finishing skills to ensure your new drywall looks seamless and has the desired finish. Contact our office today to request a service appointment with one of our drywall specialists and learn more about how Mr. Handyman of Northville, Canton, and Plymouth can help you with your household maintenance and repair needs, including drywall repair and installation.