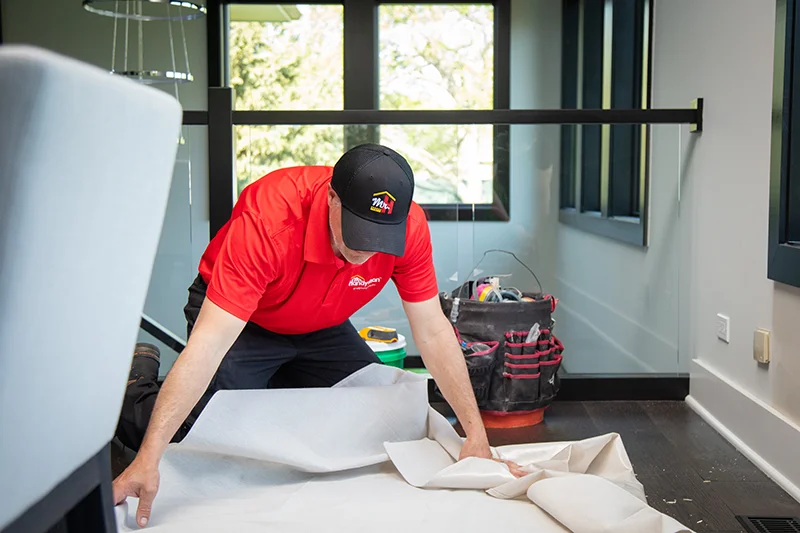 Mr. Handyman of Papillion uses only the highest quality materials and tools, ensuring our customers feel confident they'll receive the best result possible. Further, we can help bring aging woodwork back to life. Avoiding the woodwork around your home can result in costly repairs and long-term damage. It's best to stay on top of issues such as these. If you want to add a custom fireplace mantle or refresh your deck, give the team at Mr. Handyman of Papillion a call. We'll get the job done right the first time. Reach out to schedule your service today!
Take Advantage of Our Carpentry Repair Services
At Mr. Handyman of Papillion, we're proud of our carpentry expertise. We can help with a wide range of carpentry projects, including installing prefabricated countertops, demolition, frame installation, and more. Our team is happy to take care of all your accessory and hardware needs so you can complete your new look with a truly seamless finish. As a local leader for our residential and commercial carpentry service, you can rely on us to deliver unrivaled products regardless of the project size. Mr. Handyman of Papillion is committed to helping our community through our top-notch carpentry services, including:
Deck and Patio Services

Window, Roof, and Wall Framing

Trim and Crown Molding Installation

Flooring Carpentry Services

Cabinet Installation

Custom Shelving

Custom Storage

Custom Mantels
Discover the Difference Custom Services Can Make
While things like a fresh coat of paint or new furniture can easily update your space, without a doubt, nothing adds personality and warmth as custom woodwork and trim. Our carpentry services can help elevate any space into something spectacular with customer bookcases, fireplace makeovers, crown moldings, and unique custom storage options. The custom carpentry services we offer can be utilized on your home's exterior or interior. Here is more information on how we can help transform your space:
Interior – There are several steps you can take to update any interior space, but there is nothing like custom woodworking. Custom woodworking adds a level of warmth and elegance to any area. Our experienced professionals offer crown molding, wainscoting, custom bookcases, shelving, cabinets, and mantels. Contact us to learn more.

Exterior – Our carpentry services can help boost your curb appeal while helping you avoid structural issues. We can handle your exterior repairs, such as replacing damaged wood. The exterior carpentry services we offer include deck and patio installation and repair, siding installation and repairs, and fence repair and installation.
Why Choose Mr. Handyman of Papillion?
As you can see, everyone at Mr. Handyman of Papillion is passionate about providing our customers with high-quality carpentry services. We're here to help whether you're looking to remodel your property or need help repairing your woodwork. Regardless, our technicians will discuss your issue, make recommendations, and develop a plan that meets your needs and budget and exceeds your expectations. Home and business owners throughout Papillion have come to rely on and trust our expertise to get the job done right and elevate their living spaces. We offer comprehensive carpentry services, including help with repairs and remodeling. Whether you need help repairing a door frame, installing crown molding, or designing a custom bookshelf, you can depend on our team.
Schedule Your Carpenter Handyman Services Today
Through our dedication to the industry, we've become the trusted name for unrivaled carpentry services. Our technicians have helped several home and business owners elevate and refresh their properties' look, feel, and functionality. You can rely on our team to only use the highest-quality materials, state-of-the-art equipment, and industry-leading techniques to get the job done right the first time. Each project we undertake is backed by our Neighborly Done Right Promise, which guarantees our work. Reach out to discuss your next project with our team today!
Mr. Handyman of Papillion proudly services Bellevue, Boys Town, Elkhorn, Gretna, La Vista, Offutt Afb, Omaha, Papillion, and Springfield.