Do you have an ever-growing to-do list or extensive list of home repair projects that seems to get longer every week? Wouldn't it be great if you had a handyman that could handle all the home improvement and repair tasks you haven't had time to complete?
Fortunately, our team at Mr. Handyman of South Essex County is highly trained to provide residential handyman and home repair services that keep your day moving. Let us ease the stress and anxiety you may be feeling by looking at the many repair projects you have and knocking them out one by one.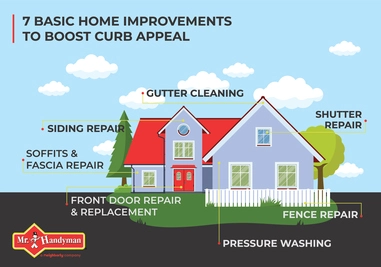 We can assist homeowners in Peabody, MA with home improvement responsibilities, including:
Garage organization and storage – Your garage can get messy pretty quickly, as it's not a space you frequent often. As a result, it can get disorganized and be virtually unusable. We are experts in organization and can help bring back the function to your garage.
Deck staining, painting, and finishing – If you're not familiar with painting or staining natural materials, you may end up with an unprofessional finish. Our technicians have years of painting and staining experience to give you professional results that last.
Drywall repairs and finishing – Drywall repair can be a difficult process if you've never done it before. Luckily, our experts have been training in finishing and repairing drywall problems for years.
TV wall mounting – A new TV deserves to be displayed where everyone can see it. However, if it's not mounted properly, you could have a shattered TV on your hands. Let us mount your TV on the wall and give everyone a grand view of your shining achievement.
Wainscoting installation and repair – Most newer homes don't have wainscoting, but you can have it installed for an affordable price. Our professionals can support your installation and repair tasks to give your home the visual interest it deserves.
Countertop installation and repair – Whether you're replacing old particle board counters or your granite countertops need repairing, Mr. Handyman technicians have the skills to help.
Bathroom mirror installation – Bathroom and vanity mirror installation can be completed easily, and at a price you can afford when you enlist our Peabody team's support.
---
Looking for expert drywall repair in Essex County? Reach out to our team of handymen by calling today!
---
RELIABLE RESIDENTIAL HANDYMAN & HOME REPAIR
With an average of 10 years of experience, our technicians at Mr. Handyman of South Essex County can make quick work of your most tedious and time-consuming home repairs and improvement duties with ease. You can leave all the heavy lifting to us so that you can get back to the things most important to you.
Requesting service with our Peabody team is simple and convenient. Contact us online or by phone for more information or to request home repair services. Be sure to visit our local reviews to learn more about the services and experience we provide.
---
For more information about our professional Essex County home repair services, call our experienced team.
---