Whether building a home, adding to your property, or changing your space, Mr. Handyman is here to meet your North San Antonio and Stone Oak drywall repair and installation needs. We know homeowners' challenges when inviting a repair specialist into their homes.
However, we assure our clients we will arrive on time, uniformly, and ready to tackle any drywall repair, installation, or finishing needs. Here, we'll look at everything you need to know about repairing drywall with a Mr. Handyman professional.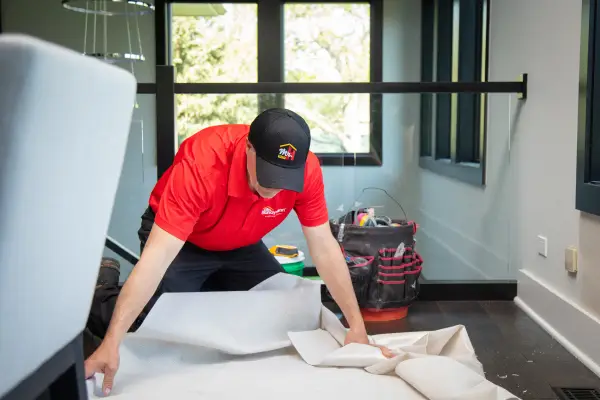 Drywall Repair Services
If you're searching for someone who can help you with the ins and outs of the repair drywall process, Mr. Handyman of North San Antonio and Stone Oak is here to help. There's no need to go through the drying process to create the perfect drywall repair on your own–our pros will determine the best way to repair, replace, or install your drywall.
Drywall Ceiling Repair
If you're noticing cracks in your ceiling, you likely need drywall ceiling repair. Some drywall cracks happen naturally over time, while others occur due to water or other types of damage.
Drywall Crack Repair
Noticing cracks in your drywall? The process of drywall crack repair typically requires a professional. You don't want to risk furthering a problem with your drywall, which can lead to additional costs and repair time.
Drywall Hole Repair
Completing drywall hole repair can be challenging, from finding studs to figuring out the size to cut a new piece of drywall. Our talented pros are here to create a seamless repair for holes in your drywall, making it simple for you to kick back while we do the hard work and restore your drywall to its original look.
Drywall Installation and Finishing
Drywall installation can be complicated. If you're using rough drywall, the process moves from the top down of your room and requires a high level of attention to detail to make seams invisible. Prep work is critical to finish your drywall correctly; several different types of tools and tape are required to complete the job.
Schedule an appointment with us today and experience our
Neighborly Done Right Promise
™, which ensures high-quality drywall repairs and peerless customer satisfaction standards.