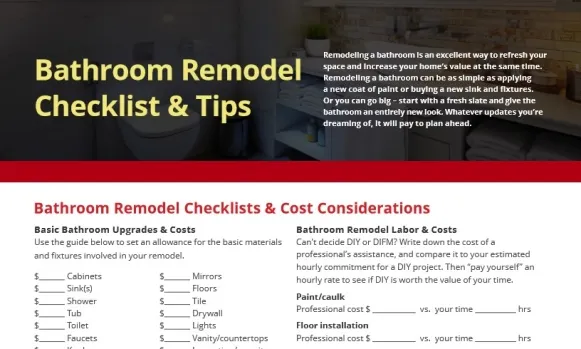 Remodeling a bathroom is an excellent way to refresh your space and increase your home's value at the same time. Remodeling a bathroom can be as simple as applying a new coat of paint or buying a new sink and fixtures. Or you can go big – start with a fresh slate and give the bathroom an entirely new look. Whatever updates you're dreaming of, it will pay to plan ahead.
On average, remodeling a bathroom costs between $5,000 and $10,000. The more major the project, the more it will cost. One way to control costs is to prepare well in advance. Mr. Handyman's Bathroom Remodel Checklist (194 KB) serves as a guide for making smart decisions, budgeting and avoiding unpleasant surprises – so you can create a wonderful bathroom without paying extra.
Bathroom Remodel Tips
Set a list of priorities and expectations.
What is your big-picture goal?
When does the job need to be finished?
How much do you want to do? New shower and more square footage? Or just a new sink and a coat of paint? Make these decisions now before you start remodeling. Don't forget the details, like the knobs on the new cabinets and the light switch covers.
Choose a color palette or design style.
Stay consistent with color and material choices, and choose options that are cohesive with the design in the rest of the house.
Source your materials and permits.
Talk to manufacturers. Look into alternative eco-friendly, low-VOC or moisture-resistant materials.
Consider upgrades such as a bathroom fan, electric heater or radiant-heated floors.
Try to purchase as much as possible before you begin.
Find out if you'll need to plumb the toilet or shower or if you can you use existing pipes.
Check shipping periods to make sure you can get all the materials in time.
Line up a contractor or, if you're doing the work yourself, clear your schedule.
Will the remodel require enough tear-out that you'll need to seal off other rooms from dust or noise?
Will the subfloor need to be replaced?
Will the new tub fit through the door?
Can the existing wiring be used?
Will the inspection officer be available during the remodel process?
Make a list that follows a logical timeline: Don't repaint before caulking, and don't finish the tile floor before installing the shower.
Think outside the box for a unique look: shiplap walls, board and batten, beadboard or tiles.
Look for unique lights and furniture at thrift stores.
Bathroom Remodel Checklists & Cost Considerations
Basic Bathroom Upgrades & Costs
Use the guide below to set an allowance for the basic materials and fixtures involved in your remodel.
Cabinets $_____
Sink(s) $_____
Shower (and floor) $_____
Tub $_____
Toilet $_____
Faucets $_____
Knobs $_____
Mirrors $_____
Floors $_____
Tile and grout $_____
Drywall and cement board $_____
Lights $_____
Paint and primer $____
Exhaust fan $_____
Vanity/countertops $_____
Inspection/permit costs $____
Fixtures/furniture/decorations $_____
Since some of the items above require different installation adhesives or materials, speak to the employees at your local hardware store when purchasing some of the materials listed below:
Tile adhesive $_____
Drywall installation materials $_____
Vapor barrier/membrane $_____
Caulk $_____
Ceiling texture $_____
Window and door trim $_____
Plumbing fittings $_____
Total $_______
Luxury Bathroom Additions & Costs
These bathroom additions can add a nice, luxurious touch! How much will your favorite additions cost?
Electric heater $____
Radiant heated floors $____
Heated towel rack $____
More space $____
Frameless glass shower door $____
Cabinets/shelves for storage $____
Dimmer switches $____
High end building materials $____
Television $____
Smart mirror $____
Total $______