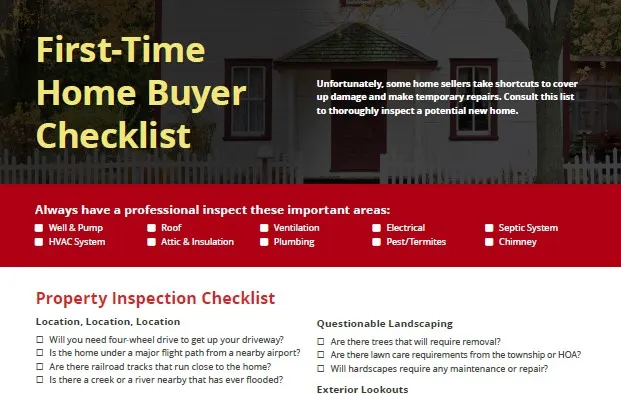 With the excitement of buying a home for the first time, it's easy to overlook important factors that can make or break the experience and the investment. So, don't let daydreams of home ownership get in the way of making a practical and fair assessment of your potential new home. Print out our First-Time Home Buyers checklist PDF (210kb) next time you're touring homes with your realtor or doing the final walk-through. That way, you won't forget to ask the important questions.
Buying a Home for The First Time: What to Look For
Unfortunately, some home sellers take shortcuts to cover the damage with just a "Band-Aid fix." This list will help potential homeowners make a thorough inspection of the home. However, nothing replaces the skill of an expert. Always have a professional inspect these important areas of your home:
Well & Pump
HVAC System
Roof
Attic & Insulation
Ventilation
Plumbing
Electrical
Pest/Termites
Septic System
Chimney
Most of these items will be covered during the home inspection, which is a standard part of the mortgage approval process. The lender often arranges the home inspection once the buyer is seriously considering the house. However, it's not a bad idea to ask about these high-ticket items earlier on in the process.
For the home inspection, the buyer usually foots the bill – a couple hundred dollars. The chimney inspection, septic inspection and pest/termite inspection are usually performed separately from the rest of the home inspection (and may not be necessary at all, depending on the home and the state where it's located).
Property Inspection Checklist
Location, Location, Location
Talk to the neighbors to get an idea of who you'll be living next to and ask about things that weren't obvious to them until they lived there for a year. This should give you a clear picture of what to expect. Remember to think seasonally – keep in mind prevailing winds, sun exposure, snow or leaf removal, or water drainage/mud issues.
Will you need a four-wheel drive to get up your driveway?
Is the home over a major flight path from a nearby airport?
Are there railroad tracks that run close to your home?
Is there a creek or a river nearby that has ever flooded?
Ask About Utilities
It's always wise to get a water test, especially for homes on a well. A water filtration/softening system may be necessary for smelly, contaminated or hard water – even in cities. It's best to negotiate or anticipate this expense before you move in. Ask for an average cost of the sewer, wall, water, and gas utilities each month.
Internet, especially in rural areas, isn't always something homeowners can rely on. If you can get it, ask about the speed and quality of the connection. Be wary of satellite internet, which is what many rural homeowners rely on. Satellite internet typically it has limits on speed and data usage.
Does the home use natural gas, propane, electric or a combination?
How much are heating and cooling bills during peak season?
Does water come from a well or the city?

If the home is on a well:

When was the last time it was inspected?
How does the water smell/taste?
Is there a water softening system?

Can you access high-speed internet or cable television?
If so, how much are the cable and internet bills per month?
Plumbing & Waste Management
Never overlook the importance plumbing and how your home handles waste. Since some of these systems are buried and out of sight, it's easy to forget to ask or have them properly inspected.
Never overlook the importance plumbing and how your home handles waste. Since some of these systems are buried and out of sight, it's easy to forget to ask or have them properly inspected.
Does the home use holding tanks, a septic field or a sewer to handle wastewater?
When was the last the holding tanks or septic field was pumped?
How big are the tanks and how often do they need to be pumped for the size of your family?
Where are the tanks and could there be a potential issue from tree roots?
Is there a history of clogged sewer lines?
How are trash and recycling handled?
Suspicious Odors
Have any pets lived in the home? A fragrant odor may seem nice when you walk in the door, but it may also be covering up foul odors from pets or mold. Musty or stale odors may indicate and mold or mildew problems that should be remediated before you move in. Ask to walk through the home without candles burning.
Building Materials/Maintenance
This is where a knowledgeable home inspector is very valuable. Look through this list with them or mark any items on the list that are of concern to you. Ask about maintenance history of the house and property. Keep an eye out for black mold and asbestos. You'll want to bring up these concerns to your home inspector.
"Fresh" Paint
Fresh paint looks great when you're moving into a new home. Unfortunately, it's also really good at covering up watermarks, wood rot, stains or mold. Ask what areas received a coat of fresh paint and be extra vigilant when inspecting for signs of water or mold damage the homeowners tried to cover up.
Questionable Landscaping
Are there any dead or diseased trees that will require removal?
Are there expectations on how you should maintain your lawn in the township or HOA?
Will hardscapes require any maintenance or repair in the future?
Exterior Lookouts
Ask to look at photos of the home in the winter, which may show potential ice damn issues. If you see a lot of icicles hanging off the roof, this is a good indication of a poorly insulated attic/ceiling. If you live in a cold climate, ask about snow removal and who's responsible.
Are there any signs of water intrusion on the soffits, exterior foundation or decking?
Does the home have gutters? If not, is there good drainage away from the home?
How old are the roof shingles?
When was the last time the house was painted?
Interior Considerations
Are the floors squeaky? This is something many homeowners don't even think about while they tour the house. Have someone walk on different floors while someone else is below them in multi-story homes. Squeaky floors are a nuisance and potentially expensive to fix. And if you see an area rug, take a peek underneath for stains!
Check the water pressure. Poor water pressure may be a sign of bigger problems with your plumbing. Turn on more than one shower or faucet to make sure there is enough pressure to run both at the same time.
Are the interior walls drywall or plaster?
How well is the house insulated and where?
Are the windows in fair shape? Are they energy efficient?
Was lead paint ever used?
Are the plumbing pipes made of modern materials?
If you have pets, how will the wood floors stand up to dog nails?
If the home has a fireplace or woodstove, ask when the last time the chimney or stove pipe was cleaned. Shine a flashlight down the air ducts and look for signs of dust or debris, which could indicate dirty air ducts, an ailing HVAC system or simply poor filter maintenance.
Neighborhood Rules
If you purchased the property because of the great views or privacy, make sure this won't change in the future. Neighbors may build on the lots around you and ruin your views or privacy. Ask about any HOA rules if these apply in your neighborhood. Asking the right questions will help you avoid frustrations in the future.
Can you park your motorhome in your driveway?
Can you plant a garden or paint your home whatever color you want?
Are you allowed to have a fire pit, ride a loud motorcycle or walk your dog off the leash?
Ancient Appliances
Are the current appliances ones you want to keep around? Or will you want to upgrade to energy efficient units? Buying a new refrigerator, microwave and dishwasher can add some unexpected costs to your home purchase.
Future Upgrades
If you already have renovations in mind before you buy the home, talk to a contractor.
Are you allowed to build a garage, home addition or artist's studio? Do you have room?
Could you retro-fit A/C to a house that doesn't have it? Would it be cost prohibitive?
Are you allowed to have that sauna or hot tub you've always wanted?
Electricity Supply
Is the home wired to handle your modern electric needs? Ensure the home has three prong outlets and GFCI outlets in damp or moist areas. Some older homes may not have outlets in places we need them.
Professional Home Repair and Maintenance
Obviously, there are a lot of factors to consider when buying a home for the first time. If you're moving into a new home that needs work, or you've already moved in and discovered the deck wasn't safe after all, Mr. Handyman can help. We offer a wide variety of services that can build, paint, or repair your home just the way you want it. Schedule an appointment online or give a call. We look forward to serving you!