Mr. Handyman of Virginia Beach is here for all your drywall repair and installation needs. When it comes to drywall, living on and around Virginia Beach can lead to a lot of wear and tear. The ocean air and water can lead to sand making its way into the home, high winds from storms, and other sources of damage. Drywall can take a beating inside the home due to a variety of reasons and we are here to repair drywall and do whatever else is necessary to keep your drywall in tip-top shape.
And don't forget, we offer a Neighborly Done Right Promise™. If the work is not completed to your satisfaction, just call us within 14 days and we'll come back out and make it right, at no extra charge. Our experts have an average of ten years of experience on the job, so you can have total confidence in them!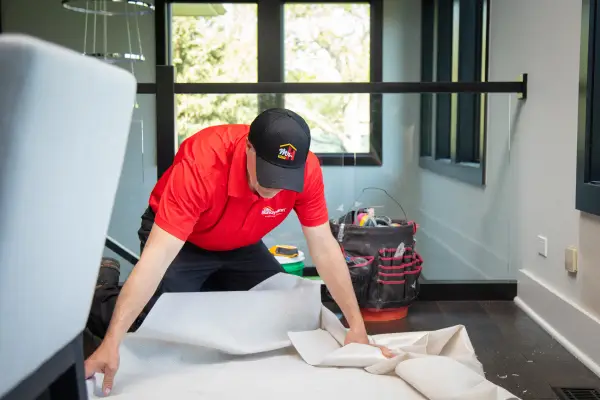 Drywall Repair Services
The drywall repair services that we perform at Mr. Handyman of Virginia Beach are thorough and put a premium on customer satisfaction.
Drywall Ceiling Repair


When we get the call for a drywall ceiling repair, we need to figure out what caused that ceiling damage. Did something bang up against the ceiling causing damage, or are there water or ventilation issues leading to the ceiling wearing down? Drywall ceiling repair starts with an identification of the source and then from there, we work to repair the problem.
Drywall Crack Repair


With a drywall crack repair job, we need to assess the depth of the crack, as well as the width. Just how bad is the crack and what is necessary for a proper repair? DIY heroes may just throw some patch on top of it and call it a day. When you do this, that crack will come back in no time. On top of that, structurally you will not have a sound piece of drywall you can rely on. The crack needs a permanent fix. We can do that for you.
Drywall Hole Repair


Drywall hole repair relies on us sizing up a proper piece of replacement drywall that we can bring in to fill that gap. We can work to figure out the proper size of drywall to fill the hole, then patch around it so it looks like a natural fit for the home.
Drywall Installation and Finishing


Our finishing work includes everything from drywall mudding to drywall sanding and seam / joint taping. We also go beyond drywall with repairs and finishing of sheetrock, stucco, green board, gypsum board, as well as cement board.