Boulder Home Remodeling 101 — A Homeowner's Guide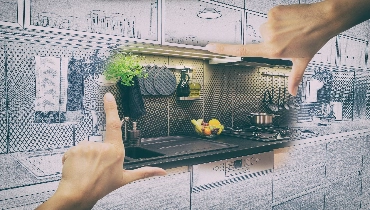 Are you thinking of undertaking a Boulder home remodeling project? Perhaps you're keen for a change, or you just moved into a fixer-upper that you plan on converting into your dream home. Either way, renovating your home can be a big project that will require a lot of planning and research so you can end up creating your dream home.
To help you stay on track and keep organized with your home remodeling project, our Boulder handyman experts at Mr. Handyman of E Boulder have put together this guide. Continue reading to discover our steps to planning your home renovation.
Know Your End Goal
Before settling on how extensively to renovate your Boulder home, it's beneficial to know your end goal. What do you want your home to look like ultimately? Are you renovating to boost the resale value of your home, or are you accommodating for a growing family?
Do a little research to learn what renovations are a good return of investment—such as knocking down a wall to create a more open floor plan—or which renovations might not be necessary to reach your end goal.
Granted, if you have a vision of your home and sky's the limit in terms of budget and vision, go for it! Yet for more renovations it does help to have a clear idea in mind. This end goal will help ensure you stay on budget and on schedule while turning your home into the renovated oasis you desire.
Make a Realistic Budget
Speaking of budget, any contractor will tell you how tricky it is to stay on budget during a home remodeling project. While there are always unforeseen expenses that pop up, it still helps to have a figure in mind. Ensuring this number is realistic will keep your spending on track and force you to make reasonable decisions when it comes to the cost of labor and materials.
The Cost of Contractors and Labor
The majority of costs that you will invest into your home remodeling project are labor costs. Do your research and get estimates from a few different contractor companies before settling on the handyman service that will complete your renovation. Not only will this research give you a sense of scale and cost for your project, but it will also give you a chance to feel out a few different options.
Pro Tip: Choose a handyman company that offers upfront pricing, has lots of positive reviews, and can illustrate their professionalism. For instance, a uniformed contracting company that uses company vehicles and tools will generally be more professional than a guy who shows up in a beat-up truck and jeans. Mr. Handyman of E Boulder is one such professional, knowledgeable, and skillful company.
The Cost of Materials and Features
The cost of materials you choose will also impact your overall budget. Be sure to research how much your dream granite kitchen countertop costs, whether glass or ceramic tiles are a better fit for your budget, and if you want hardwood flooring. These features may not only cost more based on the materials, but they could also impact the installation costs.
Additional Budgeting Factors to Keep in Mind
While labor and material costs tend to be the weightiest factors to review, there are a few other considerations that will affect the financial investment of your home remodeling project:
Do you want to sell your home in a few years?
Do you need to change the location of walls?
Do you want to install any luxury features?
What features in your home are absolutely essential?
What can you reasonably afford to invest?
How much can you afford to go over budget? (Always have a cushion for emergency or unforeseen expenses).
Make a Realistic Schedule
Having a realistic schedule for your home remodeling project will not only inform your budget, but it will also give you a sense of how long you and your family's daily lives might be disrupted during the renovation.
Perhaps you have lots of experience completing home renovations and already have an understanding of how long it will take. However, for more E Boulder homeowners going through their first home remodeling project, it will seem a bit daunting to estimate the schedule.
The best way to figure out your schedule is to consult with professionals. These could be contractors at your local home improvement store or it could be part of the questions you ask when finding a contracting company to complete your renovation (more on that later).
It's key to separate the different stages of your project into a prospective timeframe and to estimate how much each section will cost. Just like how you should give yourself a financial buffer, you should also give yourself a time buffer. For instance, if you want your home renovation completed by the holidays, you should work backward from that date and give yourself plenty of time for each part of the project.
Build a Detailed Home Remodeling Project Plan
Not only will your detailed home remodeling project plan include your end goal, budget, and time estimates, but this plan will also be useful for communicating your vision to your contractor and keeping track of your progress. Your remodeling plan is also a place for design inspiration, mood boards, and checklists.
Your project plan should include:
Blueprints or sketches of your final project
A list of needs for the project
A list of wants for the project
Project steps outlined according to time, cost, and who will complete the task (i.e. you or your contractor)
A master list of all your materials
Any permits you need to obtain
Weather updates as you go
Obtain Permits
Did you know that depending on your Boulder community, your neighborhood might not be zoned for certain renovations, like garage conversions? Additionally, permits are generally a requirement for any major structural changes to your home.
While obtaining permits can seem like a bit of a headache, not having the correct paperwork can come back to bite you. Building permits are needed to ensure your home remodeling project meets the necessary structural and fire safety requirements. This is particularly important to keep you and your family safe, and is required if you want to sell your home down the line.
Hire Contractors
There are many considerations to keep in mind when looking for the right handyman near you for your home remodeling project. While researching handyman companies, look for the following signs of a professional, efficient, and quality service:
The quality of their references. Any contractor worth his or her salt will be able to provide you with references. Additionally, websites like Google My Business tend to show a range of reviews. Be sure to look for recent reviews, total quantity of reviews, and how many of those reviews are five stars.
Their years of experience. There is a big difference between hiring a company that has just started and one with highly experienced contractors. Not only does more experience mean a greater depth of knowledge, but it also means the job will get done more efficiently and correctly the first time. At Mr. Handyman of E Boulder, each of our technicians possesses an average of 10 years' experience in the trades.
How pricing works. It's really important to look into how pricing works as each contracting company is different and you don't want to be hit with a series of hidden costs that you weren't aware of going into your home remodeling project. At Mr. Handyman of E Boulder, we offer upfront pricing. The estimate we agree upon, is the bill you receive at the end of the project.
Uniformed professionals. Professionalism is in the details, such as company uniforms, company vehicles, cleaning up after a job, upfront pricing, offering a guarantee, and transparency about service.
Questions to Ask
Once you've narrowed down a few contractors you are interested in hiring, use the following questions as a guideline to discover if a given handyman service is the right fit for you:
How long has your company been in business?
Are you licensed?
Can you provide proof of insurance?
When would be the tentative timeline?
How do payments work? Methods of payment?
Do you have references?
Will you bring the right tools for my home repair task?
Will you clean up after you leave?
Do you offer a warranty on your services?
Pack Up and Prepare for Your Home Remodeling Project
While your renovations are being completed, you will need to pack up and clear out any of your possessions that are in the areas being remodeled. This may be a certain section of your home, a whole floor of your home, or even more space. If you're only renovating one room, like a kitchen remodel, the items in your kitchen can be temporarily moved to other areas of the house.
However, if you plan on remodeling your entire home, then it's key you follow your renovation plan as you may have to migrate your possessions throughout the areas of your home that are not being renovated. Alternatively, if that sounds like an extra step you'd rather do without, you could lease a storage unit for your possessions while your home is being remodeled.
Should you be renovating your entire home, you may need to consider alternate accommodations for part of or all of the renovation. Will your home be safe to sleep in? Will you have access to amenities?
During a renovation, the more you can maintain daily routines, the less your family will feel the stress of your home remodeling project. If you can, keep an area renovation-free so your family can do homework and share meals like usual. If this is not possible, again, you may want to consider staying with family or temporarily moving to a hotel.
Protect Children and Pets
Home remodeling projects can be very disruptive, stressful, and even unsafe—especially if you have pets or small children. Consider their safety to land on the best course of action. Perhaps you have a family member who can pet-sit while the renovation is underway. Maybe one parent temporarily moves out with the kids to keep them safe from the noise, debris, and dust that are regular occurrences during a renovation. Or, perhaps the entire family—pets included—stay at a hotel or with friends/family until the majority of disruptive renovations are completed.
Move Back in Once the Interior Has Been Completed
If you had to move out of your home for the renovation to be completed or you are selling your old home while renovating the new house, be sure to plan for the possibility of an extended renovation time. In the event that your old house sells before the new one is ready or your home remodeling project takes longer than anticipated, you need to have a place to stay and a financial buffer to provide for that accommodation.
If you can't move into your home until all the renovations are completed, we suggest waiting until the last coat of paint has gone up to move in. This way you'll stay out of the way while the last few renovations wrap up—keeping you, your pets, and your family safe. It will also feel more relaxing to move into a home that is ready for you.
Hire a Handyman for Your Home Remodeling Project Today!
Now that you're equipped with the tools to plan out your home remodeling project, are you ready to start the actual renovation? If so, be sure to call our qualified, expert technicians or request a service online to get started today.