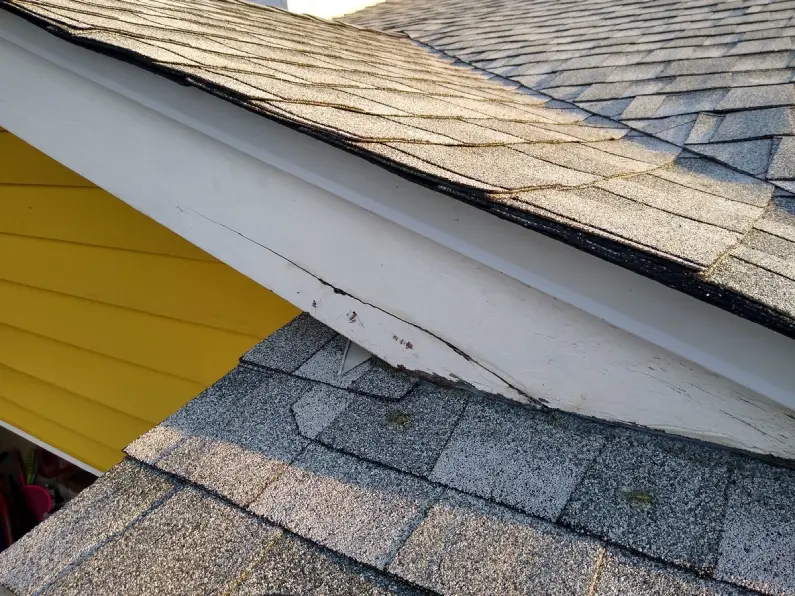 Our home's wooden framework and all the associated components, from the wall studs and floors to the cabinetry, window frames, doors trim, decks, porches, siding, and more, make our home sweet home more charming and attractive. Normally, light, solid, and hardwood lumber is utilized in various areas of your home as it's a popular choice amongst many modern homeowners, given its classic and rustic appeal. Although wood makes your humble abode picturesque and homey, it also requires a bit more legwork for its proper upkeep. If you forgo routine maintenance, your house will become susceptible to rotting wood.
If you have discolored splotches, peeling, splintering, and splitting wood surfaces in and around your home, you likely need wood rot repair in Boulder, CO. As the rotting process progresses, it will break down the cellulose in the wood while softening, darkening, and shrinking it as it deteriorates. It's best not to downright ignore a wood rot repair as apart from decay being an unsightly eyesore and your home's curb appeal plunging. You are also readily sacrificing the structural integrity of your house as its structural wood components fall into disrepair.
Atop this, you are also jeopardizing your safety, as the last thing you want to encounter is a building collapsing and a roof caving in on you. Plus, there are also adverse health effects from mold and mildew growth as the fungal spores are toxin in nature and, if inhaled, cause irritated and watery eyes, coughs, migraines, and skin rashes, and is only made worse if you have allergies or are immune compromised.
Remain proactive and protect your wooden structures from withering away—you can do damage control by opting for a Boulder wood rot repair from a qualified and fully insured Boulder handyman from Mr. Handyman of E Boulder, Broomfield & Erie.
About Our Boulder Wood Rot Repair Services
Despite many homeowners swapping out their home's wooden components for more artificial and plastic-based substitutes, they just don't measure up to the authentic aesthetic appeal of real and natural wood. Recall so long as you are keen on preserving the good condition of your wood, you will rarely require a wood rot repair. Boulder homeowners who aim to bolster their home's property value for years to come must not miss out on a wood rot repair. As a locally owned and operated franchise, we have served Boulder and the surrounding areas of Dacono, Lafayette or Niwot since 2013. We always advocate for our clients by listening to your viewpoints and offering superior products and services, quality craftsmanship, and outstanding customer satisfaction.
Our expert and experienced team members are well-equipped with the skillset, tactics, and know-how for repairing rotting wood, no matter the challenge. Here are the common types of decay we treat:
Brown Rot
This is also called dry rot and tends to make the wood lumber more dry as the fungus invades and breaks down the wood's cellulose. This results in a darker color appearance. This is only made worse if the wooden components are exposed to natural and direct sunlight, including harmful UVA and UVB rays which dry out the wood's natural-based oils. If you have witnessed fine and fluffier white fuzz, you have a case of mycelium. Mycelium is a fungus that results in deeper fractures, brittle texture, discoloration, and soft and fleshing-fruiting bodies in the wood itself.
White Rot
Wood is made of an organic polymer or substance known as lignin, which helps bond the wood cells together, allowing for its natural rigidity. After a wood surface has contracted an infected fungal spore, the fungus will immediately eat away at the lignin. This results in white rot as the lumber is peeled off its natural color. White rot tends to crop up on exterior house surfaces such as the soffits and fascia boards as it requires a higher moisture content to grow and develop, for example, from heavy rainfall.
Soft Rot
The decay process for soft rot is one of the slowest, specifically compared to brown or white rot, but the premise is similar–the fungi infiltrate the cell walls of the wood and cause it to break down. The lignin and cellulose are devoured, resulting in a honeycomb structure. This type of rot tends to crop up in incredibly hot or cold temperatures.
Expert Wood Rot Repairs in Boulder, CO, and Nearby Areas
Despite building materials and technology advancements, wood remains a popular choice for many exterior and interior home constructions. However, timber is so susceptible to decay when exposed to moisture, so it requires considerable maintenance—especially in comparison to plastic materials like vinyl. If you see any signs of deterioration to your timber structures, such as crumbling, a musty odor, and color changes, contact our Boulder handyman team today about our professional Boulder wood rot repair service.
Our handyman experts have an average of 10 years of experience in the industry and will use only the best, most thorough methods of wood rot repair to restore structural stability to your home. Give us a call today to book your Boulder wood rot repair service. Or, continue reading below for more information on our expert service!
Many signs that you need wood siding repair, trim repair, stair repair, fence post repair, window sill, and window frame repair are synonymous with signs of wood rot. No matter where your timber is or how extensive its structural damage is, our expert team has the experience and knowledge to complete your project.
When you call us to inquire about our Boulder wood rot repair service, we'll ask for additional details about the damage, including where it's located and the extent of it. For many of our services, we prefer to see your property in person to assess your damage and provide an accurate project cost estimate.
We'll always suggest the repair method we think will be the most effective and affordable for you. In the case of wood rot repair, sometimes this doesn't mean repair but instead means replacement. For example, if you have fence posts that are completely rotted, it may be easiest to simply remove that fence post entirely and replace it with a new, structurally sound post. On the other hand, if you live in a historic home and want to avoid replacing your original porch pillars with signs of rot, we'll try to remove and fill the affected area instead.
Our professional handyman team typically uses one of two repair methods during our Bouder wood rot repair service: patching and replacement.
Patching Rotted Wood
If only a small portion of your wooden structure is rotted—approximately 15 percent or less—our technicians may be able to patch the rotted areas. To do this, we'll follow these steps:
Remove rotted wood. Using a tool such as a chisel, we'll carve out all the rotten wood. Once rot begins, it's virtually impossible to stop. If any is missed, it will continue to spread beneath the patch.
Dry wood. The last thing we want to do is seal in moisture. If at all damp, we may use a heat gun to dry it out.
Apply wood hardener. To restore structural integrity to your remaining timber, we'll apply a wood hardener. This product will coat its fibers and make them strong and resilient.
Apply wood filler. With the hardener fully cured, we'll apply a filler using a plastic putty knife to fill in all holes.
Sand surface. Using a sanding block, we'll smooth the patch so that it is flush with the real wood.
Stain or paint. To avoid needing wood rot repair in Boulder in the future, we strongly recommend having paint or wood stain applied. Something to keep in mind is that filler will be visible beneath a stain, so if you want to hide the repair work completely, painting is a better choice.
In the image below, you can see the results of our patching job for one of our clients. We removed the damaged trim, filled in the gaps, and painted it to match the rest of their trim.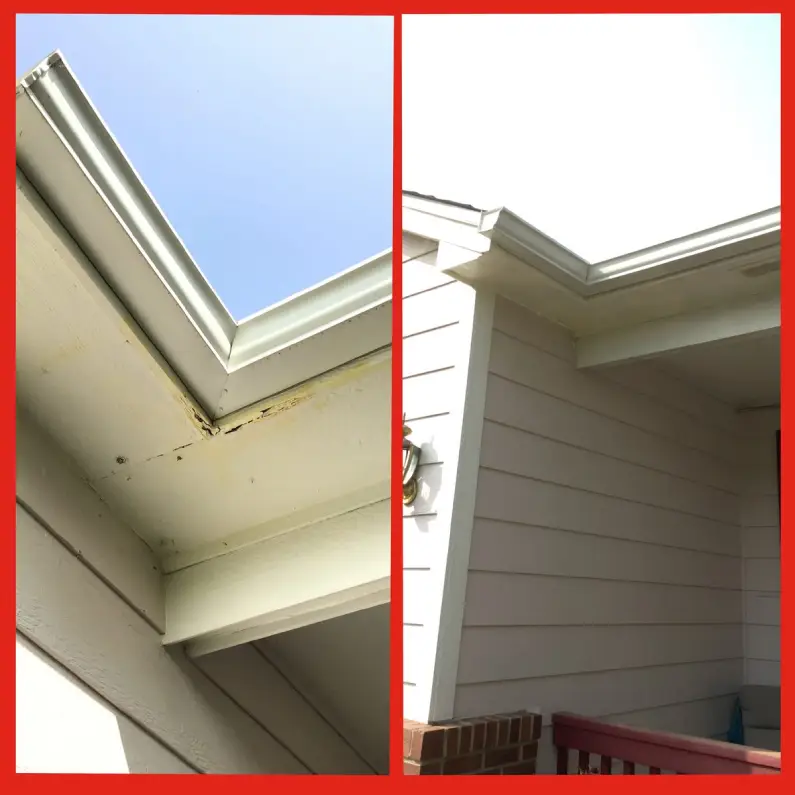 Replacing Rotted Wood
Though a hardener helps to restore structural integrity, if this repair is done on a surface that must be structurally sound to ensure the safety of your home's occupants, it's better to have the area replaced with new timber. This would include rotted decks and stairs. Likewise, if more than 15 percent of the area is rotted, patching can get tedious and, more importantly, costly. Unless your structure has sentimental value, it may be more cost-effective to have its rotten timber replaced.
Our handyman experts are highly skilled in carpentry and can tackle even the most complex of projects. Once we've replaced the rotted wood, we recommend having it stained, sealed, or painted.
Below, you can see that our customer's steps were almost entirely damaged. In this scenario, replacing the boards rather than patching them made more sense.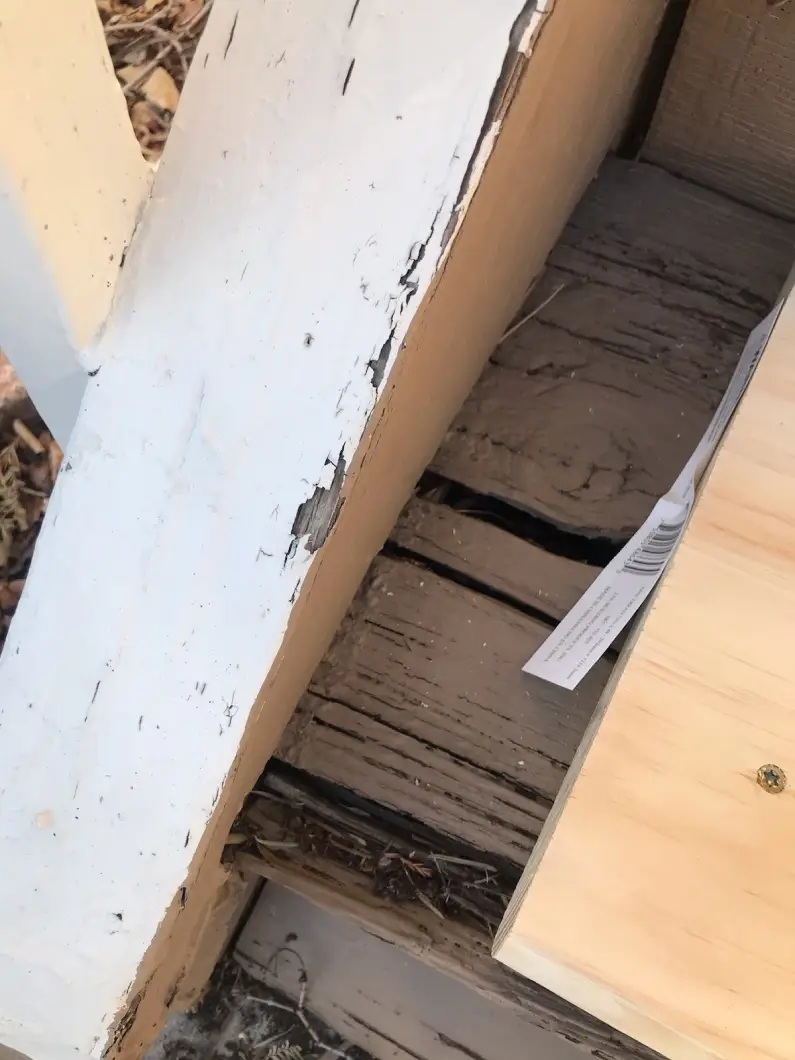 We'll Get The Job Done Right, Guaranteed!
Whether you need wood rot repair in Boulder, CO, or one of the many surrounding areas we serve, including Erie, Louisville, and Superior, our team at Mr. Handyman of E Boulder, Broomfield & Erie has you covered. We stand out from our competitors due to our commitment to quality craftsmanship and customer satisfaction. We consistently achieve these goals through the following actions:
Offering a one-year Done Right Guarantee
Being communicative and transparent with our clients through every stage of the process
Providing free, no-obligation on-site estimates
Respecting our customers and their homes, taking care to ensure that we leave your space as clean as we found it
Hiring only the best handyman professionals with tons of experience behind them
Hiring handyman professionals who enjoy working with customers and share our company value of customer focus
To schedule your on-site estimate with one of our friendly and knowledgeable service professionals, feel free to contact us today.
FAQs For Wood Rot Repair In Boulder, CO
What Are the Telltale Signs I Need Wood Rot Repair in Boulder, CO?
Here are telltale signs you have decay and need an expert Boulder wood rot repair service:
Discoloration and darker-colored timber
Soft, spongy or crumbly texture
Splintering and fissuring
Hairline cracks and fractures
Fungus growth is reserved for a specific spot
Shrinkage
A damp, musty odor
Peeling or flaky paint
Small holes and leakages
Physical health symptoms such as cough, runny nose and watery eyes
What Is Wood Rot & Why Is It Disruptive?
Wood rot is a phenomenon in which excessive moisture concentrates in a certain area, resulting in fungal growth, normally composed of microscopic organisms. These fungal spores spread fast to other areas of the home. They can easily devour wood once they settle on any wood-based surface. As a general rule of thumb, once wood lumber becomes approximately 20% damp, it creates an ideal environment for fungal growth to occur. Once airborne spores infiltrate the damp timber, these spores begin to surge, sprouting gray root hyphae strands. These strands eventually grow into mycelium, as seen by the cotton-wool-like texture on your wood. If not remedied, the decay will only worsen until you ask for a wood rot repair in Boulder, CO. Otherwise, you can expect the wood to continue decaying and crumbling, rendering it weak and exposed to further damage.
There are two main kinds of wood rot: wet rot and dry rot. Regardless, both are fungal decay, resulting in structural damage to a building and must be removed through a wood rot repair. Boulder property owners can expect mold and mildew to crop up wherever there is dampness and excess moisture, so they must keep a close eye on these parts of the house.
What Causes Wood Rot?
Wood rot, also known as decay, is a completely natural process. When timber falls to the forest floor and develops a high moisture content, it becomes a hot spot for fungal growth. There are many different types of fungi, including the common brown-rot fungi. No matter which type ends up on your timber, they'll consume cellulose and lignin within the wood fibers. As they consume these nutrients, the wood breaks down and the ecosystem recycles it.
Though this is an important environmental process, it's a huge pain when it occurs within commercial and residential structures. The culprit is mainly water and moisture; fungi cannot survive on the wood's surface without these. Therefore, always ensure that a specific space with wooden structures doesn't have ventilation issues. This will help prevent moisture buildup.
How Can I Prevent Needing Wood Rot Repair In Boulder, CO?
There's a key to preventing needing service for wood rot repair in Boulder, CO. And that's creating a moisture barrier between your timber's surface and the elements. As mentioned, the best way to do this is with a stain followed by a sealant. Sealants typically need to be reapplied every two years or so, depending on the level of weather damage.
You can also use exterior paint to cover the wood's surface. Keep an eye out for paint peeling, as the moment this begins to occur, moisture will be able to enter the structure. Repaint your exterior surfaces as needed, but ensure it hasn't fallen victim to moisture damage already. Your local handyman is more than happy to complete a thorough inspection for you.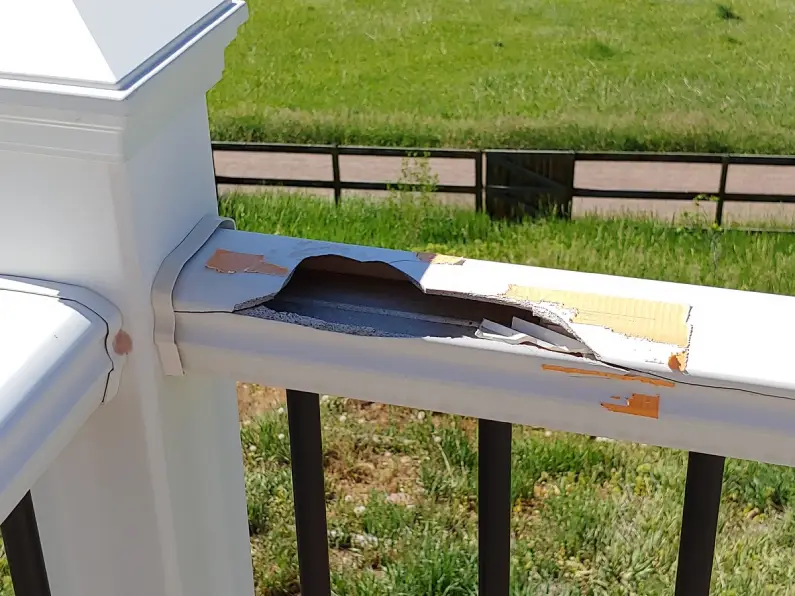 Does Home Insurance Cover Wood Rot?
In most cases, home insurance policies do not cover wood rot repair in Boulder, CO. This is because these policies are intended to protect homeowners from accidental damage. Decay is generally due to a lack of maintenance or improper installation, making it the result of negligence rather than an unexpected and unavoidable accident.
Can I Stop Wood Rot With Vinegar, Borax Or Bleach?
These three products are sometimes recommended as "cures" for decay due to having antifungal properties. Vinegar's high acidity level increases the pH of fungi, thereby stunting their growth, while borax and bleach will kill the fungi.
However, these are typically not permanent solutions. They may interrupt the decay process, but they'll need to continuously be applied to stop the spread altogether. Additionally, the already-compromised fibers will remain destroyed and require patching or replacement to restore structural integrity.
Can I Do Rotted Wood Repair With Expanding Foam?
Expanding foam, whether closed-cell or open-cell, is not a good fix for wood rot repair in Boulder or anywhere else. While closed cell expanding foam is completely air and water-tight, all it will serve is trap the existing rot within the wood, allowing the decay to continue beneath it.
The best way to fill rotted wood is by using an epoxy consolidant within holes and cracks left behind after removing the decay. This adds structural integrity back into the wood and creates a surface that can be both stained and painted.
Don't Risk Structural Damage. Book Your Boulder Wood Rot Repair Service Today!
The longer you allow wood rot to spread, the more costly it will be to repair or replace. Take charge of your home's exterior damage today by booking our professional handyman team's Boulder wood rot repair service. We guarantee that we'll remove all decay the first time, or we'll come back and fix it for no additional cost!
By taking advantage of our free, no-obligation on-site estimates, you have nothing to lose and everything to gain. To book your estimate or ask us any remaining questions you may have after reading this page, get in touch by giving us a call or by filling out our online service request form. We look forward to helping you out with your repair project!