Professional Handyman Services & Repairs. Get Your Estimate Today!
Do you have a list of repairs that you need to get done around the house? Let our skilled team of expert Marietta handymen take care of all your repairs and improvements so you don't have to worry any longer!
Many of our local customers call on us for handyman services in Marietta such as home remodeling, repair and installation projects. We also offer drywall repair and painting services.
Call our reliable Marietta handyman company today or schedule your handyman services online.
What Services Does Your Handyman Provide?
We're a jack of all trades - meaning we can handle just about every home repair and service you need help with. Whether you need rain gutter repairs or new flooring, our friendly, experienced, and diligent team can deliver the results you are looking for.
Some of our handyman services include:
Drywall Repair & Installation
Door Repair & Installation
Window Repair
Light Fixture Installation
Tile Installation
Flooring (Wood, Tile, Linoleum, Laminate, & Vinyl)
Caulking Services
Gutter Repair & Cleaning
Screen Installation & Repair
Fence & Gate Repairs
Each of our handymen average 20+ years in the trades - you can trust us to find a reliable solution to your needs. At Mr. Handyman of East Marietta, we understand how hard it is to complete your to-do list when you have so much to cram into your busy schedule.
Our Marietta home repair professionals are here to take away your stress and use our experience and knowledge to get your home in order again.
To schedule your service, call us or schedule your service online. We'll back your service with a one-year warranty.
Standing Out from the Competition
Here's why people in Marietta choose our trusted team of handymen:
Local communities trust our services
We arrange service calls around your busy schedule
All of our workmanship comes with a quality guarantee
Our professionals clean up after themselves and treat your home with the respect it deserves
We are fully insured with general liability and workers' comp insurance
Safety is our top priority
Don't just take our word for it—read what past customers have to say about our services. Or if you want to see our work for yourself, check out our local work gallery.
Call us or request an estimate online today. Our experts will get the job done in no time!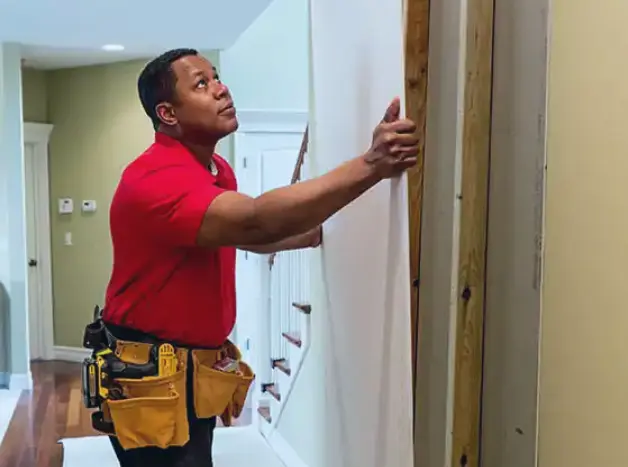 Why Choose Mr. Handyman?
Convenient one-call solution.

Safe, worry-free experience.

Fully insured with general liability and workers' compensation.

We'll clean up when we're done.

Our workmanship is guaranteed.
Our Mission
Mr. Handyman is your one-stop shop for a wide range of home maintenance and repair solutions. Mr. Handyman's service technicians are highly skilled craftsmen, so you know they will get the job done right the first time.
Repairs & Installations You Can Depend On
Schedule Your Professional Handyman Services
Our professional, reputable handymen in Marietta live by our motto: "On time. Done right.®" At Mr. Handyman of East Marietta, our mission is to not only to provide a home improvement service, but to do with by providing professional service.
Keeping up with home maintenance can be overwhelming at times, but our handymen will gladly take care of the projects you've been putting off.
Eliminate your stress—give us a call today for an expert handyman near you. Or you can request your service online.
Gutter Repair and Cleaning
Gutters are easy to overlook, but regular maintenance is essential. In order for your roof, your foundation, and your lawn to be kept in good condition, rainwater must be managed properly. With blocked or broken gutters, you risk damage to your property. We can perform gutter cleaning as often as you need it (typically recommended at the frequency of at least twice a year). We can also repair any type of gutter material, including aluminum, PVC, vinyl, and more.
Learn more about our exterior home services.
Helping Homeowners & Business Owners Alike
We also provide handyman services and repairs for businesses throughout Marietta. That includes Kennesaw, East Cobb, and more!
If you want to grow your business and attract new customers, then let our team at Mr. Handyman of East Marietta put our skills to work. We'll quickly take care of all the repairs and installations you need to compete in the marketplace.
Call us to talk to a team member at Mr. Handyman of East Marietta. Don't forget to ask for your estimate!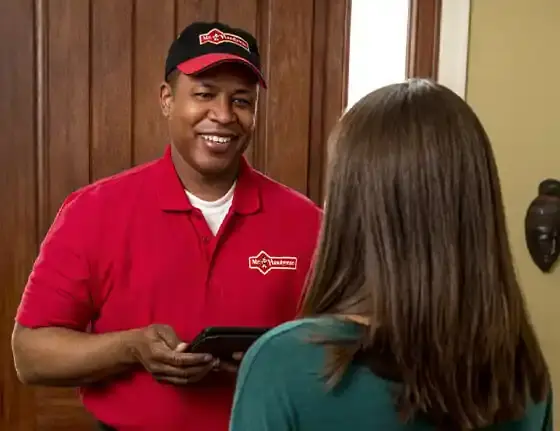 How Do I Find a Good, Local Handyman?
Finding a local handyman to repair drywall or install a new door is one thing. Finding a local handyman that delivers professional service is entirely different.
Below are a few questions we'd recommend you ask yourself when looking for a handyman in your area:
Is the handyman reputable? Make sure the local handyman has a great reputation in the area. Read some reviews and see why their customers love their services. Ideally, you'd want to find a handyman that's prompt, professional, and responsive.
Is the handyman insured? You'll want to make sure they're insured, if anything happens to them on the job.
Does the handyman warranty their work? For your peace of mind, the local handyman should back their services with a warranty or satisfaction guarantee.
Do they perform good work? Check the local handyman's website to see if they have examples of completed projects. That can be a reassuring sign that you'd receive quality work.
If you need to find a handyman that checks off these boxes, you've come to the right place. At Mr. Handyman of East Marietta:
We're fully insured
We offer a 1-year service warranty
We have a photo gallery so you can see examples of our work
Searching for a good, local handyman? We'd love the opportunity to serve you. Give us a call or request your service online.
Frequently Asked Questions
Do you charge by the hour or per project?
We charge per project. We'll review all pricing with you before proceeding with any work. Your price won't change, even if it takes us a little bit longer than we anticipated.
How do you ensure safety during repairs?
We go above and beyond to deliver a safe, worry-free experience. For your peace of mind, we're fully insured with general liability and worker's compensation. With Mr. Handyman of East Marietta, you and your property are protected. In the event one of our handymen is injured while on the job, you'll be free of liability.
Do you have a minimum job size?
No, we do not have a minimum job size. Whether your project only requires 1-2 hours of labor, or you need help with a more extensive project, we can help.
How do I schedule an appointment?
You can schedule your appointment one of two ways. First, you can call our office. Or, you can schedule your appointment online.
Mr. Handyman of East Marietta
Choose the right handyman services team in your area. When it comes to selecting the right team for your home improvement needs, Mr. Handyman is the right choice.
Areas We Serve:
Kennesaw, Marietta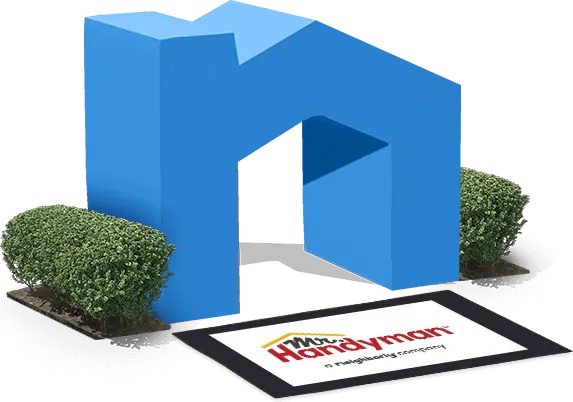 Neighborly®
Mr. Handyman is a Neighborly Company. Handyman repair services are one of the many home maintenance solutions available to you through Neighborly. At Neighborly, we are committed to being there for all your home service needs.
Learn More About Neighborly