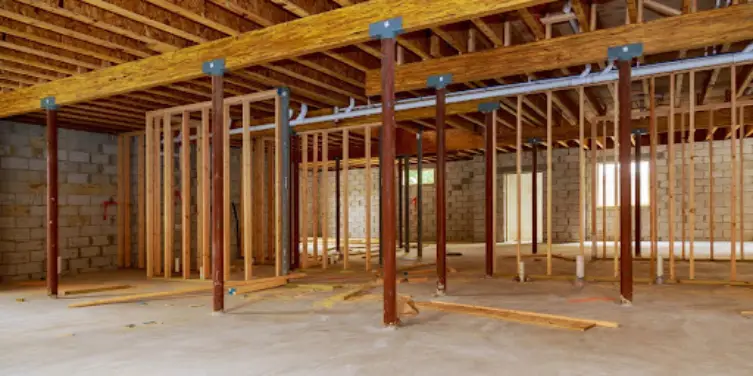 Are you thinking of selling your Lehigh Valley home and looking for ways to raise the property value first? Or, do you plan to stay right where you are — as long as you can figure out how to add the extra space you need to make your home more comfortable and livable? If you have an unfinished basement — or one that doesn't meet the needs of you and your family — the answer to both those problems is sitting right beneath your feet: a Lehigh Valley basement remodel
Planning a basement remodel for your Lehigh Valley home will give you the perfect space for relaxing, working, entertaining, or whatever you want to do that you don't have room for upstairs. It could also significantly increase your property value and help convince prospective buyers to seal the deal. But the planning phase can feel really challenging, especially if you are not sure where to start. This guide covers nine questions you should ask yourself when you are working on a basement remodeling plan to help the whole process go a lot more smoothly.
When you have a plan in place and are ready to get your Lehigh Valley basement remodel underway, call the remodeling pros at Mr. Handyman of Easton, Bethlehem, Nazareth, Allentown, and the Lehigh Valley. Our Lehigh Valley handyman team is highly experienced with basement remodeling, renovation, and finishing, and we have the skill to make your dream Lehigh Valley basement remodel into a reality.
1. How Do I Want and Need to Use My Basement Space?
First up, take some time to really think about how that space in your basement can be utilized to really serve the needs and wants of your family. Whether it feels like there is just never enough room for everyone and everything upstairs, or you have always wished you had the ideal space to do this, that, or the other thing, this is your opportunity to correct those issues and transform the lower floor into the best part of the entire house.
Grab a paper and pencil and sketch out a rough layout of your floor plan. It doesn't have to be an artistic masterpiece, but just seeing it on paper can really help you identify potential trouble spots and remember to include important elements. It also helps give your basement remodel handyman team a clear idea of what you are thinking.
Need some inspiration? Here are a few ideas for fun and functional spaces you could consider adding to your Lehigh Valley basement remodel plan:
Extra bedrooms for guests or family members who are not excited about sharing a room on the upper floors
Family entertainment space with game tables or a pool table
Home theatre for family movie nights
The office that will give you peace and privacy when working from home
Fabrication, manufacturing, and storage space for a home business
Art, crafts, or hobby studio
Home gym
Workout or dance studio
Wine cellar and tasting room
Children's playroom and homework or home school area
Laundry room with added storage and workspace
There is another possibility that we haven't mentioned yet. If you need some additional income more than you need extra space, you could consider the option of converting your basement into a separate rental suite that you could then rent out on a short or long-term basis. Keep in mind that creating a legal suite does mean there will be some additional requirements and permits.
2. Will My Basement Remodel Meet Building Code Requirements?
Speaking of requirements and permits, while the state of Pennsylvania does not require a building permit for a basement remodel (unless there is structural work involved), you will still need to make sure that you and/or your Lehigh Valley basement remodel team are following Pennsylvania building codes, so you know your basement renovation is safe and legal.
For example, each habitable room needs to be at least 70 square feet and have a basement ceiling height of seven feet at a minimum. New construction is subject to basement egress building codes that state there should be an egress window from the habitable area and every downstairs bedroom. If you aren't sure about all the code requirements for basement remodeling in Lehigh Valley, give us a call — our team is happy to assess your basement space and determine what needs to be done to adhere to all applicable building codes.
If your basement was built before the mid-1980s and hasn't been remodeled since then, there is a possibility that it may contain building materials with asbestos, a naturally occurring mineral that is highly carcinogenic when airborne particles are inhaled or swallowed. There is no way to tell if you have asbestos in your house just by looking at it, so if you suspect it or are not sure, it should be tested and removed by an asbestos professional.
3. Where Do I Need to Add Lighting and Ventilation?
It's usually not possible to get much natural light on a subterranean floor, so it is important to make the most of your options for artificial light — and ventilation is also important in an airless basement space, though it tends to get overlooked. Recessed lights are a popular option, because they don't take up additional headspace in a room with a lower ceiling. Wall sconces and track lights can also be low profile and do a lot to light up all the corners of your lower floor and make it feel bright and cheerful.
Did you know that ceiling fan installation could actually save you money on your energy bill? A ceiling fan can change the temperature in a room by about 4 or 5 degrees by circulating the air to stir up cold air that "settles" near the floor and push down the warm air that rises to the ceiling. That means you can set your AC to a higher temperature or your heater to a lower temperature and save money on HVAC energy costs while still maintaining a comfortable temperature in your Lehigh Valley home. If ceiling height is a concern, recessed fans are also available — they don't move as much air as a conventional ceiling fan, but they are still an improvement over nothing.
4. Are There Signs of Moisture Damage in the Basement?
Any subterranean floor is, of course, more susceptible to moisture incursion than other parts of the house. Whether or not your basement currently has drywall and flooring in place, you should give it a thorough check for any signs of moisture damage, such as:
Sound of dripping water
Mysterious puddles forming on the floor
Discoloration such as brown water stains on walls
Visible mold and mildew, or a musty mold smell
Cracks in the concrete foundation, inside or outside (or both)
Softened drywall, peeling joint tape, and popping nails
Peeling paint or wood stain
Condensation on window panes
If you aren't confident that you can track down any potential moisture problems, our Lehigh Valley handyman team can perform a thorough inspection. We have plenty of experience with water damage mitigation, so we know what to look for and may catch issues that others would miss.
5. Should I Add a Bathroom, and Where?
If you want to create areas on your lower floor that will be used for longer periods of time, such as bedrooms or an office, it makes sense to consider adding a basement bathroom as well. Even if it is just a half-bath or powder room with only a toilet and sink, it will add property value and make your basement remodel more comfortable and convenient. Have more questions? Check out our answers to frequently asked questions about Lehigh Valley bathroom remodeling.
Selecting the perfect location can be difficult if you aren't sure exactly how your plumbing system is configured. It is best to have it as close as possible to your main drain stack, so try to situate it near to or directly underneath a main floor bathroom.
6. What Type of Flooring is Best for a Basement Remodel?
If you have an already-finished basement space and you are happy with the flooring that's installed, you don't have to change it. But if you want a new look, or there is nothing but concrete floor there now, you will need to select a flooring material.
Solid hardwood planks can't be installed directly over concrete and are susceptible to warping when exposed to moisture, so they aren't the best choice for a basement floor. The carpet is also prone to issues with moisture and can become mildewed. Vinyl tiles or planks, laminate flooring, or ceramic tile are durable, waterproof options that are low-maintenance and come in a wide variety of styles, colors, and patterns. Not sure what to choose? You could see some materials in person and get a better sense of what they are really like by booking an appointment for our showroom, conveniently located right off the Lehigh Valley Thruway in Easton.
7. Is Everything in My Basement Safe and Operating Efficiently?
While you are remodeling your basement, it is the perfect time to ensure that everything on that floor is functioning properly and efficiently to protect the safety of your family and your property. This is one reason having a multi-skilled Lehigh Valley handyman team on your side is so helpful. Here are some of the preventative maintenance tasks our service professionals could take care of during your basement renovations:
Install carbon monoxide detectors and smoke detectors
Repair loose or creaky stairs
Replace staircases that are too narrow or otherwise unsafe
Install handrails or grab bars
Insulate water heater to make it more energy efficient
Repair or replace the sump pump
Seal windows against moisture and air drafts
8. How Can I Add Extra Storage Space?
Most people need storage options in the basement for all the odds and ends that don't have a place upstairs or need to be stored out of sight for long periods of time. Your Lehigh Valley handyman can install prefabricated storage items or build custom options for items such as large sports equipment, holiday decorations, toys, and mementos. That could include:
Premium wood cabinets, made in the U.S.
Storage racks
Bookcases and shelving units
Bench seats with storage boxes underneath
Hobby stations
Toy boxes and cubby shelves for the playroom
Entertainment centers that hold all your game consoles and other audio-visual equipment
Bar or countertop with a mini fridge and sink
Our skilled carpenters can create an endless variety of installments to perfectly suit your particular storage needs. You will save a ton of space and have the peace of mind that comes with having a place for everything and storing everything in its place.
9. How Do I Increase Property Value With a Basement Remodel?
While the basement doesn't factor into the above-ground square footage when you are selling your house, a remodel can do a lot to increase property value. A well-appointed, modern basement space will impress potential buyers with how much extra space they are getting and give them a sense of the true potential of the property.
If you are looking at selling in the near future, it is a good idea to choose neutral-colored or white walls and fixtures that will encourage prospective buyers to transpose their own sense of style on the space and envision themselves living there. If that feels too bland, remember you can add pops of color with furniture, rugs, artwork, and other decor elements.
Ready to Get Started on Your Lehigh Valley Basement Remodel?
Whether you are in Bethlehem, Allentown or another part of the Lehigh Valley area, you can count on Mr. Handyman of Easton, Bethlehem, Nazareth, Allentown, and the Lehigh Valley to deliver the highest standards of workmanship and customer service. We have services for all kinds of home improvement projects, from basement remodeling to a kitchen renovation.
Pick up the phone and give us a call today to schedule an appointment with our basement remodel team, or to find out more about our reliable handyman services in the Lehigh Valley. Hercules the dog is waiting for your call!