Handyman Near Me Easton: Top Repairs and Remodeling Services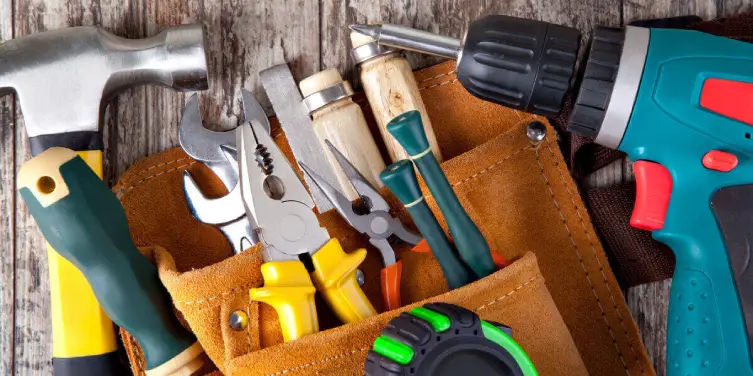 Are you searching for a handyman near me? Easton's best choice for any kind of building improvement or maintenance is a team of professional, skilled experts who offer a wide range of services and solutions. You might be surprised to learn that there are many potential projects you can complete with the help of a professional. By hiring the right company when you search for a "handyman near me in Easton," you could complete every project on your to-do list—including a major home project like a bathroom remodels or kitchen renovation.
It's important to know about the most common improvement and maintenance services that people need. That way, you can find a team of experts that offers all the popular services you need for your property. Whether you're a local homeowner or business owner in Easton, it's important to hire the best team for your next improvement or repair project.
You don't have to waste time searching for a handyman near me in Easton when you choose a team like Mr. Handyman of Easton, Bethlehem, Nazareth, Allentown, and the Lehigh Valley. If you need an Easton handyman, we're here to meet all your needs. We'll help you complete your next improvement project, finish all of your seasonal outdoor repairs and even provide maintenance solutions to help you avoid future repairs. Our popular services include every specialty and solution you might want when you're searching for a "handyman near me in Easton."
Repairs Available from a Handyman Near You in Easton:
Property repairs are the bane of existence for many homeowners and business owners in Easton. Fixing issues like a hole in your wall or a damaged door takes time and effort that many people simply can't spare—but those problems must still be fixed before they get worse. Those nagging repairs are why "handyman near me in Easton" is a common query for both homeowners and local business owners.
By hiring a team of skilled handyman service providers to fix all your damage, you'll be able to sleep easy knowing that all your home repair and commercial projects are complete. The comfort, safety, and security that come from fixing those problems with a reputable handyman near you in Easton can't be undervalued.
Drywall Repair
When it comes to indoor repairs, fixing damaged drywall is one of the most common projects. That's probably because drywall is one of the most common building materials. Whether you know it as Sheetrock, gypsum board, wallboard, or plasterboard, you're probably familiar with drywall because of its widespread use. It would be hard to go through a single day in the everyday life of someone in Easton without encountering it, which is also why damage is so common.
Drywall has many benefits, but high durability isn't necessarily one of its key qualities. Bumps, scrapes, and scratches are all commonly found on walls and ceilings throughout buildings in Easton, and that's just minor damage. Holes and moisture damage also appear in the walls and ceilings of buildings. Even basic plumbing repairs could leave a hole in your wall.
Fixing drywall isn't too difficult, as long as you're prepared with the right tools and knowledge—not to mention the time required to repair larger holes and clean up afterward. Taking care of messy, time-consuming drywall repairs is something that many people are capable of doing on their own, but it's much faster, simpler, and more convenient to fix that damage by searching for a "handyman near me" in Easton when you need drywall repair services.
Door Replacement
Doors are essential in every property. In front entries, they reinforce your safety and security against the outdoors. In interiors, they provide privacy for areas like bathrooms and bedrooms. Unfortunately, repeated use and gradual wear will eventually wear those barriers down. When that happens, professional door replacement is usually the best solution.
For some issues, like a door hanging on a slant or scraping against the floor, there might be solutions that you can use to avoid full replacement. However, if the damage is severe, a replacement could be your only option. Of course, swapping out an older door with something newer and more energy-efficient is also a common reason that people search for a handyman near me in Easton to take care of door replacement.
Fence Repair
Mending fences is a common job for any handyman. A beautiful fence that's been well-maintained could have a dramatic impact on both curb appeal and property value. A fence that's crumbling, slanted and slowly wasting away could have the opposite effect. Whether your fence is made of cast iron, wood, vinyl or another common material, keeping it clean and fixing the damage is an essential part of seasonal maintenance in Easton.
When you need fence repair, if you spend time looking for the right handyman near you in Easton, PA, you will get all the benefits that come from hiring a team with the experience required for completing a wide variety of projects. While they're fixing your fence, they could also take care of other outdoor projects like siding, porch, and deck repair
Wood Rot Repair
Fixing wood rot is an important job that should never be delayed. That's why it's one of the most essential services offered by handyman service professionals. Removing rotted wood and replacing it with something sturdier is a project that should definitely prompt a call to a local handyman near you in Easton, PA.
When wood rot spreads, it ruins the surfaces it infects, decreasing their strength and creating safety hazards. Unfortunately, fixing those problems usually means replacing the ruined structures—although, it is sometimes possible to fix wood rot by simply scraping out the infected area and filling it back in, as long as you spot the problem early and fix it as soon as you do. Finding the safest, most effective solution is something that's always easier to do when you get advice from an experienced handyman.
Handyman Near Me Easton: Kitchen Remodeling Services
When it comes to larger projects like a kitchen remodel, you definitely don't want to choose the first unlicensed handyman that you can find. Major home remodels should always be left to licensed contractors and experienced, skilled professionals. Choosing the wrong team when you look for a handyman in Easton PA could leave you needing emergency repairs in the future.
A local handyman near you, like Mr. Handyman of Easton, Bethlehem, Nazareth, Allentown and the Lehigh Valley, is the best choice for your kitchen renovations. With a team of skilled experts who have experience and professional job training in specialties like carpentry, tile installation, and other key remodeling services, you'll get the best results possible for your new kitchen.
Custom Kitchen Carpentry
One of the best benefits that comes from hiring a handyman near you in Easton, PA is that you can get custom projects and installations you might not get from another home improvement contractor. That includes custom storage solutions like unique kitchen cabinets and even custom decorative trim features like chair rails, crown molding and wainscoting.
Handyman Near Me Easton: Bathroom Remodeling Services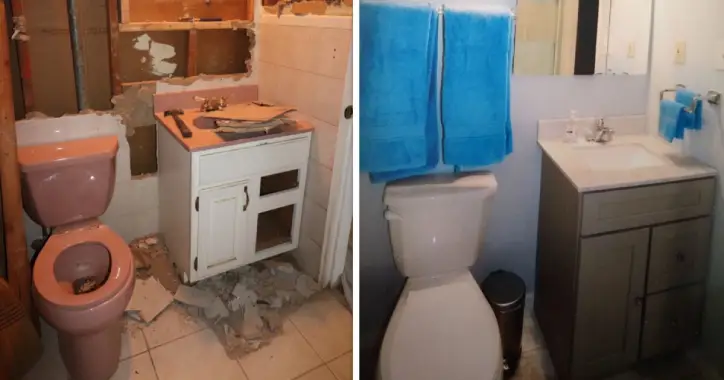 Before and after images of a bathroom remodel in Easton completed by Mr. Handyman.
Bathroom renovations are another key project that you can complete with the help of a professional. Whether you're in the early stages of planning for bathroom remodeling or your project has already started and you need a few key services to finish it off, there's never a bad time to call a handyman near you in Easton, PA.
With a team like Mr. Handyman of Easton, Bethlehem, Nazareth, Allentown and the Lehigh Valley, you can transform your bathroom from top to bottom. For everything from replacing your ceiling fan to installing new floor tiles, the best choice to get the results you're dreaming of is to call a team of local, skilled experts.
Bathroom Accessibility Modifications:
Many plans for bathroom remodeling now include modifications for aging in place. Simple modifications like shower grab bar or dimmer switch installation can have long-lasting benefits for everyone using that room—and they also help ensure that you'll be able to enjoy the results of your renovations for as long as possible.
Other Remodeling Services
Bathroom and kitchen makeovers aren't the only improvements available from a local handyman near you in Easton, PA. There are many ways that your life or the lives of people visiting your property could be improved with modifications.
Even basic improvements like a new tile backsplash could have a dramatic effect on the way you feel about your home. Plus, there are many accessibility modifications that any property owner in Easton could complete to improve their own accessibility or to improve handicap accessibility in their business, such as adding bars to wheelchair ramps and widening doorways.
Tile Flooring Installation and Replacement
Tile flooring is a common choice for many homes and businesses. It has many excellent applications, from porcelain tile flooring in residential kitchens to LVT in commercial properties. Unfortunately, one of the major tile drawbacks is that it's difficult to install correctly. That's why tile installation is a renovation job best left to your trusted handyman in Easton, PA.
Backsplash Installation
Do you wish there was a way to refresh the look of your kitchen without completing a full remodel? There is! Backsplash installation is one of the simplest ways to change the look of an entire kitchen without changing the entire room itself. Unfortunately, much like tile flooring installation, backsplash installation can be a difficult job for those without professional experience and training. That's why it's also one of the best handyman jobs to save for professionals.
Basement Remodeling
Looking for another room to remodel? Do you have a basement? One of the best parts about renovating a basement is that there are so many options for creating a great space. It's not always easy to narrow down those choices, but advice from your local handyman could help you pick the best modifications for your basement.
If you want additional bedrooms or space for your guests, you can install walls and other features to create that extra living space. If you want a unique office or a workspace tailored to your specific needs, you can use a handyman to create custom storage solutions and even complete furniture assembly for a new desk.
How Do I Find the Best Handyman Near Me in Easton, PA?
Finding the right handyman in Easton, PA can be difficult, but there are many small steps you can take to find a team of experienced craftsmen who will meet all your needs with excellent workmanship and outstanding customer service.
Steps For Finding the Best Handyman Near You in Easton, PA:
Ask your friends and relatives if they have any recommendations
Ask any other home service professionals you know, such as your real estate agent, if they have any recommendations
Search online by reading customer reviews for local companies and looking at online photo galleries of local high-quality work
Narrow down your list of potential teams and contact each of them to ask a few basic questions about their services, how they can help with your projects, and anything else you might want to know
For larger projects, you may also want to collect a few cost estimates from each company before you decide which team to hire
Don't Delay, Start Today
The most important thing to remember about finding a handyman is that the best time to start is right now. When situations develop that require emergency repairs, such as complications from storm damage or other sudden accidents, you won't want to spend time looking for the right company. By searching now and hiring your potential prospects for smaller projects, you can evaluate their skill and be more prepared to hire a company that you know provides excellent service when you need them.
Looking for a "Handyman Near Me in Easton" Who Provides Outstanding Handyman Services?
Mr. Handyman of Easton, Bethlehem, Nazareth, Allentown and the Lehigh Valley is here to meet all your needs for excellent customer service and superior craftsmanship from a handyman near you in Easton, PA. You don't have to worry about hiring separate flooring contractors or other general contractors. We have a wide range of specialties available for both residential and commercial customers.
Whether you just want help to install smoke detectors and carbon monoxide detectors, you want help with major renovations, or you need other home services from a skilled professional handyman near you, you can rely on us to get the job done right. We're looking forward to helping you with your future projects!
Call us to make an appointment with our team or learn more about how we can help with your next renovation or repairs. We proudly serve Easton and many communities in the surrounding area, such as Bethlehem and Nazareth.