As any homeowner knows, things around the house may need to be repaired now and then, and drywall is on that list. Dings and dents, cracks and holes, plumbing and roof leaks, and ceiling step-throughs – if you live in a home long enough you will experience drywall damage in some form. Drywall repairs can range from fairly simple, if you have some DIY skills, to more complex depending on the location and size of the damage.
If this is more than you want to take on, the local professionals at Mr. Handyman® serving Greater Jacksonville can help. We're the trusted, high-quality drywall repair and installation team dedicated to solving any home maintenance or repair issue to ensure that you get back to enjoying your home. From window leaks causing unsightly damage to someone in the attic accidentally stepping through the ceiling, we've seen it all and are ready to take on any project.

Mr. Handyman has been providing solutions for homeowners since 1996, and we firmly believe in offering quality, service, and convenience. It's why all our work is backed by the Neighborly Done Promise™, our commitment that if there is an issue, we'll return and make it right.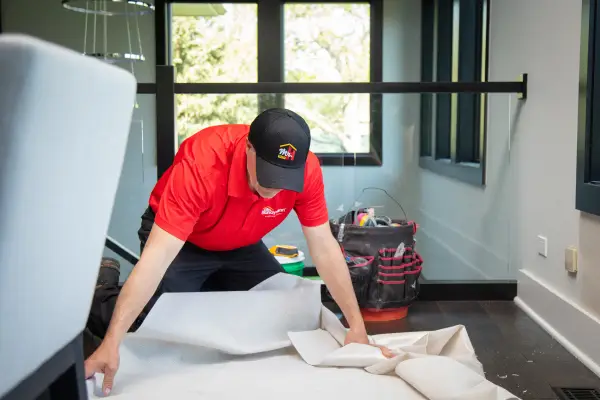 Drywall Repair Services
Drywall repair work is tedious, even for those who enjoy DIY projects. Bedding the tape, mudding things, sanding smooth, skim coats when needed, prime, paint and texture – drywall repairs are a multi-step process. It is also one of our most common repairs. Every home seems to have drywall someplace that needs a bit of attention.
Hiring a professional repair drywall ensures the work is done properly and that the results look great. We have the tools, skills, and know-how to get the job done right the first time. We can also identify the cause of the issue, or issues, and ensure those are resolved, if needed, so the drywall damage does not return.