It takes a team of professionals to repair drywall correctly. Drywall repair needs are something that creeps up on every homeowner. It is critical to take care of your drywall so that your home can look as good as you want it to, as well as maintain just how solid the home is structurally.
And at Mr. Handyman, we offer a Neighborly Done Right Promise™. If the work is not completed to your satisfaction, just call us and we'll come back out and make it right. Our experts have an average of ten years of experience on the job, so they've seen it all and done it all and can put their expertise to work for you!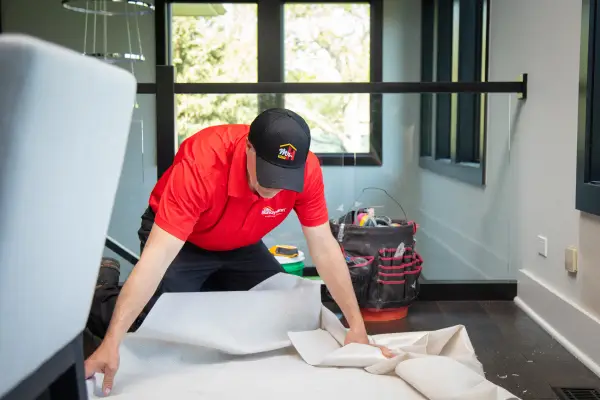 Drywall Repair Services
What is the need for your drywall repair services? Do you know what caused the damage to the drywall to begin with? Is there a hole in your drywall due to a bang from furniture? Could it be something from a crack or settling of the home? It could also just be as simple as wear and tear that occurs over time.
Drywall Ceiling Repair


One of the more common types of services we provide is drywall ceiling repair. One of the things we work to do, though, is not only repair the drywall but also get to the root cause of the problem. Could there be a leak in the ceiling that is causing damage or something with the ventilation? We can help to correct the cause as we do repair the drywall.
Drywall Crack Repair


Repairing a drywall crack is a real art form. Drywall crack repair starts with the size of the crack and determining its source. From there, we need to figure out the best plan of attack to make it so that the crack is fixed for good, and looks as if it was never there to begin with!
Drywall Hole Repair


In most cases with a drywall hole repair, we make sure that a new piece of drywall goes into the location. We need to measure the hole, ensure there is proper backing, and replace the hole with a piece of drywall to solidify the space.
Drywall Installation and Finishing


Mr. Handyman of Greater Newton takes great pride in our finishing services for drywall. The installation and finishing services include drywall mudding, sanding, as well as seam and joint taping. Contact us today!