Drywall damage can cause a room to look unsightly, often caused when a giant hole is made while moving furniture. The professionals at Mr. Handyman of Lee's Summit, Raymore and Grandview, specialize in drywall repair, installation, and finishing services. No matter how large or small your drywall damage is, Mr. Handyman can repair it all. Our experts have an average of ten years of experience on the job, so were definitely the people to call!
Plus, we offer all of our customers our Neighborly Done Right Promise™. If our work is not completed to your satisfaction, just let us know and we'll come back out and make it right.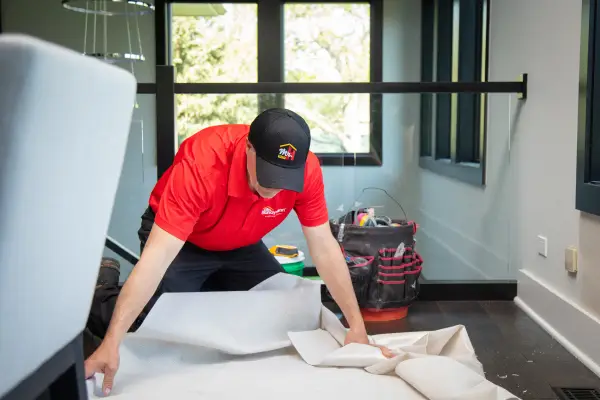 Drywall Repair Services
Mr. Handyman of Lee's Summit, Raymore and Grandview offer some of the best drywall repair services in the area. Our drywall specialists will come to your home, identify the cause of the damage, and create a plan to repair it based on our local services list .
Drywall Ceiling Repair
Everything from settling foundations to plumbing problems can cause damage to ceilings, leaving them looking unsightly. However, when your ceiling develops cracks, it could be a sign of something more significant affecting your home's structural integrity, so it is recommended to seek guidance from a drywall ceiling repair expert at Mr. Handyman about the cause of the damage and how to fix it.
Drywall Crack Repair
Mr. Handyman of Lee's Summit, Raymore and Grandview hires dedicated specialists to help repair drywall in addition to other household repairs. We will seal any cracks using joint compound, tape, and paint, making it look like the drywall damage never existed. If your wall has a crack, contact our office to request an appointment for drywall crack repair.
Drywall Hole Repair
During homeownership, an accident occurs, leaving a hole in the wall. This hole can be a small puncture from hanging pictures or a giant hole caused by rough-housing kids or moving furniture. We will come to your home for drywall hole repair, restoring the natural beauty of your home's interior.
Drywall Installation and Finishing
Sometimes drywall cannot be repaired, requiring the installation of new drywall. If your home needs new drywall caused by significant damage or because of recent renovations and remodeling, the drywall specialists at Mr. Handymen are here to help. We do everything from installing the drywall to all the finishing touches, including seam and joint tapping, mudding, sanding, and painting.
Let us show how Mr. Handyman of Lee's Summit, Raymore and Grandview can help with your drywall installation, finishing, and repair needs.