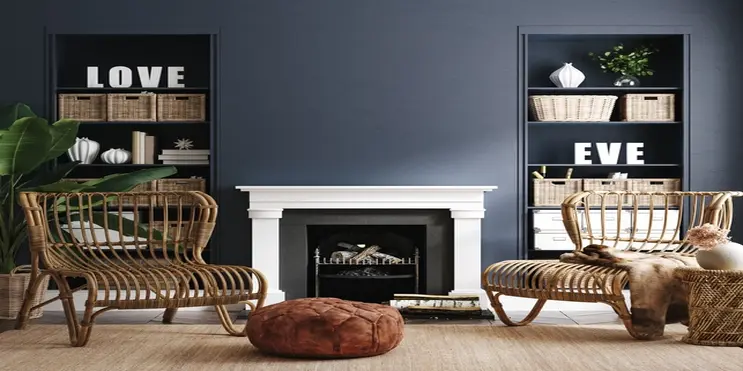 Fireplaces are a hot (no pun intended) commodity in a home. It can create a focal point for the eyes and be a beautiful centerpiece that genuinely solidifies your space as the heart of your home. When you purchase a house with an existing fireplace, nine times out of 10, you're going to have a few fireplace makeover ideas to match your style.
Whether you have a modern concrete fireplace or a traditional brick fireplace, there's always something you can do to enhance the look a little bit. Luckily, we've been thinking about a few simple fireplace renovation ideas of our own that only require a bit of vision and execution.
1. Keep but Revamp Original Elements
You don't have to go hog-wild removing and replacing original features. Many people make the mistake of taking a fireplace and completely gutting it to suit their own aesthetic. And while that can be a great option for some, your fireplace makeover may not always require a complete renovation. Often, all you need to do is give the existing elements a facelift.
Whitewashing the brick
A whitewashed fireplace will preserve the natural brick texture and enhance your hearth without costing you thousands in renovation costs.
You'll need:
Latex (or water-based) paint
Water
Gloves
Protective eyewear
A large sponge
Carefully mix equal parts water and latex paint until the consistency is very thin. You don't want your mixture to be too thick, or you'll lose the whitewashing effect completely. With whitewashing, you can have a beautiful brick fireplace for up to 30 years without routine maintenance or touch-ups.
Restaining a wood mantel
Intentionally rustic-looking wood mantels are stunning (if that's the style you like). However, after several years, especially if the wood hasn't been treated, it can look a little worse for wear. Suppose you want to warm up your wood mantel or change the style by restaining. This may require a bit of elbow grease, but we know you're up for the challenge!
You'll need:
Chemical stripper
Low-grit sandpaper
Wood putty
Old cloth
Paint scraper
Gloves
Protective eyewear
Sponge
Mild detergent
Removing existing paint or stain will be the most labor-intensive part of the process. If you're using a chemical stripper, apply the product to a clean cloth (while wearing gloves and protective goggles) and dap it onto the mantel's surface. You'll notice it'll start eating away at the stain immediately, so be careful not to touch it. After about 5 minutes, take your paint scraper and remove the old finish evenly. Once the old stain is completely removed, wipe it with the mild detergent on a damp sponge and let it dry.
Now that you have a beautifully bare mantel, start filling any holes or cracks with wood putty. Follow the application and drying instructions carefully. When the putty is dry, use your low-grit sandpaper to ensure the filler is flush for an even surface. Finally, you can apply your stain using a paintbrush or clean cloth, using even strokes for a professional finish.
Cleaning inside and around the fireplace
For homes with all original elements, it would be a shame to get rid of a beautiful vintage brick fireplace or paint over original features and lose the charm of the space. After all, that's likely why you purchased an older home in the first place. Spruce up your fireplace by cleaning the hearth, apron, mantel, and surround with warm water and mild detergent to reduce damage. Use a shop vacuum to remove decades of dirt and dust inside the firebox and grate. If you have brick elements, Trisodium Phosphate (TSP) will get the tougher stains without issue.
2. Elevate the Look with Wood
Adding a wood mantel isn't the only way to give your fireplace that wow factor. Wood paneling or thin boards above your mantelpiece can give your fireplace a cozier feel, but you have to be careful about installing treated wood. According to the International Building Code, non-combustible materials should always be used to avoid hazards.
3. Add Inexpensive Accessories
We're huge proponents of painting, staining, and the like. But, as we said, some of the most eye-catching designs come when you don't do much at all. Inexpensive fireplace accessories can go a long way in making your hearth appear upgraded.
Fireplace tools
Whether you want a modern or traditional look for your fireplace, trust us, placing a stand with a fire poker, brush, and shovel will only enhance the visual appeal.
Log holder
Got a gas fireplace? No problem! You can still give your hearth a cozier feel with a log holder that actually has real wood in it. Who says wood can't make anything look stylish?
Fireplace screen
Not only will a fireplace screen reduce the chances of burns or your fire spreading if you have carpets, but it can serve as a fashionable piece of art for your newly stained or modern painted fireplace.
Fireplace matches
Didn't think matches could add elegance? Think again. Keeping black, white, or multi-colored matches on your mantel reminds us that the smallest features can make the biggest design impact.
Architectural Digest has an insanely gorgeous list of fireplace accessories that you have to check out for yourself.
4. Incorporate Personal/Handmade Touches
While we love an almost unrecognizable before and after fireplace makeover reveal, adding personal touches above and around the area will always make your home feel lived in and comfy. We recommend:
Allowing your children to make one-of-a-kind art to display on the mantel
Hanging an antique or family heirloom mirror above the fireplace
Creating a handmade tapestry as a unique piece of art next to or above the fireplace
Taking black and white family portraits and making a wall gallery
There's no limit to the number of elements you can incorporate to make your fireplace the pièce de résistance of your room.
Let Mr. Handyman Help With Small Renovation Projects
From installing custom cabinets to a fireplace renovation, our professional technicians in Memphis are ready to help you turn your house into a home. Trust us to provide the tools and know-how to enhance your space at a price you can afford.