6 Ways to Utilize Local Handyman Services for the Holidays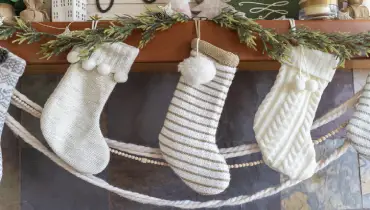 Are you looking for a way to make the holidays less stressful? Let's be honest. We all are. With shopping to do, holiday dinner to make, and guests to prepare for, when do you have time to take care of anything else? This is when a little Christmas magic would be handy.
Fortunately, our Memphis team can help you get ready to welcome friends and family for the holidays with our local handyman services. We can knock off various to-dos that only surface during the holidays. By the time we're finished, your home will be merrier and brighter than ever before.
1. Installing Holiday Lighting Inside & Outside
Holiday lighting installation can be tedious and dangerous if you're inexperienced. In fact, over 36,000 people nationwide have been seriously injured due to electrical decorations. We don't want you to spend Christmas or new year in the emergency room. Trust a Memphis handyman to avoid any holiday mishaps! Not only do we install your holiday lighting, but we can uninstall it just as easily and save you time, a headache, and potential injury.
2. Baby Proofing for Your Smallest Holiday Guests
If you're gearing up for extended family and know infants or toddlers will be present, it's worth having your home babyproofed to keep your littlest carolers safe. Our handymen and women can help you locate all the problem areas that could be prospective hazards for children.
We'll install the following:
Safety gates in doorways and stairwells
Doorstops and door holders
Double-hung windows
Fire extinguishers
Childproof locks
Hiring a handyman for just a day can make all the difference in keeping the smallest loved ones in your family safe.
3. Picking Up Necessary Home Improvement Supplies
Starting a winter home improvement project right before the holidays can be stressful but necessary when you aim to impress visitors. With all your time spent revitalizing your home, when do you have time to replenish your paint supply or get the two-by-fours you need to complete your project? Never fear! Our team at Mr. Handyman of Memphis can pick up and deliver any tools or supplies needed for the job (at a small extra charge). We want you to focus on completing the project without distraction or interruption. Count on our professionals to help reduce the pressure you feel to finish a time-sensitive project.
4. Installing Shelving or Hooks to Hang Stockings
Hanging stockings for Christmas is a tradition, but maybe you're running behind on the decorating. Or perhaps you're physically unable to install hooks and hang decorations yourself. That's where our team comes in to save the day! We do more than hang art on walls or install shelving for your entertainment system. We can also help you hang stockings or install floating shelves to house stockings. Whatever your cozy holiday vision is for your home, our local handyman services can help you bring it to life.
5. Performing Repairs Before Family Arrive
Have you taken a look around your home lately and noticed various items need to be repaired before holiday guests arrive? You don't have to try to carve out time for any repairs with Mr. Handyman of Memphis on your side.
We can help with the following repairs:
Countertops
Toilets
Showerheads
Faucets
Grout
Light fixtures
Ceiling fans
Sinks
Tile
Alongside the above items, we can also focus our repair expertise on specific rooms, such as the kitchen and bathroom. Let our technicians make all the necessary repairs so they're not lingering over your head and disrupting your holiday cheer.
6. Revitalizing the Exterior of Your Home with Power Washing
Getting ready for the holidays means the inside and the outside of your home require the same level of attention. Unfortunately, many forget that the exterior can make or break a first impression. Let us power wash your driveway and sidewalks to set your holiday season off right. We can get them pristine to showcase all the beautiful decorations we helped you install. Our equipment uses around 500 to 3,000 PSI of water pressure to remove stains and dirt from concrete, wood, or siding material without damaging it.
Hire a Memphis Handyman for a More Relaxed Holiday
Rest and relaxation should be common aspects of the holiday season, but that involves allowing someone to take some responsibilities off your hands. At Mr. Handyman of Memphis, we are proud to support you through the holidays and well into the new year with local handyman services you can rely on.
Call for more information, or contact us to get started!