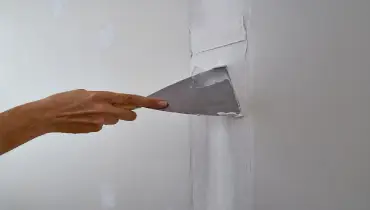 Like most things in your home, you will likely end up having to repair your drywall at one point or another. Perhaps you just moved into your McKinney home and your new house has cracks in the drywall from its previous owner. Maybe your basement has recently flooded and you urgently need help repairing drywall in McKinney. Or, perhaps your kids were goofing around indoors and accidentally threw a football into the wall.
Whatever the case may be, it's very important to spend time repairing drywall as soon as the damage occurs.
Continue reading to learn why repairing drywall is such an important aspect of keeping your house safe and comfortable to live in, discover our tips for DIY drywall repair, and find out how the expert technicians at Mr. Handyman of Midwest Collin County can help.
How Does Drywall Damage Happen?
Before we dive into the importance of drywall repair and our tips for repairing drywall yourself, it's key to understand what causes the damage. Sometimes the reason your drywall needs to be patched up is obvious—like when your children decided to play catch indoors. More often, however, the cause of drywall damage is not always so obvious. Damage to your drywall can be caused by:
Damage from moisture. Poor ventilation, flooding, or improper drainage in your home increases the amount of moisture getting into your walls. This may cause your drywall to become damp—which lessens its structural integrity.
The natural settling of your home. Over time, your house will settle deeper into the ground. While this process is natural, the resulting shifts can make cracks appear in your drywall.
Holes from drywall anchors. Heavy items such as TVs, large paintings, or shelving units that are held in place by drywall anchors, all leave puncture wounds in your walls. Once the items have been taken down, it's important to fill them as soon as possible. These holes are unsightly and could impact the overall integrity of your wall if left unfilled.
Regular wear and tear. Whether from kids playing or door handles hitting the wall too hard, life happens—and when it does, sometimes it means repairing your drywall.
Why is Repairing Drywall Important?
A tiny crack in your drywall may not seem like a huge deal. However, that small crack can indicate a greater problem and may get worse if left unattended. For instance, a small spot of water damage on the ceiling of your McKinney home may look like nothing, but it could be hiding damp drywall caused by a leaking pipe or improper ventilation in your bathroom.
Continue reading to discover a few reasons why you might end up repairing drywall:
Drywall Does Not Last Indefinitely
Drywall was originally made in 1916 to replace heavier and more expensive plaster or wood. It is made out of two paperboards with a layer of gypsum in the middle, which is a powdery white sulfate mineral. Gypsum is non-combustible and much lighter than other materials.
Since drywall is lighter than wood or plaster, it's also more prone to damage from water, humidity, and regular wear and tear. Over time, it's natural for drywall to be repaired or replaced.
Water Damage May Lead to Problems
Drywall is a porous material, so it's difficult to remove bacteria that may be growing in it from water damage. Rather, if you spot any discoloration in your walls, it's likely the damaged drywall will need to be replaced.
It's very important to deal with water damage right away, as bacteria can spread to other parts of your home and potentially negatively impact your family's health.
Drywall Impacts the Structural Integrity of Your Home
Damp or soggy drywall that is not replaced or repaired can also cause the non-supportive part of your McKinney home's walls to collapse. Although structurally your home will remain upright, fixing a caved-in wall is a stressful experience most homeowners would rather do without. If you spot water damage in your home, it's important to:
Find the source. A leaking pipe, improper drainage from a clogged downspout, or a rising water table beneath your home from heavy rainfall can all be causes of water damage.
Fix the cause of the damage. There is no point in replacing or repairing your drywall until the cause of the water damage has been repaired—otherwise, you'll have only created a temporary solution to a chronic problem.
Thoroughly clean the damaged area. Once you've fixed the issue causing water damage in your McKinney home, ensure there is no residual dampness or mess before repairing drywall. Any residual moisture could cause additional damage if neglected.
Properly Installed Drywall Keeps the Elements Where They Belong
Living in McKinney, you are no stranger to the hot, humid summers and chilly, windy winters. While the weather might be enjoyable outdoors, you don't want to feel the temperature whiplash in your home. Correctly installed and maintained drywall keeps your home safe and comfortable by:
Contributing to your home's insulation. While the function of drywall is not to actively insulate your home—unlike insulation—when you have cracks or holes in your drywall a warm or cold breeze can creep in. This impacts the internal temperature and efficiency of your house as the cool/warm air can affect your HVAC system.
Keeping bugs and pests out of your space. Your residence is like a goldmine to mice, rats, and ants looking for shelter or food. Living in McKinney, we're sure you are no strangers to pesky creatures trying to get into your home. Ensuring your drywall doesn't have any cracks or holes will help keep pests from finding a way into your house.
Helps inhibit moisture from damaging your home. Although drywall does not insulate your home, it does act as a barrier to the elements. When that barrier has cracks or holes in it, moisture and humidity from rain can seep into your space.
Smoothly Installed Drywall Means Smoothly Painted Walls
Keeping your home safe for your family is incredibly important, but maintaining the aesthetic of your house is important too. Your drywall impacts this aesthetic.
Damaged drywall will show up in your paint job—and nothing spoils a beautiful wall like an unsightly hole or crack running up it. Since drywall is the base of your walls, keeping your walls looking smooth and fresh means repairing drywall that has cracks, chips, or holes.
Repairing Drywall? Learn our DIY Steps
At Mr. Handyman of Midwest Collin County, we know that some McKinney homeowners are keen to tackle DIY projects. If that sounds like you, continue reading to discover our suggestions for repairing drywall on your own.
As a preliminary, draw out the following tools and materials:
Drywall sander
Drywall saw
Dust mask
Paintbrush
Screw gun
Taping knife
Utility knife or hand saw
Tape measure
Stud finder
Carpenter squares
Scrap lumber
Plywood
Drywall panels
Drywall screws
Drywall joint tape
Drywall joint compound
Sandpaper
1. Outline the Damaged Area
Use a carpenter's square and a pencil to draw a straight line at least an inch above and below the damaged area. Using the stud finder, mark the nearest studs to the right and left of the hole. Mark these studs, connecting the top and bottom lines with the right and left studs to make a rectangle. This rectangle will be your drywall patch.
2. Cut Out the Patch
Use a saw blade or a utility knife to cut along the lines you just marked. Cut very carefully, taking time to go over each cut slowly to make the cuts deeper.
Each time you run into a stud, measure an additional 3/4" in and mark this point. This will be the center of the stud. Carefully remove the piece of drywall.
3. Cut the Support and Place it into the Wall
Using your scrap lumber, cut it into a 1" X 3" piece. Alternatively, you can cut a 3/4" piece of plywood to approximately 2" longer than the height of your patch. Place the support into the wall vertically and screw in at the top and bottom.
4. Cut the Drywall Patch
Measure your piece of drywall so that it fits the size of your patch. Cut the drywall using a drywall knife and carpenters square to ensure the drywall is straight along the edges.
5. Install the Drywall Patch
Place the drywall patch into the hole in your wall. Place the drywall screws about 1" away from each edge—this prevents cracking—use a drill to screw the patch into place at the top and bottom. Also, screw the patch into the studs at each corner so that it is secured in place.
6. Finish Patching Your Drywall
Frame the drywall patch with self-adhesive fiberglass drywall tape. The seams of the patch should be in the center of the tape. Using a 6" drywall taping knife, spread drywall joint compound across the patch and tape—ensuring a smooth, flat surface.
Let the compound dry overnight. The next day, the drywall until it's smooth. Put a second coat of drywall joint compound across the patch and let it dry overnight. You may choose to put a third coat on the following day after sanding.
Once you've applied your final coat of drywall joint compound, sand a final time and wipe clean with a tack cloth. Lastly, paint over the patch so your repair blends in seamlessly with your wall.
Why Hire a Professional for Repairing Drywall?
Our Mr. Handyman of Midwest Collin County team knows that not all McKinney homeowners prefer DIY—or have the time to tackle complex projects. That's why we're happy to offer our professional drywall repair services to families living in and near McKinney. The next time your bookshelf crashes into a wall or you need help developing your basement, be sure to give our qualified team a call.
Our skillful team has the expert know-how in repairing your drywall:
Fixing cracks and holes. We will assess the severity of damage to your drywall and figure out the root problem. From there, we'll provide a solution for a long-term fix—whether that involves a patching job or replacing an entire sheet of drywall.
Home renovation installation. If you've decided to finish your basement or complete a renovation, then leave your drywall installation needs to us. We'll work with you to make sure our team steps in at the right time to put up your new drywall, taking care to check that your insulation and wiring have been completed first.
Repairing flood damage. When your basement floods, it's a lot of work to get it back to how it was. We'll be there to get rid of damaged drywall, clean up the resulting mess, and install new drywall efficiently and professionally.
Painting services. Did you know that our team does more than drywall repair and installation? We also have the expertise to paint over fixed drywall and give your home a smooth, elegant finish.
Smoothing ceiling texture. Perhaps you moved into an older home and don't like the textured ceiling, or you simply want to upgrade your space. Our team will smooth out your ceiling without inconveniencing you or your family.
Repairing Drywall? Call the Experts
Whether you've noticed water damage on your roof, hairline cracks in your basement drywall, or you accidentally opened a door too hard and it went crashing through the wall, it's important to get started on repairing your drywall right away.
Give the house you love the best care possible by getting in touch with a professional, courteous drywall repair technician at Mr. Handyman of Midwest Collin County. We invite you to give us a call today or
request a service
to get started.