Rain gutter systems are an important component of your exterior drainage system. The U-shaped or K-shaped metal traps on your rooflines are easy to miss while marveling at your roof shingles. If you have seamless gutters, it's even more common to forget about seasonal McKinney gutter cleaning services too.
MCKINNEY GUTTER CLEANING SERVICE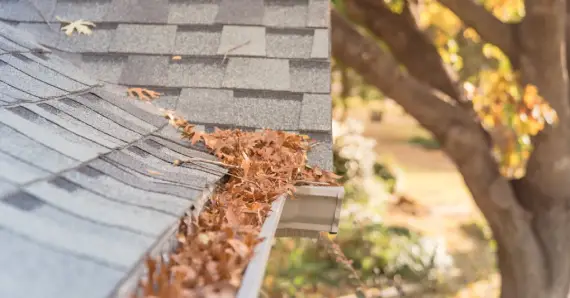 Your local McKinney handyman at Mr. Handyman of Midwest Collin County has seen what clogged gutters have done to local homes, from stained siding to major foundation damage. You might be surprised to learn that many costly repairs are due to water damage caused by gutter clogs. To help our local community stay safe, we aim to encourage our clients to maintain clean gutters to ensure proper drainage. Trust our exterior maintenance experts to get the job done properly.
Mr. Handyman's Gutter Cleaning Services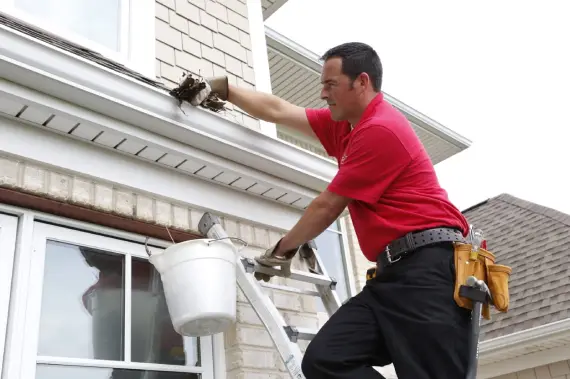 Our team of McKinney gutter cleaning experts will bring inspected ladders to your appointment and provide you with professional gutter maintenance services that include inspection, cleaning, and minor repairs.
During the inspection, we not only check your initial gutter installation, but we'll also check the nearby components on your roofline, such as your soffits, fascia boards, frieze boards, and siding. If we suspect potential issues in your attic, we'll kindly ask to inspect that space for you too.
Small issues that require repair include worn protective coating that could restrict efficient water flow. However, more serious issues could include rotting fascia boards or siding damage.
When repairs are needed, you can expect our professional McKinney gutter cleaning experts to clearly raise these issues to you and communicate the repair options available.
In the best-case scenario, you have healthy gutters that merely require their seasonal clean. In that case, we'll offer you further preventive measures to support your current system. Some measures may include installing a gutter guard or gutter screen system to stop debris from settling in the traps.
Why Choose Mr. Handyman of Midwest Collin County?
Mr. Handyman of Midwest Collin County only hires trained, licensed, and insured professionals to the team who are aware of the common issues local homeowners face and understand our community's needs.
As your locally owned and operated business and a proud member of Neighborly's top home service providers, we are committed to providing our clients with guaranteed workmanship and excellent customer service.
Our neighbors and friends choose Mr. Handyman because we are efficient, responsive, and dependable, always going above and beyond to meet our clients' expectations. We also offer a no-obligation inspection service before we provide a transparent cost estimate. This way, we'll eliminate unwanted surprises and will have a better opportunity to create a strong relationship with you.
To save you time in the future, we'll keep your inspection details confidential in our client database and will offer to send you seasonal maintenance reminders, so you can rest easy knowing you have a reliable team to count on!
Give us a call today at to learn more about our professional gutter cleaning service or inquire about other handyman services.
Frequently Asked Questions About McKinney Gutter Cleaning Services
HOW MUCH DOES GUTTER CLEANING IN MCKINNEY TX COST?
It is difficult for us to name a price without prior inspection. Because we highly value transparency, we always aim to provide upfront pricing to our clients.
One of the perks of our McKinney gutter cleaning services is that our local customers receive inspection services prior to the cleaning. During that, we'll assess your eavestrough's health and condition and will take note of any repair needs, so you are aware of any structural issues that need to be addressed. In that case, we'll make sure to write up a detailed cost estimate for you.
Even better, if your gutters are in good health, the process will be more straightforward. Feel free to contact our office team for more information. Upon receiving more information about your situation, we might be able to give you a price range.
WHAT ARE THE WARNING SIGNS I NEED GUTTER CLEANING?
The technicians at Mr. Handyman warn about the following telltale signs:
Leaky gutters
Peeling paint on nearby wood materials like fascia boards
Sagging
Bird activity on roofs
Water stains on siding
Blocked vents in attics
Mildew on attic walls
Poor indoor air quality
Pest infestations in attics
Clogged downspouts
Standing water
We highly recommend that you call our McKinney gutter cleaning experts if any of these warning signs occur during the rainy season. And help us help you prepare for the winter by protecting your eavestroughs from tree branches and other organic debris from settling. Clogs or standing water are some of the major culprits of ice dams.
HOW DOES GUTTER CLEANING WORK?
After the initial inspection, your local McKinney handyman will determine the type of cleaning tool to use. Strong, healthy gutter systems can handle pressure washing to remove grime and debris, whereas others may need the old-fashioned gutter scoop.
DO YOU RECOMMEND GUTTER GUARD INSTALLATION?
We certainly do as an added measure of protection. However, it's important to keep in mind that it will not eliminate your maintenance duties. While it will minimize the chances of debris settling in the traps, it's still essential that you keep up with seasonal inspections. These guards also require periodic cleaning.
WILL YOU ALSO CHECK MY DOWNSPOUT SYSTEM?
As an important component to your overall gutter system, we certainly will. Many homeowners miscalculate the downspout elbow length or they don't have one at all. It's essential that your downspout pipes dispose of rain water at least four to six feet away from your house foundation. Otherwise, it would be too close to your home's perimeter drains, which are already working hard in removing excess water from your foundation. If you don't have a sump pump that's assisting your perimeter drains, our McKinney gutter cleaning pros will ensure your downspout pipes will efficiently direct rainwater away from your home.
IS IT BETTER TO UPGRADE TO A SEAMLESS GUTTER?
It is a matter of preference. Homeowners with seamless systems prefer their neatness because they're installed in a way that makes them less visible. Seamless coils are more expensive to obtain and install because they don't consist of small sections. While they're leak-proof, they can still clog and cause the same issues as sectional systems.
Looking for Gutter Cleaning in McKinney TX?
Be prepared for spring and fall and hire Mr. Handyman's quality gutter cleaning services to maintain the health of your roof, attic insulation, and ventilation.
Are you in McKinney or surrounding areas like Melissa, Whitewright, or Princeton? Call our friendly customer service reps at to schedule a convenient appointment date and time. Let us help you complete your spring cleaning or end-of-year home maintenance duties before they fall through the cracks!
While you are here, why not learn more about our other popular McKinney handyman services? From dog door installation to porch repair and door replacement, our versatile team of experts has you covered.