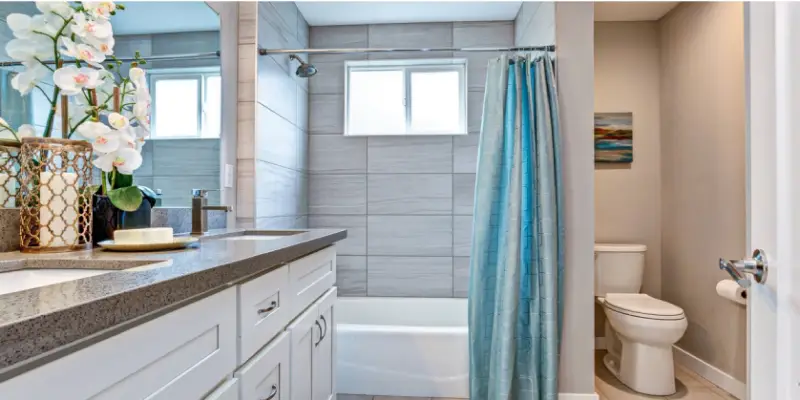 The bathroom is a pretty important place in any house—it's the first room we head for in the morning and the last stop before bed at night, not to mention plenty of visits in between. It should be a beautiful, perfectly functioning, relaxing haven that you enjoy using, not a dingy, outdated little room that you can't wait to escape from. When it's more like the latter, it's time to consider a McKinney bathroom remodeling project.
If you're ready to make some changes to a bathroom in your McKinney, TX home, you may be feeling daunted by the potential scope of the project. Keep in mind that you don't necessarily have to tear everything out and start from scratch to get your dream bathroom. Some smaller McKinney bathroom remodeling projects, such as tub-to-shower conversion or a new tile installation, can go a long way toward making you love that space again.
Count on your local McKinney handyman to take care of transformative bathroom remodeling services that will have a big impact on the style and function of your home. The team of service professionals at Mr. Handyman of Midwest Collin County is experienced with a wide variety of home repair and improvement projects, and we also serve business owners in McKinney, TX, and nearby areas with dependable commercial handyman services.
McKinney Bathroom Remodeling vs Full Renovation: What's the Difference?
The words remodel, and renovation are often used interchangeably, and the precise definitions vary according to who you ask. But generally speaking, bathroom remodeling service is related more to refreshing the appearance and built-in details of the room by changing out tile, installing new cabinets, taking care of a shower remodel or conversion, and similar types of home improvement changes. Bathroom renovation projects, on the other hand, tend to involve ripping everything out of a room space down to the subfloor and wall studs and building an entirely new room from scratch with a new bathroom layout, new flooring, and walls, and new everything else.
How Do I Plan the Budget for McKinney Bathroom Remodeling?
If you're not used to making project budgets, planning out your McKinney bathroom remodel costs can feel like the most challenging part of the entire process. Start by imagining how you want your room to look when it's all finished, and then work backward from there. If you're trying to keep your choices budget-friendly, finishing materials are a good place to cut costs.
That doesn't mean you should choose poor-quality, inferior products—of course; you want durable, appealing, high-quality materials. But if you've got your eye on luxury finishings, you can save quite a bit of money by going with less costly options that mimic the appearance or style of your original pick. For example, if you fall in love with some gorgeous marble countertops but they're out of your price range, and you're hesitant to choose something that is so prone to chipping and staining, quartz is a great alternative. It may not have the same luxury cachet, but it's attractive, durable, and low-maintenance at a much lower cost.
List Everything You'll Need
One way to help make budget planning go much more smoothly is to make a big list of every last thing you'll need for your McKinney bathroom remodel, including even those little details like your toilet paper holder. You may think you already know exactly what you'll need, but taking the time to list it all out will be worth it when you're enjoying your perfectly appointed space with absolutely everything you need. Your list will, of course, vary depending on your plan, but it may include many items and materials, such as:
Drywall
Paint
Floor tile and wall tile
Mirror
Shower doors
Medicine cabinet
Under-sink cabinets
Towel bars
Toilet paper holder
Wastebasket
Bath mat, towels, and other textiles
Artwork and décor
Include Some Budget Padding
You might be pretty certain that you've got every last thing planned out to the dollar—but despite those budgeting efforts, unexpected expenses have a way of popping up during bathroom remodeling. McKinney, TX homeowners sometimes change their mind part way through, or a contractor makes an error, but more often than not, it's because a serious problem is discovered that needs to be dealt with. For example, your handyman may remove old tile and discover that the walls and subfloor underneath have been compromised by severe water damage such as wood rot that has caused floor joists to soften and crumble. That's unsafe and can't just be covered back up again without correction.
The best practice to avoid a nasty hit to your bathroom remodel budget is to plan for the unplannable by including some padding in your budget of about 20 to 30% more than you think you'll need for the project. That way, you can deal with any surprise costs or setbacks without too much undue stress.
What's the Best Tile for a Bathroom Remodel in McKinney, TX?
There's quite a wide variety of options available for tile, so it can make choosing the perfect tile for your particular bathroom floor, and walls feel like a challenge. Porcelain or ceramic tile is by far the most popular choice for bathroom remodeling. McKinney, TX residents, favor them because they're so durable, long-lasting, and water-resistant, which means they reduce the need for future maintenance and tile repair services. Ceramic and porcelain also come in a huge range of styles, colors, textures, shapes, and sizes. There are numerous options that mimic the look of natural stone but without the maintenance requirements and delicate nature of stone tiles such as slate or marble. While glass tiles are too delicate for flooring, they add depth and interest when used as part of a wall installation.
What to Ask Yourself About Your Bathroom Remodel
If you've begun looking around at some of the possibilities for a new tile installation as part of your McKinney bathroom remodeling project, you may be feeling a little overwhelmed by how many options there really are out there. By asking yourself a few questions, you can narrow it down to the right choices for your house. Here are some questions to think about:
What style am I going for? (For example, rustic, old-fashioned, elegant, modern, minimalist, bohemian, etc.)
What is my color scheme? (The 60-30-10 trick is a good way to get started thinking about colors, meaning about 60% of the room will be your primary color, 30% will be a complementary secondary color, and 10% will be a contrasting accent color)
What's most important to me, appearance or durability and performance? (There's no right or wrong answer, but knowing your main priorities can make finding the right option for you a lot simpler)
Should I Convert My Bathtub to a Tiled Shower?
If you can barely remember the last time you took a bath and you just use your tub as a place to stand while you take a shower, a shower conversion might be the perfect way to get more functionality out of the available space while also making the entire room feel a lot more bright and open. There's nothing worse than getting tangled up in a dirty plastic shower curtain, which is why hinged shower doors are such a popular choice for a large walk-in shower.
However, if you're thinking about getting rid of the only bathtub in your house, it's good to be aware that this could potentially lower your property value. You may have no intention of going anywhere, and in that case, you have the freedom to modify your house in ways that make the most sense for the unique needs of your household with bathroom remodeling. McKinney, TX residents who are going to put their house on the real estate market within the next few years, are probably better off keeping the tub. Most prospective home buyers, especially families with young children, want at least one bathtub, and you could end up with a lot of potential buyers passing on your property for that reason.
How Can I Make My McKinney Bathroom Remodel More Accessible?
Whether you are experiencing some mobility issues yourself or would like to find ways to make your bathroom safer and more comfortable for family members and guests with disabilities, a new McKinney bathroom remodeling project is the perfect time to consider having your handyman install some accessibility modifications that will make life easier for everyone now and in the future. Most people like to have their privacy when they are doing their bathroom routine, and of course, those with disabilities are no different. It's important that a bathroom design ensures that it is possible to do as much as possible without assistance so independence can be maintained. Here are a few ideas for potential accessibility modifications.
Grab Bar Installation
Anyone with mobility issues is most at risk of injury when they need to move from a seated to a standing position or vice versa. To help with that transition, grab bars are a simple and very helpful addition to a McKinney bathroom remodeling project. For the toilet, it's often best to have grab bars positioned horizontally on either side of the seat, but it could also be helpful to have a vertical bar on the wall opposite the toilet as well as above the toilet tank. In the shower, it's typical to have a long horizontal bar along the wall and a vertical bar on the wall opposite the showerhead. If you weren't planning on switching out your tile, grab bar installation can still be done with your current tile in place. We will need to drill holes in the tile, but they'll be completely concealed once the grab bar is installed.
Barrier-Free Shower Base
Just stepping in and out of the shower can be a frustrating challenge for someone who can't lift their foot high enough to get it over the lip on a typical shower base. Our McKinney bathroom remodel team can remove that base and install a barrier-free shower floor with a gentle slope to keep water moving toward the drain. We can also put in a tiled shower bench while we're at it to provide a place to sit while bathing and a little extra storage space for shampoo bottles and the like.
Raised Toilet Seat
Another way to make those transition moments a lot safer is with a raised toilet seat. It's as simple as it sounds—your handyman can remove the standard height seat on your toilet and install a raised seat that is several inches higher than the standard. That means there's far less distance between a standing and a seated position, so it's easier to get back up and lessens the risk of crashing down onto the seat.
What Am I Forgetting in My McKinney Bathroom Remodeling Plan?
Many people neglect to include the finishing touches in their plan because they figure they can always come back to that smaller stuff later once the major work has been taken care of. But it makes sense to give some thought to the details during the planning phase because you never know if something might influence you to go in a different direction for the overall design aesthetic of the room.
Even something that seems insignificant, like cabinet handles and drawer pulls, can have a surprising impact on the overall look of a room, especially a smaller room with a lot of big fixtures and built-ins. Or, you may find the perfect piece of artwork to hang in your newly remodeled space and decide to choose a tile that complements it perfectly. So don't leave those seemingly small details to be afterthoughts when they can make such a big difference to your enjoyment of the space.
Trust Your Local Handyman For McKinney Bathroom Remodeling
If you are thinking about a bathroom remodel in McKinney, TX, or a nearby town such as Allen, Tom Bean, or Howe, count on the team of professionals at Mr. Handyman of Midwest Collin County to get the job done right. Want to know more about our reliable handyman services, or schedule an appointment at a time that's convenient for you? Pick up the phone and give us a call to chat with our friendly office staff and find out what we can do to enhance your residential or commercial property.