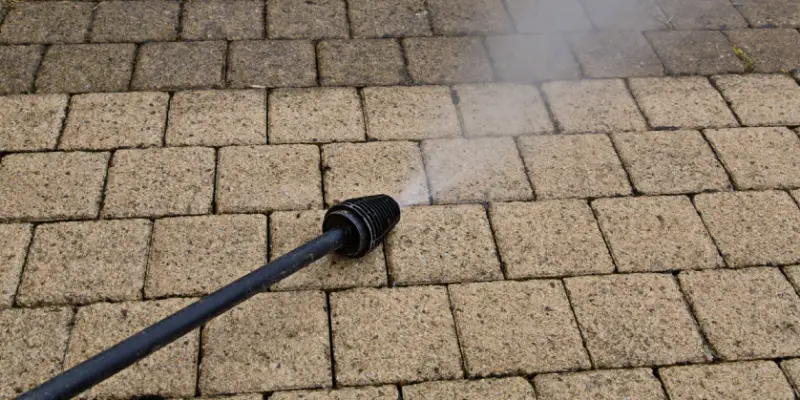 We spent lots of time indoors over the winter, which gives us plenty of time to kick off spring cleaning. Imagine stepping outside during spring, and it's overcast—your property in McKinney, TX, may look run down in that kind of light. There might be stains and grime on your siding or water dripping from your gutter because you thought that little ice dam in the winter wasn't that big of a deal. That's when you know that it's time to tackle your home's exterior. It may be a tough one because examining the interior is not as tricky as having to climb up a ladder to inspect the gutter system.
But you might walk around your house outside to check the state of your siding, driveway, or front yard's landscape and feel that you just can't shake off that winter blues. The good news is that we can recover your home's original look with professional McKinney pressure washing services.
When you are ready, you can count on your McKinney handyman at Mr. Handyman of Midwest Collin County for exterior maintenance. Prior to any pressure washing services, you will always receive a thorough inspection of your home's exterior materials, whether preservative-treated wood, vinyl, or concrete surfaces.
Each of our service technicians has passed an employee background check program and brings many years of experience helping our community with home maintenance, improvement, and repair services, from gutter cleaning to deck repair to pressure washing. McKinney, TX homeowners will benefit from us helping them save tons of time. Say goodbye to time-consuming maintenance tasks like scrubbing or wasting a huge amount of water using your garden hose. If you hand us your spring maintenance list, we'll ensure that all you'll have to do is sit back and relax.
Why Pressure Washing?
McKinney, TX, is a beautiful city that offers a dense suburban feel. Up to 66 percent of its residents own their homes, which is reason enough that you want to keep your beloved property safe and clean. Some homeowners may be more particular than others, but our professional McKinney pressure washing services will benefit your property either way! Whether you want to keep up your curb appeal or have toxic algae blooms, you'll require reliable exterior cleaning services. There are many different reasons for pressure washing. McKinney, TX property owners who have never handled a pressure washer before should leave it to their certified handyman. With our sharp eye for detail, we also inspect any outdoor surface materials in advance to ensure they are sturdy enough to withstand high water pressure.
What Is McKinney Pressure Washing?
While you might find yourself scrubbing walls inside your home, you don't have to worry about doing the same on the house exterior. Our high-pressure water jets have pressure levels ranging between 750 and 3,000 psi (pound-force per square inch), which is able to blast away algae, moss, grime, and other stubborn stains that have been settling for years.
It's crucial to choose the suitable psi and cleaning solution for the right material. For instance, our commercial pressure washing services often require us to use cleaners that contain bleach for stain removal. That's because bleach also helps sanitize surfaces to ensure a thorough clean. However, when we are cleaning homes, we don't use harsh chemicals, so the process is safer for residential properties. You can also find biodegradable detergents.
What Is The Difference Between Power Washing and Pressure Washing?
People tend to use both terms interchangeably, which is understandable, but there is a slight difference to keep in mind. Power washing involves the use of hot water and pressure, whereas the latter uses cold to standard temperature water. If you perform your oil change at home on your driveway, heated water is ideal for highly-saturated surfaces such as oil stains on garage floors or other concrete surfaces.
What Are the Top Spots On My Property That Need Pressure Washing?
McKinney, TX property owners who have already walked around and inspected their home's exterior would have likely made a list of top spots that are crying out for a deep clean. Whether you see bird droppings or partly clogged gutters, it's essential that you prioritize the most urgent situations first. Early detection and preparations could save you lots of trouble down the road. Having clogged gutters before heavy rainfall would be disastrous! McKinney pressure washing is just as helpful for damage prevention as it is for aesthetic purposes.
Wooden Deck
When preparing ourselves for the summer, we want to make sure our deck is safe and presentable for our family and guests. Pressure-treated wood is the most common and cost-effective type you will find. It requires quality sealant to stay in shape and keep moisture at bay. You can rest easy knowing that we will thoroughly inspect your deck boards before we go ahead with any type of cleaning. Wooden decks easily collect dirt and grime even if they are stained properly. Your certified McKinney handyman will ensure that. If you are planning a gathering soon, we recommend that you schedule an inspection and pressure washing! McKinney, TX decks, can recover their natural shine again, especially after a new fresh layer of finish. Pressure washing is ideal for preparing flat surfaces for staining or painting.
Concrete Patio
Concrete floors can withstand a pressure of 3,000 psi and a water flow rate of 4 GPM. Of course, it depends on what you try to remove. That said, you should clean it at least once a year to prevent moss and algae from sticking to the surface. We do, however, recommend that you inspect your concrete floors for cracks or chips before you go ahead with pressure washing. McKinney, TX, service technicians can also do that for you.
Siding
If you love bright colors for siding, you may want to stick to an annual exterior cleaning schedule. You may remember how your parents used to scrub their yellow, beige, or white house siding when you were younger. But the days of scrubbing are over. Whether you have vinyl, brick veneer, wood, fiber cement, or composite, we'll give you the necessary inspection and repairs before our McKinney pressure washing service. Sometimes, soft washing (lower than 500 psi) will do the job splendidly! We want our siding to meet its life expectancy of 50+ years, but we can only achieve that through periodic maintenance and minor repairs.
Note: If you ever notice cracks and gaps, give us a call right away. Whether it's weather damage or soil shifting causing foundation damage, we will give you a full diagnosis.
Fence
Our fences not only mark our territory but also protect our kids and pets. But speaking of pets, if you have a male dog that proudly lifts his leg to pee against your wooden fence every day, it has its disadvantages. Canine urine salts can affect a plant's pH level if you have noticed patches of dead lawn in your backyard. They can also break down a wood's finish easily. If you're not ready to book McKinney pressure washing every month, we recommend cleaning your fence with vinegar and water. Doing so will likely require refinishing every year. But you will see results after pressure washing; McKinney, TX property owners can look forward to a clean, spotless look for their exterior space. Your local handyman also offers other fence maintenance services like repainting, termite checks, and repairing broken boards and hinges.
Soffit
Soffits are designed to ventilate our attics and circulate airflow to keep moisture and condensation out. But over time, they can collect dirt and even get clogged or even suffer from flaking paint. After a detailed inspection, you will benefit from professional McKinney pressure washing. Homeowners that have underestimated the purpose of their soffits will soon realize how crucial it is to keep them clear from debris, which leads us to the gutter system.
Gutters
We rely on gutters to protect our roof system from excess moisture. Clogged gutters or corrosion damage are serious problems, but you can count on McKinney pressure washing to eliminate this issue. If you do have rusted gutters, there are ways to restore them, depending on the severity of the damage. After a full inspection of your gutter's overall condition, we will decide whether to go ahead with pressure washing. McKinney, TX, homeowners may have older gutter systems that are fragile. We will ensure it means its life expectancy and also give you cost-effective replacement options. In the meantime, gutter scoops may be the best tool to use. We recommend gutter cleaning and inspection as a preventative measure before the rainy season arrives (March-May). Severe water damage can lead to structural damage and costly repairs.
Hardscape
Not many property owners are keen to have high-maintenance landscapes that require seasonal gardening work. If you don't have pets and don't like the responsibility of mowing the lawn, you likely have a hardscape environment. Whether it's paved areas or rock decorations, these concrete or stone surfaces can collect dirt, grime, or suffer from moss growth. If you have stained concrete or a range of rock features that have collected slime and other substances, get McKinney pressure washing service to recover your yard's original look.
Other Popular Areas to Pressure Wash
Driveways
Garage floors
Porches
Tile stones
McKinney Pressure Washing for Commercial Properties
Now we're talking about deep clean! If you are a business owner who owns a commercial property, it's important that your first impression attracts customers and visitors. This is where commercial pressure washing is essential in removing eye-catching, ugly stains or graffiti from your building. Other areas include parking lots and underground garages that collect a lot of dust, debris, or gravel. What's the worst? Tire marks. These stains require the expertise of a certified McKinney handyman who will need to use a psi of 3,000 to get rid of stubborn tire marks.
What Are The Benefits of Pressure Washing?
McKinney, TX property owners—both residential and commercial—know that pressure washing is designed to clean and sanitize surface areas that would otherwise require too much time and labor, but there is more.
Prevent Damage
Do you have a wasp nest causing damage under your vinyl siding? These beasts can chew through wood and cause structural damage if you don't eliminate them. We have also had clients who neglected gutter cleaning, and a clogged gutter caused a serious leak that compromised their roof's health and had mold growth in the attic. Or some clients haven't had gutter cleaning in over a year and didn't realize that it was clogged and caused a serious leak that compromised their roof's health. We support preventative maintenance, which is what McKinney pressure washing is for. We always inspect surfaces before we give you a thumbs up that our high-pressure jet will get the job done.
Protect Your Home Value
When scheduling an annual appointment for pressure washing in McKinney, TX, homeowners can rest easy knowing that it includes an inspection. We want to help you protect your property by identifying any underlying issues quickly and stopping them from deteriorating, whether you have damaged soffits or need deck repair.
Take care of your health.
Toxic algae blooms have become increasingly more dangerous for our health in Texas. Knowing that we should steer clear from affected waters, algae still finds its way to stick to our homes. If you spot green algae residue on your siding, it could release toxins into the surrounding air. The best way to kill the bacteria is through soft washing combined with a biodegradable solution.
Prepare surfaces
Before the peak of summer, you may want to stain or paint your deck, siding, or soffits. If your deck boards or fence are due for their next staining session, it'll be good to clear any debris and grime with professional pressure washing. Mckinney, TX property owners, will, again, get the required inspection service to ensure their wood materials are healthy. We help detect wood rot, decay, and other potential damages.
Do You Need McKinney Pressure Washing? Trust Your Local Handyman to Get It Done
Would you rather leave this job to the professionals, or do you need more information about trim repair services in Collin County? You can rely on the experts at Mr. Handyman of Midwest Collin County. Our skilled, courteous professionals are here to help business owners and homeowners throughout McKinney and in many nearby areas, including Allen, Whitewright, and Melissa.
Give us a call to schedule an appointment or speak with one of our customer service representatives to learn more about how we can help improve your living space!