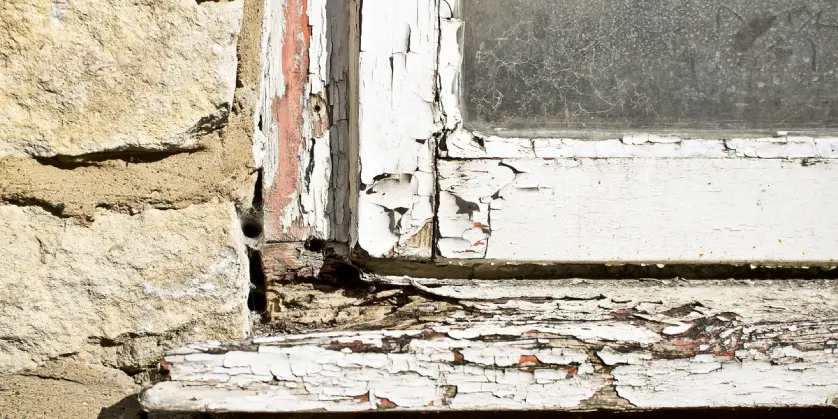 It's not always easy to marvel at our home's exterior after an uncomfortably cold winter. Winter in Texas is short but can be brutal in some areas especially when the polar vortex is a threat. Unfortunately, this kind of cold is not healthy for our exterior trims if they haven't been well-maintained over the year. Eventually, McKinney exterior trim repair service is inevitable.
Whether you experience wood rot on your exterior window frame or house's corner boards, they need immediate exterior trim repair before the damage spreads and causes structural problems. When you look up to examine your roofline, it's worth inspecting your gutters in McKinney, TX to ensure they are in good condition. They play a support role for your exterior trims because they protect your soffits and fascia boards from moisture damage that could otherwise compromise your roof and spread into your attic.
If you see nail holes or gaps on your corner board or are generally worried about undetected damage outside your home and need an expert diagnosis, you can rely on your McKinney handyman at Mr. Handyman of Midwest Collin County to tackle every item on your maintenance and repair list—including exterior trim repair. McKinney, TX homeowners deserve to enjoy their life and home to the fullest. We thrive on being your convenient one-call solution for a wide range of handiwork that include maintenance, repair and improvement, and we eliminate the hassle of dealing with multiple contractors because our service professionals have the years of hands-on experience needed to take care of your property efficiently.
We are proud to serve McKinney as a locally-owned and operated company. If you're working or busy planning a family vacation, rely on your local McKinney handyman, who has passed an extensive screening process with an employee background check program, to deliver high standards of workmanship and customer care that will exceed your expectations.
What is Exterior Trim?
Unlike interior trims such as baseboards or crown molding, exterior types specifically mark the corners and edges of our house, whether they are horizontal or vertical lines. Without them, our property would look dull and unfinished, and it would be more prone to weather damage and structural problems without the required stability and support. In short, your property won't last for its full life expectancy without trim and siding repair. On the other hand, McKinney exterior trim repair can be minor maintenance tasks that usually allow us to detect telltale signs early before they get out of hand.
When it comes to aesthetics and curb appeal, horizontal lines are proven to have a peaceful and calming effect on our eyes; it's similar to watching the sunrise or sunset on the horizon. You could think of fascia and corner boards serving the exact same purpose. Not only do they make our house look inviting and safe, but they hide unwanted gaps and protect the surfaces from water damage with the support of gutters and downspouts. Windows and doors have tight-fitting joints to prevent water and air leaks, but they can compromise your insulation system and increase your utility bills when there are gaps or cracks. Here are the examples of exterior trim on your property that requires repair over time:
Soffit and fascia (plus horizontal boards beneath the fascia, if applicable)
Gutters
Corner boards (also known as corner trim)
Window frame (head and side casing, sill)
Frieze board (sometimes known as primed board at the hardware store)
J-channel and f-channel
Exterior Trim Material Types
Material types for the outdoors need to be weatherproof, durable and preferably with minimum of maintenance. But if we really want to keep McKinney exterior trim repair to a minimum, we need to understand the characteristics of each material. Here are some of the common material types you'll find in McKinney, TX.
Wood
Wood is the oldest and most common trim material that people use. Popular wood types include cedar and redwood because they have high moisture resistance. Unfortunately, the prices have gone up and they're not as easy to come by as they once were. We do not recommend softwood like pine as it won't last. If you opt for cedar or redwood, a thorough finish job is vital to protect the material. If additional painting is desired, you must remember to prime it accordingly.
Engineered Wood
This type of wood is often more common for interiors but can be advantageous for outdoor use if installed and treated correctly. It's made of a mix of wood, glue and resins and is less expensive than solid wood. One downside is that it's prone to moisture damage despite staining and may require repairs now and then.
Fiber Cement
To minimize your needs for McKinney exterior trim repair services, fiber cement trim is one of the most durable types you can choose. Made of Portland cement, sand, water and cellulose fibers, it's non-combustible and resistant to rot and impact damage. This means that you can keep maintenance to a minimum. Some drawbacks include high cost for the product itself and a slightly more labor-intensive installation process. As a heavy material, it's more difficult to cut and the dust poses a health hazard.
Preservative-Treated
When you treat wood with preservatives, you basically add chemicals to make it more moisture resistant so it won't rot or attract pests. One downside is that the chemicals can leach into your soil and plants, ruining your landscape.
Plastic
Plastic materials include:
Cellular PVC
Vinyl
Foamed polystyrene
Polyurethane
Polymer composite resin
Polyethylene lumber
While plastic materials can be durable, they aren't suitable for extreme weather conditions. In the cold they're susceptible to cracking, whereas hot weather could lead to warping.
Pro Tip: Composite materials are typically made of recycled wood fibers and plastic that make them highly moisture-resistant. They don't crack, split or rot unlike their counterparts, they don't warp either; however, they may sag and buckle, making repairs or replacements inevitable.
7 Signs You Need McKinney Exterior Trim Repair
McKinney, TX homeowners like eye-catching trims, but to ensure they continue to do their job, maintenance is key. No matter how durable the material is or how well we install our exterior trims, they require periodic maintenance to stay in shape and serve their functions. Telltale signs might not be as noticeable when they're outside, but it's worth paying attention to these little details or calling your local McKinney handyman to climb a ladder to help you with any relevant diagnoses.
We get 230 sunny days on average and never know what this hot, muggy weather can do to our materials. Whether you're just getting ready to enjoy your spring or preparing your trims for the rainy season, keep these telltale signs in mind to better understand future McKinney exterior trim repair. Property owners who have slightly older homes or aren't up-to-date with maintenance should look out for the following signs.
Wood Rot on Window Frame
Wood rot is the most common culprit that requires McKinney exterior trim repair and can affect any wood-based materials. Wooden frames are still the most common but also require the most care to stay intact. A crack on the head casing could lead to water leaking into your home, which also applies to the side casing and sill. If the moisture sits on the wood, it will rot faster than you think. It's unsightly and can lure pests like flights and termites into your home. In most cases, it needs replacement, but if you detect it soon enough, you can rely on your McKinney handyman to replace sections or use an epoxy solution to treat a recovered area. Window trim repair is more common than people think because small maintenance jobs like periodic exterior trim painting and caulking are required.
Peeling Paint on Fascia
Your fascia is a horizontal board that connects to your roof rafter's end and supports your overall gutter system. It also creates a barrier between the outside elements and inside your roof. If you notice rotting wood or peeling paint on your fascia, you likely require exterior trim repair. McKinney, TX homes are most susceptible to water damage after the rainy season. Regular gutter cleaning and inspection will help keep your fascia in good condition.
Moisture Damage on Soffit
Your soffits are an essential part of your roof eaves that help reduce moisture and condensation. They ventilate your attic and help with air flow so it stays dry. Damage in the gutter system or fascia will also impact your soffits. If you have rodents and bugs in your attic or notice musty smells, you likely have damaged or clogged soffit vents.
Frieze Board Damage
Frieze boards are often overlooked during construction and design, but they are a critical component of your house's exterior. Frieze boards are typically located horizontally between the soffits and the top part of your siding. They serve as a nice finishing touch, like your interior baseboards. The primary purpose of frieze boards is to help your soffit keep moisture out and, of course, make the seams and corners of your house more attractive. But external conditions can easily lead you to require exterior trim repair. McKinney, TX's weather can be unpredictable at times. Unlike other types of exterior trim, frieze boards are either made of wood materials or aluminum.
Clogged Gutters
Although gutters aren't really considered an exterior trim but a drainage system, we felt it's important to throw them in because they are designed to protect your trims like your soffit and fascia from moisture damage. Damaged or clogged gutters are problematic on rainy days, because the water has nowhere to go and will overflow and cause water damage to your soffit and fascia and compromise the condition of your roof. A damaged gutter system will require immediate McKinney exterior trim repair. Homeowners can take preventative measures by scheduling an annual gutter cleaning service that includes an inspection.
Rotting Corner Boards
These are vertical boards at your house's corners that are designed as an anchor for siding and are made decorative as well. You could refer to them as the exterior moldings if you like. Underneath, they typically touch the house wrap which protects your house's sheathing. The standard corner board types are painted fir or pine. If you notice peeling paint or splitting wood, it's likely going through decay and requires replacement. If you prefer wood on your McKinney home, we recommend installing primed, engineered lumber. Vinyl corner boards are also popular but could warp or crack over time when exposed to extreme temperatures.
J-channel Trim Needs Caulking
J-channels are used for many purposes but mainly as siding trim. It's a specifically molded extrusion that curves at the bottom like the letter J. It hides the end piece of vinyl siding, for example. You may also use a j-channel to hide any siding ends as they butt up against either your door or window. It serves greatly as an undersill trim as part of your window frame and hides your siding's edges. Typical j-channel materials include metal, vinyl and plastic. If you see gaps in the seams, you can rely on your McKinney handyman to seal the seam between your j-channel and the window or wherever you have a j-channel installed.
Do You Need McKinney Exterior Trim Repair? Depend on Your Local Handyman!
Before you type in "house trim repair near me," we can reassure you that you're already at the right place! We are your experts at exterior trim repair, whether you're dealing with wood rot or decay. Do you need more information about trim repair in McKinney, TX? Rely on the experts at Mr. Handyman of Midwest Collin County.
Our skilled, courteous professionals are here to help business owners and homeowners throughout McKinney and in many nearby areas, including Allen,Whitewright and Melissa, with exceptional service and workmanship. Our reviews speak for themselves.
Give us a call to schedule an appointment or speak with one of our customer service representatives to learn more about our exterior services.