Does your list of home repair projects seem never-ending? Every South Bend homeowner has a to-do list of home improvement projects they would like to complete. Some might be bigger renovations you'd love to get to someday. Others may be smaller repair tasks that have fallen by the wayside.
Mr. Handyman of Northern St. Joseph and Elkhart Counties can help you cross off every item on the list, big or small! Our top-rated-residential handyman service professionals are trained and experienced in a vast assortment of South Bend home repair and home improvement services.
Give us a call or schedule service online from a handyman near you!
Experienced & Reliable Handyman in South Bend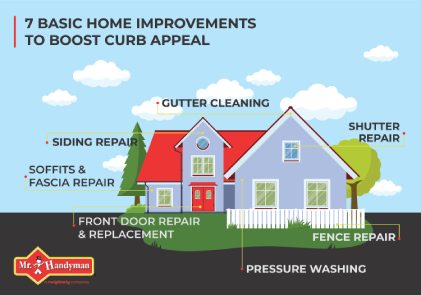 If you don't have the time, energy, tools, or skill to take care of the repairs or improvements your South Bend home needs, we have you covered. Mr. Handyman of Northern St. Joseph and Elkhart Counties provides a safe, worry-free experience from our fully insured team. So, what can we help you with?
We offer several handyman services in South Bend, including:
Plumbing
Painting
Electrical work
Carpentry & custom shelving
Furniture assembly
Safety & mobility modifications
Baby proofing
Wood, tile, or laminate flooring
Window installation
Blind and curtain hanging
Weatherproofing
Door installation & repair
Pet door installation
Ceiling Repair
Mantel installation
Dryer vent cleaning
TV wall-mounting
Stair & handrail installation
Deck & patio work
Garage door opener installation
Fence installation & repair
Attic insulation
Power washing
Holiday lighting & decoration installation
Have any questions about our residential handyman services? Just call us or request your service online! We're happy to help.
"One-Call" Handyman Services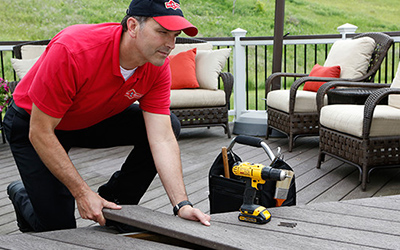 At Mr. Handyman of Northern St. Joseph and Elkhart Counties, we offer "one-call" solutions to your home improvement or repair needs.
Our goal is to complete your work in just one service call. Depending on the scope of work, multiple trips may be needed. Installing and finishing several sheets of drywall is a good example of a multi-day trip due to the several steps involved. But generally speaking, we have the expertise, resources, and team to complete jobs quickly.
At the same time - we can handle virtually every home repair or improvement project. There's no need to schedule and coordinate multiple service providers.
With the stand for your flat-screen television didn't take up so much space? Call us for a TV mounting service! We'll anchor the screen safely and securely to the wall. Tired of tripping over a broken step on the staircase to your deck? We can provide deck repair in South Bend.
Trust Mr. Handyman of Northern St. Joseph and Elkhart Counties for all your home repair projects!
To schedule your service, call our friendly team today. Or you can reach out to us online. We're backed with 70+ years of home improvement experience.
Window Installation in South Bend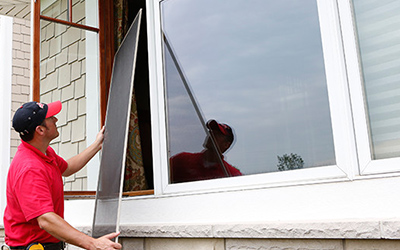 Need some new windows installed but not sure who to call? Call us for professional window installation services!
WE'LL HELP YOU CHOOSE THE RIGHT WINDOWS
There are a lot of windows to choose from. Our South Bend window installers can help you choose the best energy-efficient windows for your home. All while improving the overall look and feel of your home.
OUR WINDOW INSTALLATION PROCESS
Get started by requesting your window installation service. From there, we'll come over and take all of the measurements and scope out your project.
If you approve the estimate, we'll install your new windows as quickly as we can. If we go with "in-stock windows", the windows can be installed pretty quickly. Retrofitted windows may take a little longer to procure since they'd need to be ordered.
We can review all of those options with you, however. And we'll of course keep in close contact with you during the whole window installation project.
Looking for window installation near you? Call us or request service online today!
South Bend Kitchen Remodeling Solutions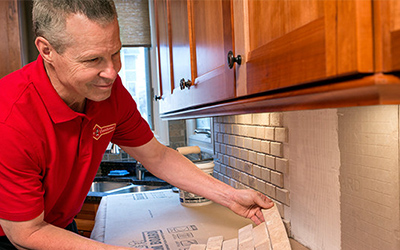 Have you been dreaming of remodeling your kitchen but aren't sure where to begin? Mr. Handyman of Northern St. Joseph and Elkhart Counties is your one-call solution.
Our experienced team can build, assemble, repair, or install:
Cabinets
Custom Kitchen Islands
Kitchen Backsplash
Countertops
Appliances
Flooring (Tile, Wood, Laminate)
Want to upgrade your kitchen light fixtures? We do that, too. If you're looking open up a drop ceiling or modify your kitchen layout, our experienced home improvement professionals also perform kitchen drywall installation in South Bend.
Do you want to give your basement a modern update? Does your bathroom need an upgrade? The remodeling experts at Mr. Handyman of Northern St. Joseph and Elkhart Counties possess years of experience remodeling homes. When it comes to kitchen and home remodeling, we can handle everything for you.
If you do not see the service you need, please reach out to, and speak to a home improvement professional about your next improvement project. Call now and review the specifics of your home renovation project with one of our specialists.
Excited to start remodeling your kitchen or home? Call us or request your service online today. We look forward to serving you!
Call Us for Exterior Home Improvement Projects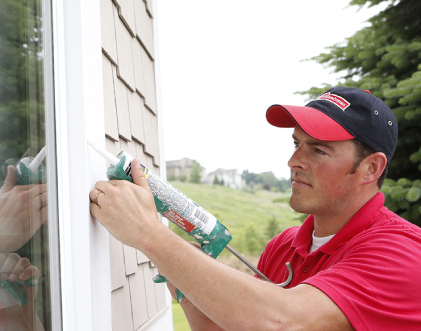 South Bend enjoys four distinct seasons, which can result in several exterior home improvement projects. Mr. Handyman of Northern St. Joseph and Elkhart Counties is there for you year-round. We offer gutter repair and gutter cleaning to clear away dead leaves clogging up the water spouts.
We also perform power washing services to clean mud, dirt, and other debris from your home's siding, driveway, sidewalks, and other surfaces. When it comes to enjoying your backyard, our team of professionals provides deck construction and patio installation in South Bend, as well as repair, painting, and staining of these structures.
We can even help you out when the winter season arrives, adding weather stripping to your garage door and windows to keep you warm inside during the frigid months.
And speaking of winter, our friendly handymen can hang holiday lights on your home or exterior structures and install holiday decorations. Once the holidays are over, give us a call and we'll come back to take them down, too.
Looking for home repair services in South Bend, IN! Dial or request service online now!
Why Hire Mr. Handyman for Home Repair Services in South Bend, IN?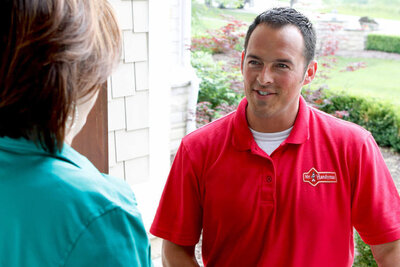 Mr. Handyman of Northern St. Joseph and Elkhart Counties is backed by a franchise network trusted for quality work and ethical service across the US and Canada.
We're proud to be the leading local handyman provider in South Bend and the surrounding communities. We serve our customers with the same care and reliability they expect from the Mr. Handyman® name.
A WHOLE TEAM DEDICATED TO YOU
When you choose Mr. Handyman®, you don't just get one guy who knows a little bit about a lot of things. You get our whole team of experienced, skilled handymen who can share resources and knowledge to ensure your home improvement project is completed to the highest standards.
WE WARRANTY OUR SERVICES
We even offer our Done Right® Guarantee, which backs our work and products. If you experience a problem with our projects or one of the products we provide, simply call us right away. We'll make it right.
Get started on your next home repair project today! Dial or request service online now!