Home Repair in Round Rock
Welcome to Mr. Handyman of NW Austin where professional, safe, reliable handyman services are just a phone call away. Our Austin handymen can help complete your to-do list around the house and can even help finish big home repair or remodeling projects including all types of carpentry services, siding repair, drywall repair, interior painting, deck repair, SmartHome installations, and tile work just to name a few.
We provide both commercial handyman services and residential home repair in the Austin and Round Rock areas. Many of our local clients call on us for interior handyman services such as drywall repair near Round Rock and surrounding areas in North Austin.
Home Remodeling & General Handyman Services
Owning a home or property requires constant maintenance and repair. Our handyman services in Northwest Austin provide home remodeling services to help you keep up with home maintenance and increase the value of your property.
Call our Austin handyman and home repair services company today at Mr. Handyman of NW Austin or schedule your handyman services online.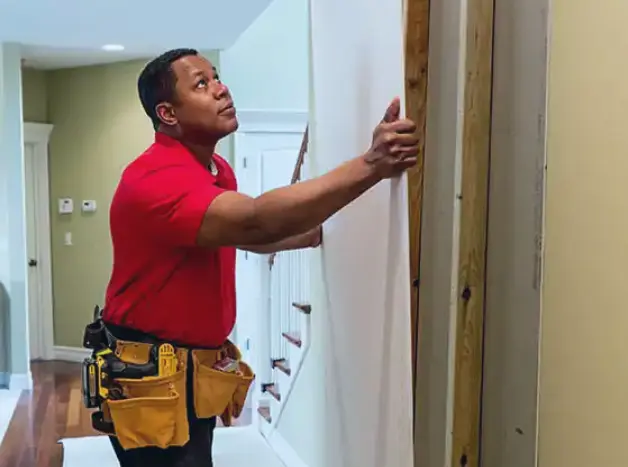 Why Choose Mr. Handyman?
Convenient one-call solution.

Safe, worry-free experience.

Fully insured with general liability and workers' compensation.

We'll clean up when we're done.

Our workmanship is guaranteed.
Our Mission
Mr. Handyman is your one-stop shop for a wide range of home maintenance and repair solutions. Mr. Handyman's service technicians are highly skilled craftsmen, so you know they will get the job done right the first time.
Partnerships & Achievements
Your One-Stop-Shop for Home Repair in Austin
Don't call a separate tradesman for each item on your "to-do" list. Let our skilled Austin home repair technicians take care of all your home repairs. We offer interior and exterior handyman services in the Round Rock area including drywall repair, carpentry, electrical services, and more. You won't incur a service charge from several different companies, saving you money.
And, you'll only have one appointment to work into your busy schedule. Our local customers rely on our Austin handyman services to consistently provide excellent work that's On time. Done right.®
Visit our Facebook page.
Smarthome Installation in Austin, TX
Mr. Handyman of NW Austin also provides SmartHome products and installation services for Nest and Ecobee learning thermostats, Ring Video Doorbell, Wemo home automation switches and plugs, Philips Hue smart lighting, and more. Contact our team today to learn more about our special offers on products and services.
We thank our local community for choosing us as the Austin and Cedar Park area handyman of choice. We are America's most reliable, insured, and bonded handyman services.
We handle warranty work for Standard Pacific and Streetman Homes in the Austin metro area. We can provide the same great service for your home.
Mr. Handyman provides professional commercial and residential handyman services in Round Rock that are On time. Done right. Call today.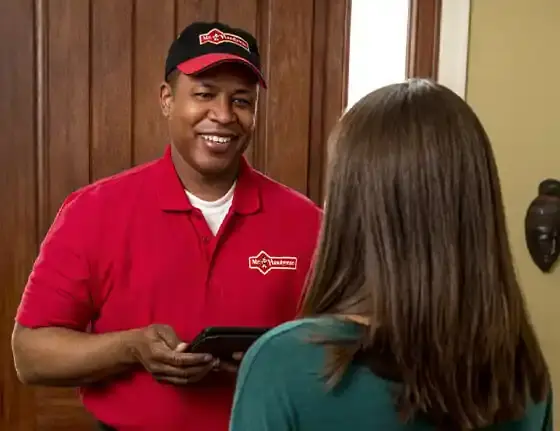 Frequently Asked Questions
What Can I Expect from Professional Handyman Service in Austin?
Once you schedule an appointment by calling our team or making an online request, our skilled technicians will arrive on that date in a clearly marked van that is equipped with various tools for the specific job. Our uniformed handymen have years of experience and are fully insured to handle a wide range of home improvement and repair tasks.
Whether you need more than one handyman or you require additional materials for the job, we are more than happy to lend our assistance. Our Austin handyman service is backed by our "done right" guarantee, so we can quickly address any issues with our workmanship.
Is It Worth It to Hire a Handyman in Round Rock?
In many cases, an affordable handyman can be a better option than hiring a general contractor, or specialized tradesman. Many residential and commercial construction jobs require more than one specialty. For example, remodeling a bathroom would require plumbing services, electrical, drywall, carpentry, etc. Instead of hiring several different tradesmen for a job, a handyman can typically handle the different types of work that are required.
What Can a Handyman Do in Texas?
You don't need a license to be a handyman in the state of Texas. However, you do need a license to do more specialized work in Texas, such as plumbing, electrician, heating, air conditioning, ventilation, and fire sprinkler repair services. Texas is a conservative, free market state that has loose restrictions on what a handyman doing home maintenance repair can do. A handyman operating in Texas is allowed to do most home repair jobs, but they need a license to do specialized work such as plumbing or electrical repair. You are allowed to perform these repairs in your own home, but at your own risk. Handling these jobs yourself carries the risk of making the problem worse, or injuring yourself. We recommend hiring licensed handyman services in Texas who are comfortable with more dangerous or risky tasks.
Are You Still Open During COVID?
Yes, Mr. Handyman of NW Austin is still available to help with your home repair issues during the COVID-19 crisis. Our Round Rock home repair experts are following CDC-recommended guidelines to protect our staff and customers. Visit our corporate page to learn more about what Mr. Handyman is doing to prevent the spread of COVID-19.
What Kind of Services Do You Offer?
Mr. Handyman of NW Austin provides home repair and remodeling services. We can handle all the following and more:
Attic stairs installation
Attic door installation
Attic vent cleaning
Attic fan installation
Water heater insulation
Bathroom fan installation & repair
Caulking
Shower door installation & repair
Vanity & bathroom mirror installation
Deck & patio repair
Deck & patio construction
Fence installation & repair
Gutter cleaning & repair
Power washing
Soffit, fascia & siding repair
Kitchen backsplash installation
Cabinet installation & repair
Countertop installation & repair
Custom kitchen islands
Garage door opener installation
Garage door weather stripping
Garage floor coating
Garage organization & storage
Mantel installation
Ceiling repair
Popcorn ceiling & texturing
Door installation & repair
Tile installation & repairs
Floor installation & repairs
Drywall & wall installation & repair
Picture hanging
Wainscoting installation & repair
Hanging blinds, curtains, & drapes
Weatherproofing
Window installation
Window shutter installation
Furniture assembly
Carpentry
Hard to reach light bulbs
Smoke detectors
Installation
Dryer vent cleaning
Painting
Remodeling
Renovation
Safety & mobility
What Areas Do You Serve?
Mr. Handyman of NW Austin serves the greater Round Rock area in addition to the cities of Cedar Park, Leander, Liberty Hill, and Austin.
Mr. Handyman of NW Austin
Choose the right handyman services team in your area. When it comes to selecting the right team for your home improvement needs, Mr. Handyman is the right choice.
Areas We Serve:
Austin, Cedar Park, Leander, Liberty Hill, Round Rock