Home Repair and Professional Handyman Services
Welcome to Mr. Handyman where a professional, safe, reliable handyman service for your entire "To Do" list is just one call away. That's why local residents of Ocala, the Villages, Leesburg, Mt. Dora, Apopka and the surrounding areas choose our professional handymen, who specialize in ALL major and minor home repairs over an independent handyman.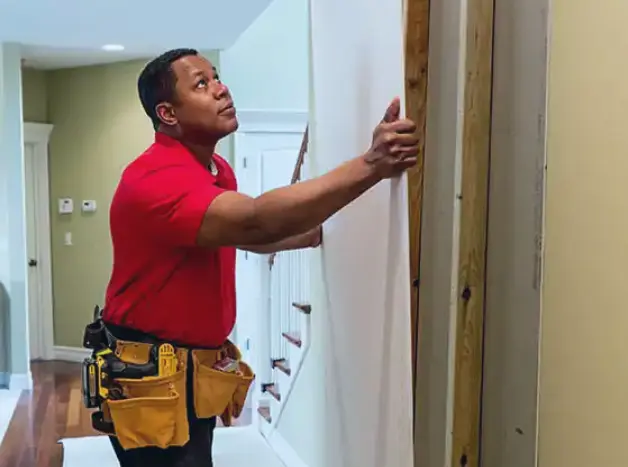 Why Choose Mr. Handyman?
Convenient one-call solution.

Safe, worry-free experience.

Fully insured with general liability and workers' compensation.

We'll clean up when we're done.

Our workmanship is guaranteed.
Our Mission
Mr. Handyman is your one-stop shop for a wide range of home maintenance and repair solutions. Mr. Handyman's service technicians are highly skilled craftsmen, so you know they will get the job done right the first time.
Partnerships & Achievements
Professional Handyman Services for Every Task
Instead of calling multiple service providers to handle specific jobs, why not call Mr. Handyman Serving Ocala to West Apopka? We can help you with any job from gutter and siding repairs, to furniture assembly, wall mounted TV installations and more. Please review our list of home repair and maintenance services, and give us a call for quality work that's "On time. Done right.®"
We understand your growing "To Do" list can feel overwhelming at times. In many cases, it is not a question of whether you should call a professional but WHO can you call to provide SAFE, RELIABLE and ON TIME service for taking care of you repair needs around the home.
Mr. Handyman is the answer! Our service techs are the best in the business and they are our direct employees so you can be assured of a job well done.
We understand you're invested in the local area. You may even own a local business in the area. Let Mr. Handyman help with your business maintenance and repairs. After all, this helps your company's image and value. Drop that hammer. Let Mr. Handyman help.
As the local handyman choice, we thank our local community for trusting America's most reliable, insured and bonded handyman services.
Visit our Facebook Page.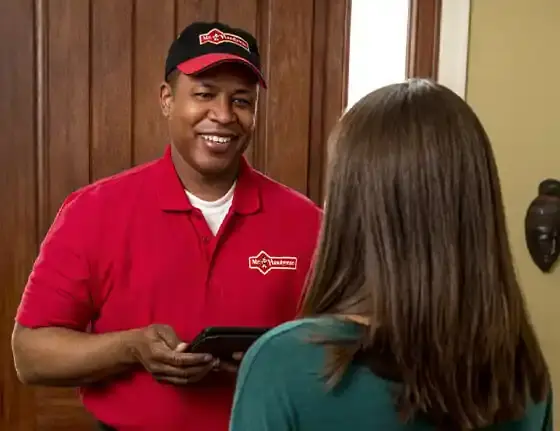 Mr. Handyman Serving Ocala to West Apopka
Choose the right handyman services team in your area. When it comes to selecting the right team for your home improvement needs, Mr. Handyman is the right choice.
Areas We Serve:
Apopka, Astatula, Belleview, Bushnell, Candler, Clermont, Coleman, Eastlake Weir, Eustis, Ferndale, Fruitland Park, Grand Island, Howey In The Hills, LadyLake, Lake Panasoffkee, Leesburg, Minneola, Montverde, Mount Dora, Ocala, Ocklawaha, Okahumpka, Oxford, Plymouth, Sorrento, Summerfield, Sumterville, Tangerine, Tavares, The Villages, Weirsdale, Wildwood, Yalaha, Zellwood
Best Handyman Services Near Ocala and the Surrounding Areas
If you're on the hunt for top-notch handyman services in your area, your search ends here. Mr. Handyman® serving Ocala to West Apopka is your local handyman specializing in home repairs, handyman services, and other maintenance jobs.
It's easy to finish home projects when you hire the best handyman services near Ocala, and our customer service makes our team shine.
Handyman Repair Services
Owning a home means there's always some kind of work that needs to be done around the house. Little nuisance problems can quickly escalate if you don't care for them immediately. However, it's hard to find the time to handle these kinds of home repair projects yourself. From addressing a troublesome leaky pipe to mending a damaged wood floor, you can hire Mr. Handyman for almost any repair or maintenance job around your house.
We offer a comprehensive list of home repairs and services to keep your living space in tip-top condition. Don't wait for minor household issues to become more prominent and costly. With Mr. Handyman, our home maintenance services help bid farewell to those irritating issues allowing you to embrace a comfortable and hassle-free home environment.
Handyman Maintenance Services
Once you buy a home, ensuring everything is in tip-top shape and working correctly is crucial. By hiring a Mr. Handyman professional, you'll have experienced support to assess the scope of any repair and maintenance. Mr. Handyman provides top-of-the-line home maintenance services tailored to your needs.
From gutter cleaning to power washing, we've got it all covered. So relax, and let Mr. Handyman tackle the jobs you've been worrying about and don't have time to complete.If you're unsure if Mr. Handyman can help with your household maintenance problems, you can check out our full list of services.
We also offer our Neighborly Done Right Promise™ to give our customers the peace of mind that the job will get done right.
Mr. Handyman Serving Ocala to West Apopka FAQs
If you have any questions about the scale or scope of the home repair services and home maintenance tasks you need, don't hesitate to give us a call. For a general assortment of frequently asked questions, please see below.
What is a handyman?
A handyman is a proficient and adaptable professional capable of handling a diverse range of home repair and maintenance jobs. You can consider a handyman your go-to expert for resolving almost any pesky household issue. A handyman has a long list of skills and training that allows them to assess and adapt to different problems on the fly. You can hire a handyman for a single job or to do regular maintenance.
What does a handyman do?
A handyman is a multi-talented problem solver equipped to assist with plumbing, electrical work, carpentry, painting, and much more. They are the classic jack-of-all-trades who can tackle any job with the high-quality service you expect every time they come. No matter the home improvement project, a handyman can help tackle the job.
If you have questions about what kind of home repair services you need best, contact us to gather information.
Does a handyman in Ocala need a license?
In Florida, handyman services don't require a state license for most basic repair and maintenance tasks. However, more specialized work (like electrical or plumbing) might require a license. Additionally, you may find that local areas require a permit for specific types of work inside or outside your home. Mr. Handyman serving Ocala to West Apopka is fully licensed and insured.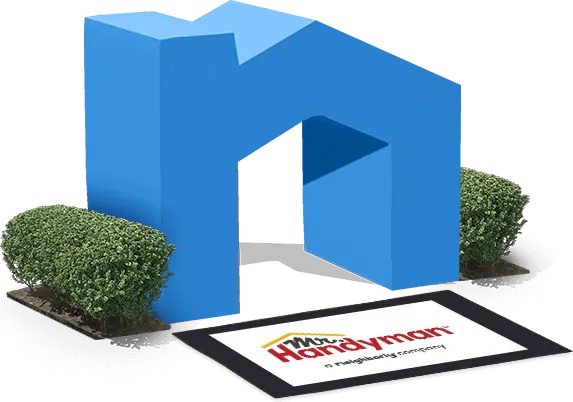 Neighborly®
Mr. Handyman is a Neighborly Company. Handyman repair services are one of the many home maintenance solutions available to you through Neighborly. At Neighborly, we are committed to being there for all your home service needs.
Learn More About Neighborly