Best Handyman Services Near Olathe
If you're in the Olathe area and need handyman services, call the skilled, experienced service professionals and your local Mr. Handyman®. We offer a wide range of repair and maintenance services to keep your home in good condition. Check out our full list of services to see how we can help!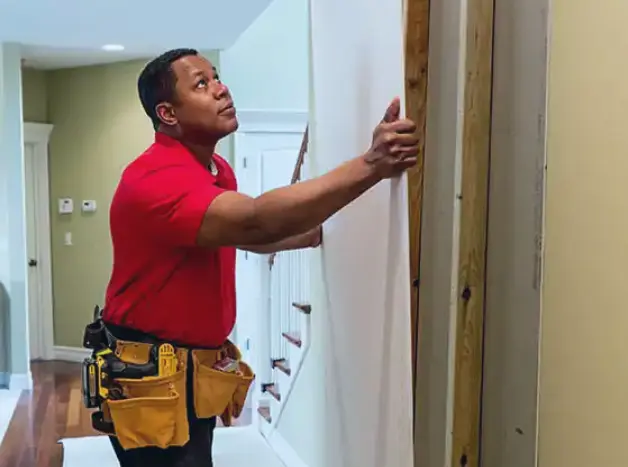 Why Choose Mr. Handyman?
Convenient one-call solution.

Safe, worry-free experience.

Fully insured with general liability and workers' compensation.

We'll clean up when we're done.

Our workmanship is guaranteed.
Our Mission
Mr. Handyman is your one-stop shop for a wide range of home maintenance and repair solutions. Mr. Handyman's service technicians are highly skilled craftsmen, so you know they will get the job done right the first time.
Partnerships & Achievements
Professionals to Take Care of Your Home & Business
When you need courteous, dedicated, and experienced professionals to help you check off a list of important home or business tasks, you can rely on us. We're trusted in the Olathe area because we have a stellar reputation that continues attracting valued customers like you.
Mr. Handyman's service specialists are second to none because:
We work with integrity and provide open communication to keep you in the loop.
We follow a code of ethics that dictates how we treat you and one another.
We take our time completing repairs and installations to avoid mistakes.
We own any issues and make sure to return to make it right.
We offer industry-leading warranties to protect your investment.
Whether you need a fence painted, office furniture assembled, a light fixture installed, a toilet repaired, or almost anything else, Mr. Handyman of Olathe, Gardner is here for you.
For professional handyman services and repairs in Olathe, call to request an estimate and get support today.
Handyman Repair Services
Maintenance is crucial to keeping your home in a good state of good repair. Mr. Handyman of Olathe, Gardner provides reliable home repair services to relieve the stress of achieving that goal. Our team of service professionals offers an average of 10 years of experience in completing various important repair tasks, so you can rest easy knowing you're in expert hands.
Handyman Maintenance Services
Home maintenance is just as important as repairs, and our service professionals are well-equipped to handle both. Regular maintenance tasks such as cleaning out gutters and fixing drywall can protect your home from damage and retain its long-term value.
Mr. Handyman of Olathe, Gardner FAQs
It's essential to us that you have all the information required to make an informed decision. For this reason, we have a list of frequently asked questions (FAQs) on our website. For now, the most common questions our customers ask are below:
What is a handyman?
When you hire a specialist from Mr. Handyman, you get a skilled service professional with many different skills to bring to your home projects. They handle many home projects, from maintenance tasks to repairs to home improvements.
What does a handyman do?
A handyman is a master of all trades with experience in everything from fixing the deck to replacing tile. They can install insulation, doors, drywall, and flooring, repair problems with doors and walls, caulk walls, assemble furniture and more.
Does a handyman in Olathe need a license?
Kansas does not require a handyman license, but a surety bond is mandatory. All our professionals are bonded and insured for your peace of mind. We provide hassle-free handyman services as an established, licensed, locally-owned, and operated business. Give us a call today to book your appointment with confidence.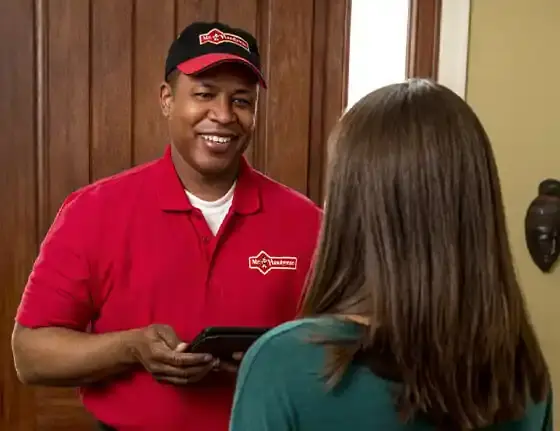 Mr. Handyman of Olathe Gardner
Choose the right handyman services team in your area. When it comes to selecting the right team for your home improvement needs, Mr. Handyman is the right choice.
Areas We Serve:
Bucyrus, Edgerton, Gardner, New Century, Olathe, Overland Park, Spring Hill, Stilwell