As a popular beach city in the Tampa Bay area, Clearwater surely attracts many young professionals and retirees with the many amenities and social attractions it offers. There's so much to see and do, giving property owners no choice but to go out and enjoy themselves when they're not working. 58 percent of the residents own their houses in Clearwater, and whether they're located by the beach or not, it's crucial to remember what our healthy coastal air can do to our properties if we don't take the necessary measures to maintain them. That maintenance is always easier when you rely on professional Clearwater handyman services.
Whether it's your backyard deck, house siding, doors or windows, salt air corrosion can trigger costly damage if you forget to inspect and clean your home's exterior—as can termites and many other local environmental factors. Even regular wear and tear will result in minor damage over time. No one knows Clearwater's weather, climate and environment better than its community, which is why a local Clearwater handyman is the best person to ask for help with repairs and maintenance.
Building and installing weatherproof materials is a must for any home, but it's crucial to maintain those parts of your home accordingly too, so that they meet their life expectancy and continue to highlight the best features of your home. We know that many people have a busy lifestyle in Clearwater and don't blame you for postponing maintenance chores or minor repair needs, as long as you know it must be done. This is where Mr. Handyman serving Palm Harbor, Clearwater and Largo will jump in.
When your home or business is crying out for help, trust your Clearwater handyman for prompt improvement, repair and maintenance services that could save you time and deliver enhanced safety and comfort to your residential and commercial property.
Our skilled service technicians bring many years of experience in providing a wide range of professional handyman services, from mounting TVs to drywall repair to remodeling services. No matter how big or small, our skill level will exceed your expectations because we go above and beyond to get our job done. For any questions that you may have about property maintenance, you can count on your local handyman. Clearwater FL residents can always benefit from our dedicated workmanship and excellent customer care.
DECK MAINTENANCE
Not every person is a sandy beach lover; some people want more solid ground to walk on. Not every backyard in Clearwater has that stereotypical beach, especially if you're not keen on being surrounded by sand all the time. This doesn't change the fact that coastal towns are exposed to lots of salt particles in the air. If you already make sure that your car doesn't fall victim to rust issues, you likely think the same way about your property's exterior. However, living on the coast doesn't stop wood lovers from building things with wood-based materials, starting with your deck.
Your local Clearwater handyman is a specialist deck builder who encourages choosing pressure-treated wood that contains bug- and moisture-resistant preservatives and additives. Unfortunately, this doesn't make your wood indestructible, especially in Clearwater's high-salinity and damp climate. To have your wooden deck live up to your standards, it will require periodic maintenance and inspection. Common emergency service requests around summer also include repairs for termite damage. This happens if your deck has suffered from moisture damage or UV rays causing cracks and openings that allow termites to feast on your wood decking.
An additional issue includes saltwater. While the sun dries out the wood and fades its natural shine, salt that settles inside the timber will crystallize and force fibers to break. If fasteners and anchors are made of poor material rather than corrosion-resistant stainless steel, they can pose a safety hazard to your deck's overall stability. Although salt may minimize fungal and mold growth on your hardwood or pressure-treated wood, you'll still need to pressure-wash and stain it every year. If this is too much of a bother for you, your handyman recommends opting for composite decking, which will more likely live up to your expectations. It's made of a blend of wood fibers and plastic materials, is resilient, durable and can last up to 30 years with minimum maintenance. That said, annual inspection, pressure-washing and sealing services will still help ensure safety.
Whether you plan to host a baby shower or barbecue on your deck in Clearwater, it has to look good and serve your needs. Maintaining a deck can be hard work, especially if you haven't been able to use it during a long, wet season. As part of your home's outdoor extension, you want to reap the benefits. Your local Clearwater handyman has the expertise and tools to ensure your deck is in working order. Some important points to cross out on your maintenance checklist include:
Replacing rotten boards
Repairing loose railings
Installing footings
Replacing stairs
Staining, painting or refinishing
Pressure washing
Pro Tip: Pressure washing your deck is the best way to remove salt and recover its original shine. Still, we only recommend it after a thorough inspection, so you're not using a high-pressure jet on damaged boards. Our high-pressure jet ranges from 750 to 3000 psi, reaching a strength that can blast away stubborn grime and salt stains. Feel free to contact your certified Clearwater handyman about any deck-related issues that you may have.
OTHER PROPERTY MAINTENANCE SERVICES:
While it is especially important to keep your home's wood deck clear from damage caused by salt and termites, your local Clearwater handyman's popular services also include these areas, to make your life easier:
Fence
We install, repair and maintain fences for your safety. For many homes, it's important to have a fence that marks your territory, gives you privacy and keeps intruders out. Similar to decking materials, many fences are made of pressure-treated wood. With the appropriate maintenance, you'll be able to make the most of your fence.
Gutter Cleaning
This service is most popular before and after Clearwater's rainy season. When it's cold, windy and rainy, you need your gutters to perform well by diverting water away from your home. It's not only one of the most overlooked jobs around the house, but also the most dreaded one. Who wants to climb up a ladder and scoop out grimy debris? Unfortunately, if you want to protect your roofline, and siding, gutter cleaning needs to be done. The good news is that you can rely on your local handyman. Clearwater FL property owners don't need to worry about climbing their uninspected ladder or gearing up for the job themselves, because we have the tools and knowledge to get it done. Furthermore, we'll inspect your gutter's condition and ensure it's working properly, so that you're set for the next rainy season.
Pressure Washing
As we have alluded to before, power washing in Clearwater is necessary for protecting your home from corrosive salts. Operating a pressure washer can pose a danger to inexperienced users because this device can potentially cut through some material. For this reason, we don't recommend Clearwater homeowners use it on their own, particularly if they haven't inspected the target material yet. Your certified Clearwater handyman will always carefully inspect your fence, gutters or siding before they carry out the service, and ensure that your pressure washing provides the results you want, without any accidental damage.
Popular areas that would benefit from routine pressure washing services include:
Hardscapes, like rock used for decorations
Decks, porches and patios
Fences
Siding
Gutters
Garages and driveway
Tile stone
And more!
Clearwater Handyman Repair Services
Maintaining a property requires a lot of commitment, but the more committed you are, the fewer repairs you will need in the future. Whether you own a residential or commercial property, you will always find certain areas showing signs of neglect. General wear and tear through aging and weather damage are common problems throughout the city. Often, it's not easy to determine the actual severity until you receive a thorough diagnosis to check for any underlying issues. If you notice anything out of the ordinary, you can call your local handyman. Clearwater FL property owners can request annual reminders for inspection services that guarantee you won't miss any important maintenance tasks.
If you don't notice certain types of damage right away, it could increase your need for extra repairs or replacement, such as when damaged subfloors or holes in drywall lead to problems with surrounding parts of your property. We offer preventative solutions to help keep your residential or commercial spaces safe and comfortable from those complications. This way, nothing will disrupt your workflow or routine. A drafty window or peeling paint aren't just eyesores; they could have underlying issues that need further investigation. Luckily, your Clearwater handyman has the tools and expertise to get down to the problem and make it go away.
SOFFIT, FASCIA AND SIDING
Soffit and fascia are the names of the parts of your roof's structure closest to the gutters. They are designed to support your gutters as they adequately divert stormwater away from your home, and prevent moisture from seeping through your roof and entering your home through the attic. If you have missed a couple of gutter cleaning services, it's worth checking your roof system and attic for moisture damage. If you have clogged gutters, the excess water could overflow and compromise your roof's health by damaging your soffits and fascia.
As an essential part of your roof eave, your soffit helps reduce moisture and condensation and should always be in excellent condition. Your fascia is a horizontal board that connects to your roof rafter's end and supports your overall gutter system. It also creates a barrier between the outside elements and inside your roof. If either your soffit or fascia has suffered water damage, your local Clearwater handyman will offer you the best repair or replacement service.
Another serious situation is when water begins to flow down your siding. If you don't remember the last time you had your siding inspected but have noticed cracks, it will be susceptible to damage during severe storms. Since Florida's soil has a 50 percent swelling potential, it's not uncommon for property owners to experience soil shifting even years from their home settling. This makes cracks in siding a huge problem. When water seeps through those cracks, it could cause structural damage, affecting your home's integrity. Chances are you might not notice until your interior drywall suffers from water damage.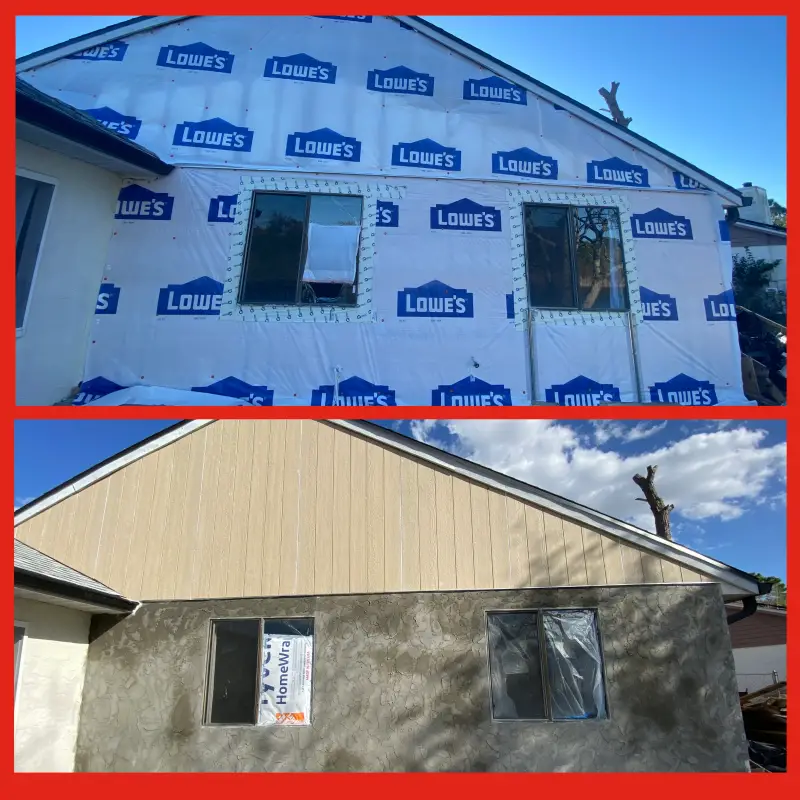 Drywall
Drywall is often referred to by its brand name Sheetrock and is made of a sulfate mineral called gypsum. It was invented in the early 1900s as an alternative to other wall materials, and is made of wallboard panels that consist of gypsum plaster layers sandwiched between two layers of durable paper. The core is made out of foaming agents, fibers and ground gypsum crystals, along with other additives. Thanks to its durability and cost-effectiveness, it quickly replaced plaster as the go-to construction material for American homes.
Drywall has many benefits. It's lightweight, quick to install and fire-resistant. Its average thickness is 1/2 inch, with 5/8 inch being the thickest. Although durable, drywall boards are still vulnerable to both moisture and heavy impacts. Settling homes, water damage and regular wear and tear eventually lead to cracks, stains and holes.
Some types of wallboard, like cement board and green board, have a waxed surface to increase their water resistance. Many Clearwater homeowners use those types behind tile installations in bathrooms. If, for whatever reason, you experience a leaking water line behind your tiles and your drywall suffers water damage, you must replace it to prevent further water damage. The good news is, with the help of your qualified Clearwater handyman, your drywall could look good as new in no time.
Our drywall repair services include:
Hole repair
Crack repair
Seam and joint taping
Mudding
Finishing and painting
Is a hole in your drywall staring back at you? When counting on our expert handyman, Clearwater FL property owners can rest assured that we take detailed notes on our iPad to ensure we get everything measured, recorded and fixed correctly. This way, we can create a unique account for you, with specific details about the best repair solutions or any other home improvement projects for which you need an expert opinion.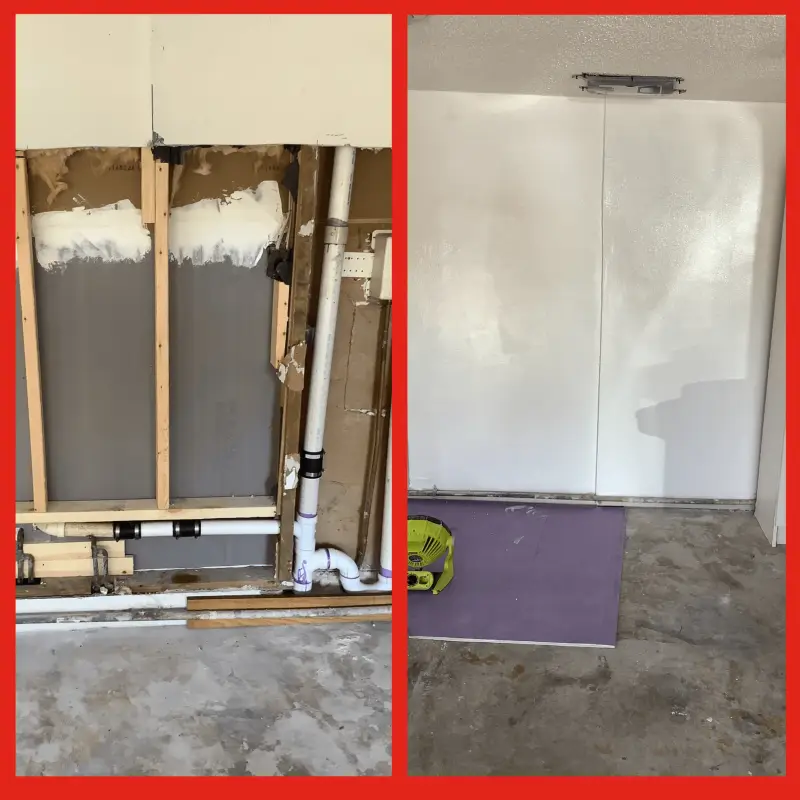 Do You Have Small or Big Projects for Your Clearwater Handyman? Get in Touch Now!
If you're in need of home repairs, improvement services or help with a bathroom or kitchen remodeling project, we are equipped with the tools and experience to help you tackle any home project. We understand it's important to have someone you can trust to inspect your residential or commercial property. Our dedicated team at Mr. Handyman will take care of any tasks that take up too much of your time. Our priority is your safety and comfort, which is why you can trust us to get the job done right without leaving any mess behind—whether we help with drywall repair or larger projects like a bathroom remodel. We are a locally owned and operated business, happily serving Clearwater and nearby communities like Palm Harbor, St. Petersburg or Treasure Island.
Give us a call to chat with our outstanding customer service reps about what we can do to make your home safer and more comfortable.