Indian Shores is a small, coastal community and suburb of Saint Petersburg where residents are surrounded by plenty of eateries and amenities that give off an urban feel. 90 percent of Indian Shores residents own their property, enabling them to live their beach life to the fullest. All our clients work hard to earn what they deserve and there just isn't the time to deal with any home maintenance issues or routine services and repairs, but there is a local Indian Shores handyman who can help.
This is what Mr. Handyman serving Palm Harbor, Clearwater and Largo has geared up for. Trust your
Indian Shores handyman
for prompt home improvement, repair and maintenance services that could save you time and deliver enhanced safety and comfort to your residential and commercial property. Each of our handyman technicians has years of industry experience, is highly skilled and provides a wide range of handyman services, from drywall repair to custom carpentry to siding repairs. Our professionals enjoy working for a locally-owned business where building a strong bond with local communities is a top priority. The positive feedback from our customers encourages us to always go above and beyond with our services and customer care. From big tasks like a bathroom remodel to small projects around the house, we've got it covered.
Your handyman in Indian Shores, FL understands the importance of maintaining coastal homes. When you choose us, you can rest assured that our technician has passed their background check and drug screen. They will arrive on time, in uniform, ready to perform services that will exceed your expectations, backed up by our done right promise!
DECK INSTALLATION OR REPAIR
An important thing to remember for your deck is that coastal towns deal with lots of salt particles in the air. Many vehicle owners will attest to the fact that they encounter rust issues. Unfortunately, this can also pose a dilemma for wood lovers that live by the sea and want to build a wood-based deck. Your safest bet would be pressure-treated wood, as it includes preservatives that help resist moisture and bugs. But additional issues include high UV rays and saltwater. While the sun dries out the wood and fades its natural shine, salt that settles inside timber will crystallize and force fibers to break. The only advantage of salt is that it minimizes fungal and mildew growth despite the dampness of Indian Shores' climate. That said, if you opt for pressure-treated wood, you will require periodic maintenance and inspection that includes pressure-washing and staining.
If you're raising an eyebrow thinking that you're no fan of frequent maintenance, we recommend that you give composite decking a try. Made of a blend of wood fibers and plastic materials, composite is resilient, durable and can last up to 30 years with minimum maintenance. Annual inspection, pressure-washing and sealing services will keep your deck safe and in shape.
Whether you plan to host backyard parties or barbecues in Indian Shores, take in some sun on your beach chair or chase the kids or dogs around, your deck has to look good and serve your needs. Whatever is holding your deck back from being the ideal outdoor addition to your home, your local Indian Shores handyman has the expertise and tools to install your dream deck for you. Some of the deck repairs we can take care of include:
Replacing rotten boards
Fixing or replacing loose railings
Installing footings
Replacing stairs
Repairing screens and windows
Staining, painting or refinishing
Pressure washing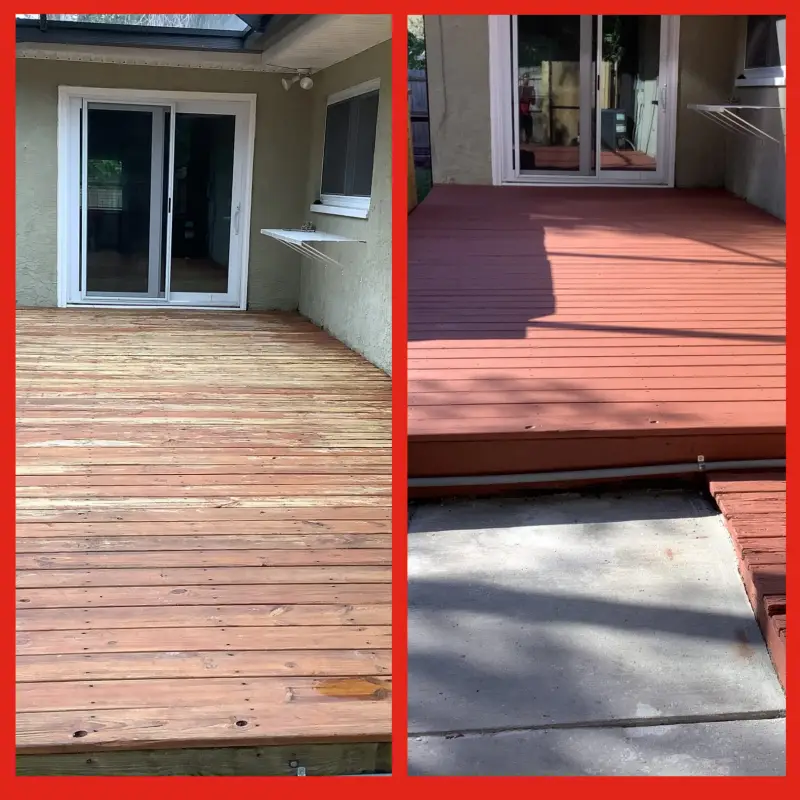 Pressure Washing
Have you looked at the outside of your property after a long, wet winter season? You might find ocean or marine sediments on your siding or at your doorstep. Beachfront houses need to be wary of salt air corrosion as they could cause damage faster than you think. Your local handyman in Indian Shores, FL has provided many homes with the necessary pressure washing services after ugly storms. We'll help your property look fresher and cleaner, like winter has never happened.
Our high-pressure jet ranges between 750 and 3000 psi, reaching a strength that doesn't just blast away stubborn salt stains but also oil that has seeped through concrete. It's hard for some people to imagine the strength of a power washer. To get a better idea, your faucet is capable of producing up to 60 psi, whereas your garden hose can produce 200 psi. Now imagine a pressure level of over 750 that would potentially cut through material. For this reason, we don't recommend Indian Shores homeowners use a pressure washer on their own, especially if they're unsure about the material's condition or which psi is suitable for what area on your property. Your certified handyman in Indian Shores, FL will always carefully inspect your siding, fence or gutters before they perform the service.
Popular areas that would benefit from routine pressure washing services include:
Front or backyards with hardscapes like rock for decoration
Decks, porches and patios
Fences
Siding
Gutters
Garages and driveways
Tile stone
And more!
Whether you have clogged gutters, tough stains or other stubborn grime, your Indian Shores handyman will bring back your property's original shine.
Expert Indian Shores Handyman Repair Services
If you own a residential or commercial property, you will always find a specific area that calls for maintenance or minor repairs. General wear and tear through aging and weather damage are inevitable and will eventually lead to deterioration, unless you remember to take care of routine repairs at least once a year. If you need a thorough diagnosis to identify underlying issues you can rely on your local handyman in Indian Shores, FL. We are happy to send property owners annual reminders for services to ensure you won't miss any important maintenance chores that we will take care of.
Some types of damage will get worse if you don't deal with them right away, and could cause emergencies that need immediate repairs or replacement, such as sagging floors or bulging walls. We offer preventative measures to help keep your residential and commercial spaces safe and comfortable. This way, nothing will disrupt your workflow or routine. A drafty window or peeling paint aren't just eyesores. They could also have underlying problems that need further investigation. But don't despair, your Indian Shores handyman has the tools and expertise to get down to the problem and make it go away!
DOOR REPAIR
In a damp, coastal town like Indian Shores, properties are plagued by salty sea air, therefore, metal and certain types of woods are not suitable for doors—you need something that resists high salinity. Who doesn't want their doors to meet their life expectancy, whether it's 30 or 50 years? If you have had metal doors that rusted or wooden doors that swelled or rotted, you have probably opted for something more weather-resistant like fiberglass doors. This is what your Indian Shores handyman recommends to homeowners who, after many door repairs, have asked for better door options.
Fiberglass doors are made of compression-molded fiberglass and have three major components: skin, frame and core. The core consists of rigid insulation (typically polyurethane material) and glass-reinforced polymer, whereas the frame is made of either wood or composite. The skin is usually a layer of artificial grains that make the door appear like wood. Fiberglass isn't only a popular door type, but they are highly durable, and they protect homes from salt air corrosion better than any other type.
That said, your corresponding door frames will also require frequent attention and inspection to stay in shape. It's not unusual for people to slam doors without thinking about their walls and ceiling. Door casing, along with other nearby trim areas, can be prone to cracks or gaps. Although fiberglass doors are designed to help you save energy and money, you also need to take care of the frame, which is more prone to wear and tear. Everyone should care about privacy, safety and security in Indian Shores. Routine inspections will ensure your door continues to perform well and back up your insulation system.
If you're sick of constant repairs and have finally made up your mind to upgrade your front door, remember that installations require certain expertise, where you must be precise and think outside the box. If you are a dedicated do-it-yourselfer, we recommend that you always question a manufacturer's instructions and inspect all the materials provided. Often, they don't provide you with quality, corrosion-resistant screws, and we recommend switching them out and gathering some extra ones. If all that is too much, feel free to call your local handyman in Indian Shores, FL for a hassle-free installation process, where we only use high-quality material that ensures safety and longevity.
SOFFIT, FASCIA AND SIDING REPAIR
Soffit and fascia are the French and Latin names of your roof's structure closest to the gutters. Your soffit and fascia are designed to support your gutters in diverting stormwater away from your home while preventing moisture from entering your home through the attic, but they won't be able to hold the weight if you have clogged gutters. The water will overflow and compromise your roof's health. The damage could potentially spread to your home's siding as the water flows doward. Your siding is your house's exterior shield, designed to protect your property from severe storms and other outdoor elements. Since Florida's soil has a 50 percent swelling potential, it's not uncommon for property owners to experience soil shifting even years after home settling. During these situations, your home is prone to foundation cracks that can be visible on your interior drywall or exterior siding. If you have unnoticed cracks and clogged gutters, you will be at risk of severe water damage.
If you have missed a couple of gutter cleaning services, it's worth checking your roof system and attic for moisture damage. As an essential part of your roof eave, your soffit helps reduce moisture and condensation and should always be well-maintained. Your fascia is a horizontal board that connects to your roof rafter's end and supports your overall gutter system. It also creates a barrier between the outside elements and inside your roof. If either your soffit or fascia have suffered water damage and are compromising your roof's health, your local handyman in Indian Shores, FL will fix them for you.
The same applies to maintaining your siding. To keep external damage at bay, it's crucial that you have it inspected periodically. The most common siding types in Indian Shores include composite and fiber cement, because they're the most water-resistant. That said, they can still absorb moisture and cause damage, especially if you have severe cracks. Damage will eventually compromise your home's insulation and overall energy efficiency and even put your structural integrity at risk. In the worst-case scenario, siding replacement is inevitable, but leave the diagnosis to your local, experienced handyman in Indian Shores, FL. Property owners can trust our expertise in examining every detail, along with providing a wide range of popular services to maintain your home's good looks.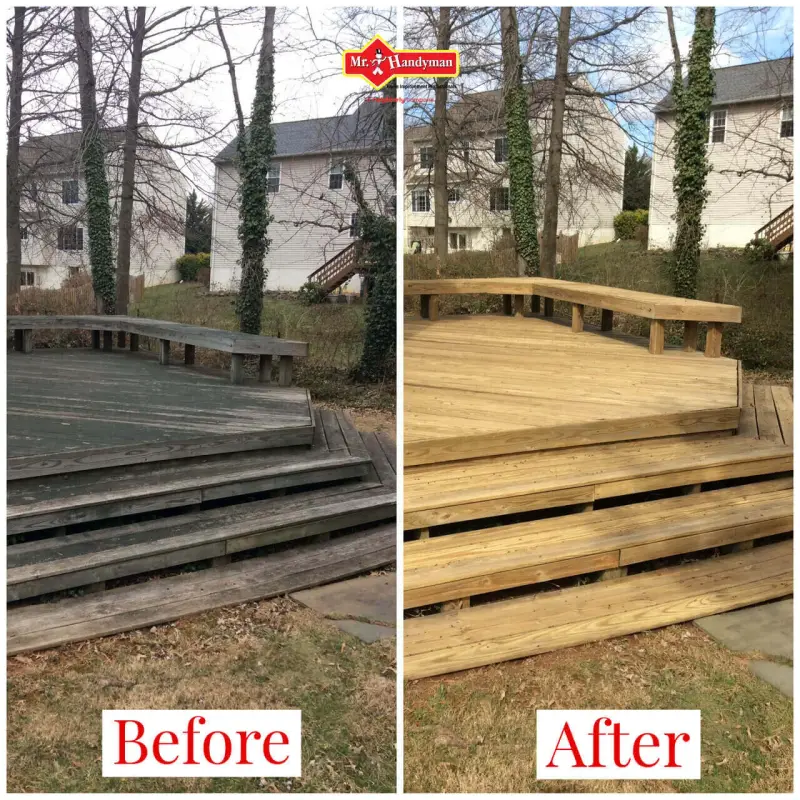 Indian Shores Handyman For Commercial Spaces
Commercial property owners have more responsibilities because they must follow building codes and invest appropriately in efficiency and maintenance. Business owners with commercial business spaces in Indian Shores need reliable handyman services to keep their properties in shape and safe for guests and employees. Mr. Handyman can provide the solutions you need for everything from routine maintenance to help with commercial remodeling.
Some of the most requested commercial work includes:
Furniture Assembly
Perhaps you have ordered new commercial displays or a set of tables, but the manufacturer or seller doesn't offer help with assembly. Our skilled team is knowledgeable about commercial carpentry and can have it set up in no time!
Automatic Door Installation
It's not only a convenience but helps protect your employees and customers too. We can help install automatic doors that operate via optical or motion sensors.
Antibacterial Door Knob Installation
We understand that not every shop is suited for automatic doors, so antimicrobial technology for door knobs is a good alternative. The unique coating is proven to kill 99.99 percent of germs and bacteria.
Need a Reliable Indian Shores Handyman for Residential and Commercial Maintenance?
Whether you need home repairs or improvement services or need someone to inspect your commercial property, your skilled team at Mr. Handyman will take care of any chores that take up too much of your time, from floor repair to bathroom remodeling. Our priority is your safety and comfort, which is why you can trust us to get the job done right without leaving any mess behind. We are a local business, happily serving the Indian Shores as well as nearby communities like Indian Rocks Beach, Palm Harbor, Clearwater or Treasure Island.
Give us a callto chat with our superior customer service reps about what our handyman service professionals can do to make your home more comfortable.