Mr. Handyman of Racine County provides clients with a wide range of specialized services. While some attempt to handle drywall repair and installation themselves, it can be more challenging, requiring the expertise of a skilled handyman skilled in the proper techniques. When you hire us for drywall services, you can expect to receive the Neighborly Done Right Promise™, which ensures your satisfaction with the quality of our work.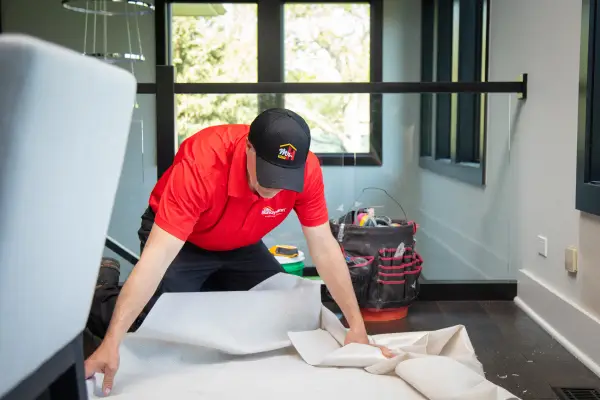 Drywall Repair Services
If you need to repair drywall anywhere in your home, the professionals at Mr. Handyman of Racine County are always available to take your call. Our reputable service providers have years of experience in drywall repair. We use top-quality equipment and the best products to ensure every repair goes smoothly.
Drywall Ceiling Repair


If you are unaware of the cause of a drywall crack in your ceiling, it will probably crack again unless repaired correctly. Our experts at Mr. Handyman of Racine County will identify and fix the cause of your ceiling crack to prevent it from reappearing. Our meticulous repairs will eliminate the crack, leaving no evidence or mess behind.
Drywall Crack Repair


Drywall crack repair may seem simple, but without proper execution, the cracks will resurface. Our skilled service providers excel at repairing drywall. Whether the cracks appear in any area of your home, it's crucial to identify the underlying cause of the damage. Leave the task of crack repair to our professionals, ensuring a worry-free solution.
Drywall Hole Repair


Drywall hole repair differs from patching a crack as it depends on the hole's size. A carefully placed and reinforced patch is necessary to completely fill the hole before applying the final drywall mud coat. Our skilled professionals at Mr. Handyman of Racine County have honed the process of patching drywall holes through years of experience.
Drywall Installation and Finishing


Mr. Handyman of Racine County provides top-notch drywall installation and finishing services. We come fully equipped with all the necessary tools to handle any size job.
You can schedule an appointment online or by giving us a call. At Mr. Handyman, we prioritize your satisfaction above all else. Our service providers can handle any drywall repair job, regardless of size.