Let Mr. Handyman of Roswell, Alpharetta and Cumming be your trusted partner for quality drywall repair and installation services. Our experienced team is committed to providing exceptional drywall repair and installation services to residents and business owners of Roswell, Alpharetta, Cumming, and beyond.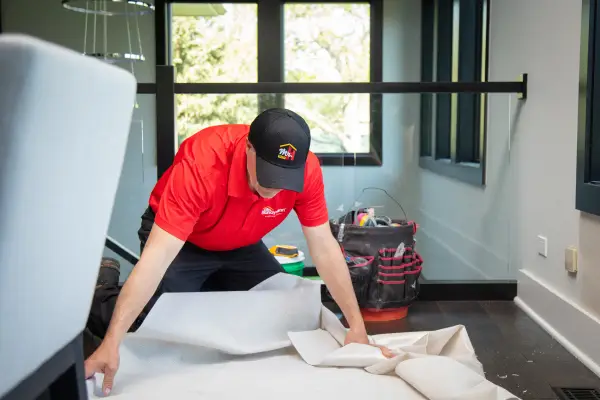 Drywall Repair Services
Mr. Handyman offers drywall repair services to residential and commercial customers in Roswell, Alpharetta, and Cumming. No matter where the drywall in your building structure is, Mr. Handyman can take care of the repair and get your drywall looking great again.
Drywall Ceiling Repair

Mr. Handyman repairs all kinds of ceiling drywall issues, whether from accidental water damage. First, we assess the underlying cause of the damage to ensure that a more serious concern is not present. Then we expertly remove the damaged area, prepare it for the new piece, and create a seamless match. Finally, we finish the drywall so it's ready for paint or another finishing material you choose.
Drywall Crack Repair
Drywall cracks can result from a building settling over time or for other reasons. When we repair drywall, we always determine the source of the problem. That way, your drywall crack repair in Roswell, Alpharetta, and Cumming will last. We focus on making drywall cracks disappear so you can enjoy a flawless look on your drywall!
Drywall Hole Repair

One of the most common requests at Mr. Handyman is getting rid of drywall holes. Drywall holes can range from small holes from picture frames, screws, nails, and anchors to giant holes resembling a doorway! No matter how small or large the drywall hole repair, Mr. Handyman can handle the task.
Drywall Installation and Finishing


Mr. Handyman is frequently called upon to do drywall installation and finishing in Roswell, Alpharetta, and Cumming on large projects. Whether you're adding a room to your home, remodeling, or doing an investment fixer-upper, Mr. Handyman is ready to help!

You can rely on Mr. Handyman for all your drywall repair and installation needs in Roswell, Alpharetta, and Cumming. Schedule an appointment with us today and experience our Neighborly Done Right Promise™, which ensures high-quality drywall repairs and peerless customer satisfaction standards.