Professional Handyman Services in Sandy Springs, Dunwoody and N. Atlanta
Here at Mr. Handyman of Sandy Springs, Dunwoody and N Atlanta, our professional handymen strive to build long-term relationships with our customers and their properties. We provide safe and reliable service, so you can relax and let us cross those extra tasks off your "To-Do" list. Servicing commercial and residential customers from Dunwoody to Decatur to Downtown Atlanta, we know your neighborhood and odds are we have already serviced your neighbor. North Atlanta residents can trust our company-employed handymen to get the job done right as quickly and efficiently as possible. Doors, drywall, flooring, carpentry…you name it, we tackle it!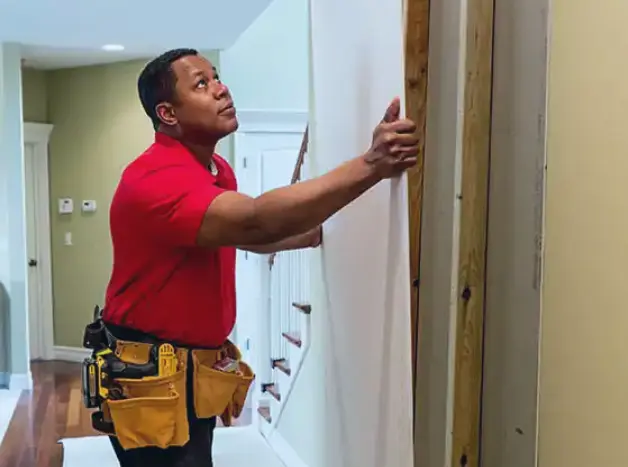 Why Choose Mr. Handyman?
Convenient one-call solution.

Safe, worry-free experience.

Fully insured with general liability and workers' compensation.

We'll clean up when we're done.

Our workmanship is guaranteed.

$25 Off
2 Hours of Services or More
Mr. Handyman of Sandy Springs, Dunwoody and N Atlanta
Expires on date: 12/31/2023

Valid at participating locations only. Offer valid one time per household. Not valid with any other offer.
Our Mission
Mr. Handyman is your one-stop shop for a wide range of home maintenance and repair solutions. Mr. Handyman's service technicians are highly skilled craftsmen, so you know they will get the job done right the first time.
Partnerships & Achievements
Home Repairs When You Need Them the Most
From patching drywall to repairing rain gutters to assembling that new dresser, our handymen can do it all. Don't call an expensive specialist without a reputation to back them up. Choose Mr. Handyman of Sandy Springs, Dunwoody and N Atlanta for quality work that's always "On Time. Done Right.®"
We know firsthand how overwhelming home improvement tasks can feel. Between work, family, and all of life's other little concerns, the last thing most people want to fit into their schedule is extra house repairs and maintenance. We understand this, and as your neighbors and fellow members of this community, we care about providing dependable service at affordable rates. We're local business owners, which means forging long-lasting relationships is a big priority for us.
If you are a local business owner too, chances are you already know the importunate of image and value. At Mr. Handyman, we protect our image and value by helping other people's business and homes look their very best. Don't settle for service that has no relationship to the community. It is possible to get cost-efficient and reliable repairs right here in Sandy Springs and Dunwoody, and throughout the greater Atlanta area. Let our insured and bonded handyman help you maximize your property's potential, while you get back to living your life.
Contact Mr. Handyman of Sandy Springs, Dunwoody and N Atlanta now for handy-workers that are always there when you need them and get the job done right the first time. Call today!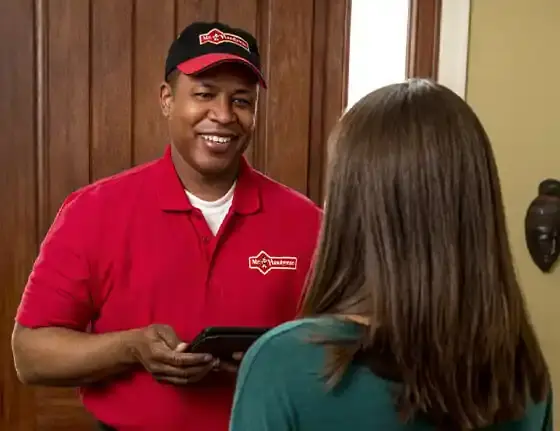 Mr. Handyman of Sandy Springs Dunwoody
Choose the right handyman services team in your area. When it comes to selecting the right team for your home improvement needs, Mr. Handyman is the right choice.
Areas We Serve:
Atlanta, Decatur, Norcross, Peachtree Corners
Best Handyman Services Near Sandy Springs, Dunwoody, and Atlanta
When you have outstanding jobs around the house, you want nothing but the best service providers. That's where your local Mr. Handyman® team comes in! Our full list of services showcases the wide range of tasks our skilled professionals can handle for you. From start to finish, we deliver exceptional service backed by the Neighborly Done Right Promise™!
Handyman Repair Services
Most people need home repair services at one time or another. At Mr. Handyman, we frequently repair everyday things like decks, doors, floors, and walls, so look through our services, and you'll see we can take on any repair you have.
Handyman Maintenance Services
To-do lists often include maintenance tasks; our home maintenance service can get those done and keep your home running smoothly. Never ignore home maintenance, or you'll risk long-term damage. Call us, and we'll finish outstanding tasks so you no longer have to worry about them.
Mr. Handyman of Sandy Springs, Dunwoody, and North Atlanta FAQs
We're happy to answer any questions you have about our handyman services! Below is a list of common questions and answers, but if you have a different query, give us a call and ask.
What is a handyman?
A handyman does small jobs for customers in their homes, unlike a general contractor who does larger projects. Handymen help with common home projects and handle odd jobs, such as cleaning gutters and putting furniture together.
What does a handyman do?
Our handyman services include installing insulation and drywall, fixing doors, fixing holes in walls, laying tile and grout, re-caulking, installing flooring and new doors, repairing decks, and many other everyday household tasks.
Does a handyman in Atlanta need a license?
Since a handyman isn't a general contractor, there's no license requirement n the Atlanta area. Our service professionals are fully insured and average over ten years of experience, so you can rest easy knowing they'll do an excellent job!