If you have a drywall project requiring fast and friendly service, don't hesitate to contact Mr. Handyman® of Sandy Springs, Dunwood and N Atlanta. We specialize in relieving your project headaches and fixing unsightly holes, cracks, and missing sections. Contact us today for a seamless solution.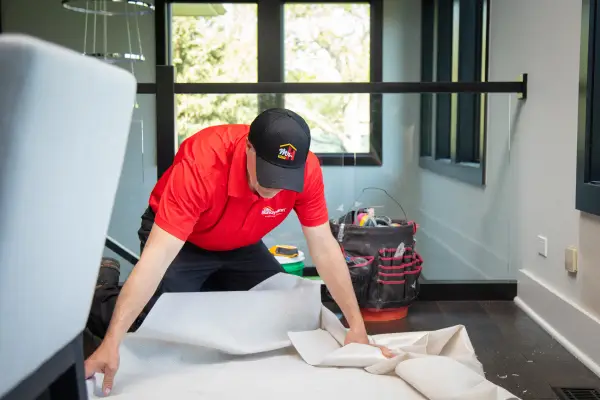 Drywall Repair Services
Drywall damage can occur unexpectedly from accidents like tripping and falling or incidents involving pets. Not only does it look unsightly, but it can also create vulnerabilities in your interior spaces. Our team specializes in prompt and effective drywall repair, ensuring a seamless restoration. We even take care of the cleanup, so trust us to repair drywall damage efficiently.
Drywall Ceiling Repair


With drywall ceiling repair services from Mr. Handyman, you can address damage caused by sagging lights, storm damage, or hanging decorations. Don't let sections of your ceiling remain damaged and vulnerable to pests and moisture entering from the roof. Trust us to restore your ceiling and protect your space from further issues.
Drywall Crack Repair


Without proper repairs, drywall crack damage can quickly spread. The experienced team at Mr. Handyman knows exactly how to halt the progression of drywall cracks and expertly patch the damaged areas, leaving no trace of their existence. Trust us for fast and effective drywall crack repair.
Drywall Hole Repair


Over time, holes can appear in your drywall due to damage from door handles, projectiles, or human error. At Mr. Handyman, we have the solution for you. Whether you have a small hole or a larger section that needs attention, our prompt and courteous drywall hole repair service will make your wall look brand new.
Drywall Installation and Finishing


Whether adding an addition to your home or repairing damaged sections, we can handle your project and deliver professional results you'll truly appreciate. Our expertise and tools ensure precise installation and finishing of drywall, leaving your space looking fantastic and ready for paint or any other finishing touches. Trust us to exceed your expectations and provide you with outstanding results.
Our service providers excel at handling drywall repair jobs of any size. Scheduling an appointment is convenient through our online platform or by contacting us directly.