Mr. Handyman is proud to offer drywall repair and installation services in South Austin, Buda, The Hills, Bee Cave, Spanish Oaks, and Lakeway. We're your quality partner when it comes to repairing old drywall and installing new drywall. We repair drywall for both commercial and residential customers in South Austin and the surrounding areas.
Every repair and home improvement we do is completely covered by our Neighborly Done Right Promise™, for your total peace of mind. If our work is not done to your satisfaction, just call us and we'll make it right.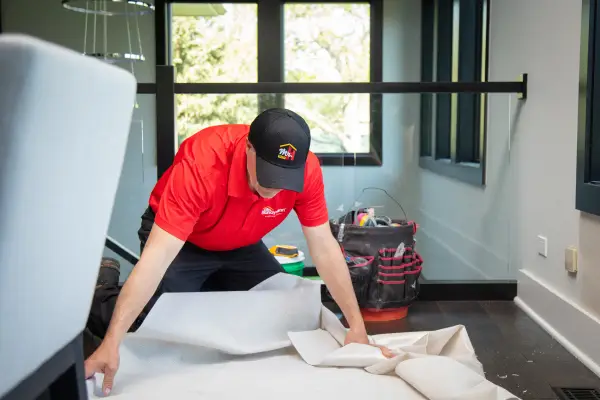 Drywall Repair Services
Drywall is arguably the most commonly used construction material today. However, over time, drywall can become damaged both on walls and ceilings. That's where Mr. Handyman comes in. We make it possible to restore drywall so it can be painted wallpapered or covered in another way so that your home or place of business looks like new again.
Drywall Ceiling Repair


Moisture and accidents can cause ceiling drywall to become damaged. Because it is the ceiling, repairing that area is quite arduous. Mr. Handyman can repair the drywall on the ceiling so it looks the way it should. And remember, if the drywall was caused by moisture, you want a professional like Mr. Handyman to handle the repair to ensure that all the damaged drywall is removed and both the integrity and look of the drywall are repaired.
Drywall Crack Repair
Drywall cracks have a way of making any building look rundown. Mr. Handyman of South Austin/Lakeway takes care of drywall crack repair so that the final result is something that you can be happy about. The sooner you get drywall crack repair, the sooner you can take care of the finishing touches, like paint, wallpaper, paneling, or something else.
Drywall Hole Repair


Holes in drywall can be left over from picture hooks, bathroom towel racks, other wall fixtures, and other things. No matter what causes them, they are unsightly and need to be fixed right away. Contact Mr. Handyman of South Austin/Lakeway and surrounding areas for drywall hole repair services, no matter how large or small.
Drywall Installation and Finishing


Are you looking for drywall installation and finishing for a large project? Mr. Handyman offers large-project drywall services in addition to smaller projects. Our highly-trained and uniformed team can perform a wide range of services, such as new drywall installation, drywall removal, and drywall finishing.
In fact, our experts have an average of ten years of experience on the job, so you can trust them to do the job right! Contact Mr. Handyman of South Austin/Lakeway when you need to repair, replace, install, remove, or finish drywall in your home or place of business. We're here to help!