Mr. Handyman of W Greensboro Summerfield Oak Ridge
If you're facing a huge project (or worse, a long list of small chores), don't handle it alone! Instead, turn to Mr. Handyman of W Greensboro Summerfield Oak Ridge for your home repair needs. Our W Greensboro Summerfield Oak Ridge handymen are certified and specialize in drywall repair, carpentry, door installation, storage space creation, and more!
Call or request service online today for the handymen repairs and improvements you need.
The real strength of Mr. Handyman of W Greensboro Summerfield Oak Ridge is our ability to handle every one of your tasks in a single visit. Because we handle all types of maintenance, repair and improvement, from small furniture assembly to major remodeling projects to building an entirely new deck or patio, you won't have to juggle between multiple contractors.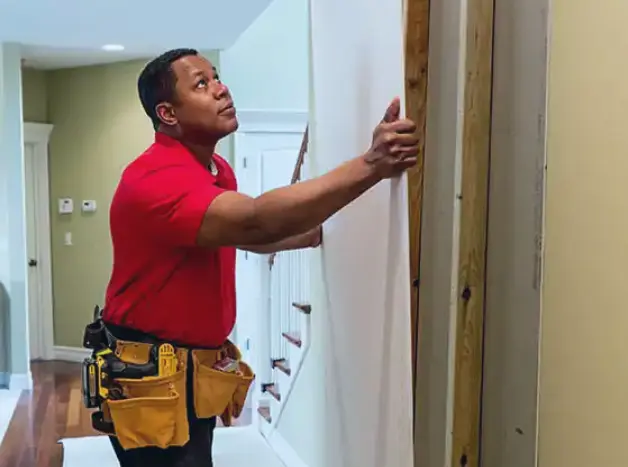 Why Choose Mr. Handyman?
Convenient one-call solution.

Safe, worry-free experience.

Fully insured with general liability and workers' compensation.

We'll clean up when we're done.

Our workmanship is guaranteed.

$25 Off
2 Hours of Services or More
Mr. Handyman of W Greensboro, Summerfield and Oak Ridge
Expires on date: 12/31/2023

Valid at participating locations only. Offer valid one time per household. Not valid with any other offer.
Our Mission
Mr. Handyman is your one-stop shop for a wide range of home maintenance and repair solutions. Mr. Handyman's service technicians are highly skilled craftsmen, so you know they will get the job done right the first time.
Partnerships & Achievements
Professional Handman Services For Every Task
If you have a to-do list that's been overwhelming you, let our expert handymen take it off your plate. With our team, we can handle every small and large task that's been eating away at you so you're free to work on the projects you actually enjoy!
Our guarantee is simple: our work is "On Time. Done Right.®" With licensed repairmen, professional results, and backed by guarantees, there's no reason not to schedule service today. Whether you have a loose door or a leaky faucet, or you're looking to overhaul your garage, we're the team you can trust.
Call or request service online to clear your to-do list and have your home working perfectly and looking pristine.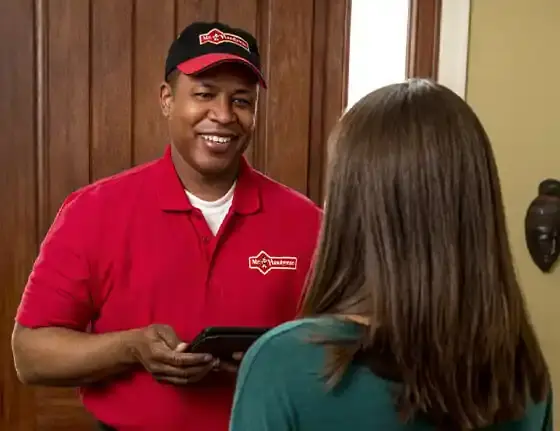 Mr. Handyman of W Greensboro Summerfield Oak Ridge
Choose the right handyman services team in your area. When it comes to selecting the right team for your home improvement needs, Mr. Handyman is the right choice.
Areas We Serve:
Greensboro, Jamestown, Oak Ridge, Summerfield
Best Handyman Services Near Greensboro, Summerfield, Jamestown, and Oak Ridge
For the best home repairs and handyman services near Greensboro, Summerfield, Jamestown, and Oak Ridge, you need the expertise of your local Mr. Handyman® team! We are reliable and skilled professionals who can help you keep your home in top shape and looking great. Whether you need a minor repair, such as a door painted, or want all-new kitchen cabinets, we've got you covered. We also service commercial buildings.
Handyman Repair Services
We provide a full list of services inside or outside your home or commercial business. We repair walls, doors, ceilings, decks, patios, floors, and windows. When you hire Mr. Handyman, you've hired a whole team of professional repair staff. You can expect prompt and efficient service.
Handyman Maintenance Services
Regular home maintenance services help you gain the most value and enjoyment from your home. Mr. Handyman performs many maintenance services, including refreshing your caulking, power washing your home, and preventing mold. Contact us today to keep your home in tip-top shape.
Handyman of West Greensboro, Summerfield, and Oak Ridge FAQs
Mr. Handyman has operated in West Greensboro, Summerfield, and Oak Ridge for many years. Here are some of the questions we receive most often.
What is a handyman?
A handyman is a person of any gender skilled at various repair and maintenance tasks, such as carpentry, drywall, installation, and maintenance. These tasks can be simple and quick, such as hanging a picture, or quite complicated, such as building custom cabinets for your kitchen.
What does a handyman do?
A handyman is a jack or jill of many trades and can perform many home repairs services or maintenance tasks. For example, a handyman can repair bathroom caulking or add insulation in your attic. Or, they can power wash your home or repair your ceiling. They can install a new water heater or assemble your new bed frame. The list is almost endless.
Does a handyman in Greensboro need a license?
No, North Carolina law does not require a person to have a government-issued license to perform handyman services. The only exception occurs when the handyman works on projects worth more than $30,000. Then, the handyman obtains a contractor's license.