8 Signs You Need Deck Repair: Wichita, KS Edition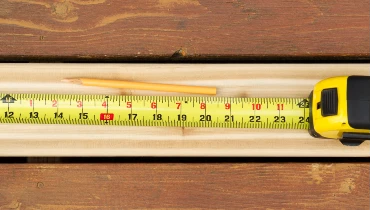 Nowadays, most people are spending more time than ever outside on the deck, socializing, grilling, and soaking up the sunshine. It's the ideal place to chat with friends and family while enjoying the warm weather. But when you need Wichita deck repairs, that can really put a damper on those fun summer days.
Rotting boards, loose railings, and treacherous stairs aren't just unsightly—they're dangerous hazards for your guests to navigate around. Just as bad, that damage could spread to other parts of your house, threatening its security and stability.
If you found this article because you need porch or deck repair, Wichita, KS is the right place to be. That's because Mr. Handyman of the Wichita Metro Area is a locally owned and operated business with a team of deck repair professionals who have the experience to not only get your deck and porch in excellent condition, but actually transform them into ideal outdoor living spaces that will be the envy of everyone on your block.
Wondering if you really need Wichita deck repairs, or if it'll be fine for another season? Here are eight signs that indicate it needs attention from a Wichita handyman professional sooner rather than later.
1. Cracked or Broken Boards
If you've noticed cracked or broken boards here and there, it's definitely something that should be taken care of before it gets worse. Cracks in the material (cedar, composite, PVC, pressure-treated, hardwood deck materials, etc.) are a sign the sealant has worn off—or was never there to begin with—leaving the material vulnerable to moisture damage.
If you only see a few minor cracks, you may be able to take care of them by simply pulling the board up, flipping it over, and nailing it back into place, but more wide-spread damage will require extensive repairs.
2. Rotten Timber
Outdoor wood surfaces are particularly susceptible to wood rot. This is because wood rot is caused by a type of fungus that requires timber to have a high moisture content to grow, and any timber that's outdoors is regularly soaked with rainwater. Look around for these signs of decay:
Discolored patches that appear lighter or darker than the surrounding area
Texture changes that cause the wood to look spongy, stringy, or webbed with cracks
Timber breaking apart into cube-shaped chunks or "sawdust"
If you spot any of these wood deck and porch issues, take a screwdriver and press it against the suspicious patch. If it sinks right in, you're dealing with wood rot and will need replacement timber.
3. Wobbly Handrails
Railings are often the only thing standing between you and a nasty fall. Even if your porch is low to the ground, a wobbly handrail could still be dangerous if someone leans against it and it can't support their weight. Grab hold of the railing and give it a firm shake. It shouldn't move at all. If it does, it needs to be repaired for safety reasons.
4. Crumbling Stairs
Much the same as handrails, stairs need to be in good, solid condition to keep you and your family safe. If they've degraded over time due to wood rot or just wear and tear, Mr. Handyman can replace them entirely. We can also paint/stain and seal them for finishing touches.
5. Peeling Paint or Wood Stain
When paint or wood stain is peeling and chipping off, it's more than just a minor cosmetic issue—though it's unattractive as well. It's a sign the material underneath is exposed to the ravages of moisture damage, such as rot.
Pressure washing is an ideal solution to prime for deck refinishing. It doesn't just wash off dirt, it strips peeling paint and wood stain off more efficiently than sanding—leaving a smooth, clean surface for you to paint. Don't want to take that on yourself? No problem! Mr. Handyman offers exterior remodeling services that include painting, staining, and sealing.
6. Footings are Heaving or Dropping
Most outdoor platforms are built on a foundation of concrete footings that do a lot to improve their stability. But if deck construction was carried out years ago on soil that has since shifted, or the footings weren't poured deep enough, it could cause them to crack or drop. If that's the case, it's important you get a deck repair specialist from Mr. Handyman to repair the concrete. This maintains the integrity of your home, and your peace of mind.
7. Soil Eroding Around Posts
Another very important factor to check for underneath your porch is soil erosion around the posts. Over time, shifting soil and landscaping changes could lead to grading and drainage issues that cause the soil to wear away from the posts. If the lower part of the post becomes exposed, it could seriously compromise and destabilize the whole structure.
8. You Don't Have a Deck
Okay, technically you don't need repairs if you don't have a deck or porch to begin with. But if that's the situation you're in—or you have a structure that's falling apart or just doesn't suit your needs—the team of custom deck building experts at Mr. Handyman will do a full remodel of your existing outdoor space or create your dream deck from the ground up! We have a reputation for quality craftsmanship and extensive experience in custom decks. Whatever you dream up, we can make it a reality.
Why Choose Mr. Handyman for Your Wichita Deck Repair Needs?
Maintaining your deck helps keep it a fun and safe place for your family, friends and pets to be, and it's an essential step for preventing premature wear and damage. Even the smallest amount of damage could lead to far more serious issues down the line. Also, the nicer your outdoor living area looks, the more likely you are to spend time outside enjoying the fresh air.
Staying on-top of repair and maintenance tasks by yourself can be difficult. After all, you're busy! You already have enough on your plate between work, driving the kids to and from school, making dinner and somehow finding time for yourself. That is why you should put your trust in our Wichita handyman team's skills. Many of our technicians are highly skilled carpenters and bring years of experience to the table.
In fact, we're not only known throughout Wichita for our dedication to quality service, but also for our dedication to customer satisfaction. We not only provide a range of deck repairs in Wichita, but also offer deck installation services and can assist with a wide range of other services to keep your property looking its best. It's important to us that you're able to enjoy your Wichita property in comfort and safety all year round. When you choose us as your handyman company, you can have peace of mind knowing that your home is in the best hands. We always act with transparency, integrity and courtesy as building lasting relationships with all our clients is very important to us. We want you to have a positive experience with our company from start to finish every time.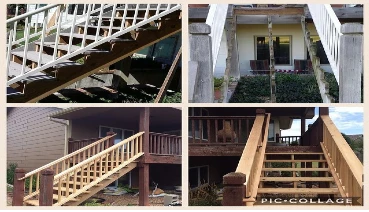 How Can I Prevent Wichita Deck Repairs?
Routine maintenance is the best way to avoid costly deck repairs and/or replacements. This is true for all areas within and without your Wichita home. By catching problems quickly, you prevent damage from worsening. The worse a problem gets, the more costly and labor-intensive it is to repair. This is especially important for your outdoor areas, as they are prone to more wear from the elements, such as the sunshine, rain, wind, hail, and more.
Power Washing
You should clean your deck thoroughly twice a year to get rid of dirt, debris, lichen, moss, mildew and even mold. Regular cleaning also helps to get rid of peeling paint and chipped stain, which can prepare the area for resealing (more on that in a moment). By far, the best way to clean your deck is by power washing it.
Power washing has the power to transform your outdoor surfaces from old and dingy to like-new. It can also prime the entire deck for painting or staining, which is helpful for other deck maintenance. Not to mention, power washing is significantly faster than manual scrubbing! Give your arms a break by hiring a professional power washing service to maintain all your outdoor surfaces.
It's important to leave this particular maintenance task to the professionals. Power washers are very powerful machines (as the name implies). If the wrong settings are used, it's all too easy to damage your property. Also, since power washers operate at such a high psi (anywhere between 1,300 and 2,800 psi to be exact), there is also the chance of injury. Instead, let the pros at Mr. Handyman of the Wichita Metro Area power wash your outdoor areas for you. Not only can we expertly clean deck boards, planks, panels and posts, but we can also power wash other exterior surfaces, such as your siding, driveway and fencing.
Benefits of Power Washing:
Improve your property's curb appeal
Prevent repairs by getting rid of debris and buildup
Clean other areas, such as fences and siding
Prevent health issues from mold and mildew
Prime surfaces for painting or staining
Seal the Structure Regularly
You should reseal your deck every two to three years at minimum. If your deck receives a lot of wear from the elements or high foot traffic, you may wish to reseal it more often. Resealing is the process of weather-proofing the outdoor structure. It involves many steps that our handyman experts can take care of, including applying a clear, UV protecting sealant to keep water damage, bleaching and wear to a minimum. Our team can also stain or paint your deck for an added layer of protection, and to keep your outdoor living space looking great year after year.
Benefits of Regular Sealing
Adds an attractive sheen
Protects the structure from moisture damage
Prevent wood rot from growing
Avoid sun damage from bleaching wooden structures
Preserves your wood's natural beauty
Routine Inspection & Maintenance
You should never turn a bling-eye to what you think might be a problem. In fact, it's important to keep your eyes peeled for warning signs that you need Wichita deck repair services. Once or twice a year, walk-through your property to look for issues—especially wood rot. This habit can also be when you complete other maintenance tasks, like gutter cleaning, power washing and general repairs around your backyard.
Throughout the year, take care to complete upkeep for your outdoor spaces. For example, take time every few weeks to move furniture and planters around. This will help prevent bleaching and moisture damage from seeping into the structure. Also, make sure you clean-up stained areas promptly. These regions can leave unwanted residues and attract bugs. Finally, a good rule of thumb is to avoid using rugs on your outdoor structure. While it can be tempting to add a nice decorative element, rugs tend to soak-up water like sponges. In turn, this leads to issues such as wood rot and water damage.
Mr. Handyman is Your Best Choice for Wichita Deck Repair Services!
Ready to get started on transforming your outdoor living space? So are we! Mr. Handyman of the Wichita Metro Area is committed to providing a wide range of high-quality repairs and maintenance services for your home or commercial building. Customer satisfaction is always our number-one priority. We've helped numerous homeowners throughout the Wichita area, including in Andover and Park City.
If you have questions about Wichita deck repairs, or want to know more about our services, give us a call today us to chat with our friendly customer service staff. We look forward to using our talents to enhance your property!