What Wichita Homeowners Should Know About Stone Masonry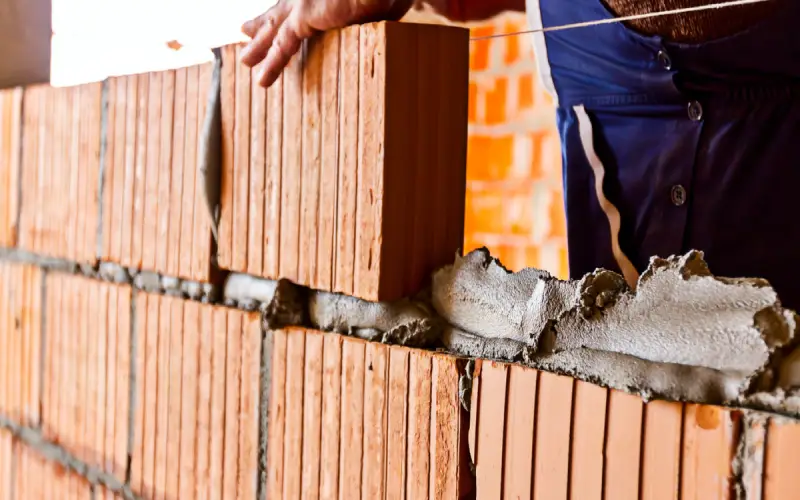 Most homes in this area include at least some work by a stone mason. Wichita properties of all descriptions benefit from these excellent building materials, especially for structures that are outdoors and exposed to the elements because they're so durable and long-lasting. They can also be very beautiful—packed full of natural beauty and charm or radiating a timeless, classic aesthetic.
But as long-lasting and attractive as Wichita stone masonry materials are, they do occasionally need professional repair and maintenance services. If your stone, brick, or paver installation is looking worse for wear, or you're thinking about a brand-new installation, this guide covers some need-to-know information, such as the signs you need help from a qualified stone mason. Wichita homeowners like to keep their homes in excellent condition, and stone masonry services are part of accomplishing that.
When you are in need of expert Wichita stone masonries services like repair, maintenance, or installation, count on your local Wichita handyman to get the job done to the highest standards of quality craftsmanship and outstanding customer service. The team of service professionals at Mr. Handyman of the Wichita Metro Area has the skill, knowledge, and experience to tackle a wide range of stone masonry services in this area and nearby communities.
Services to Expect from a Stone Mason
Masonry is the act of building structures like chimneys, fireplaces, mailboxes, flower beds, outdoor kitchens, fire pits, exterior stairs, and more from individual units, which are typically laid in and bound together with mortar. The word masonry can also refer to the units themselves, which are made of natural stone, brick, or pavers.
From residential homes to business properties, property owners can rely on the experts at Mr. Handyman to take care of Wichita stone masonry projects, such as repairs and new installations. A new masonry project is a perfect way to infuse your residential or commercial property with your own personal style and design aesthetic. That could include projects like a one-of-a-kind fireplace that will serve as a conversation piece for the entire room or a stylish brick mailbox to enhance your curb appeal during the outdoor season when people marvel at beautiful properties.
Stone mason services include:
Brick mailbox installation and repair
Cement walkway repair
Foundation repair
Fence post and concrete deck footing installation
Brick stair, walkway, and chimney repair
Stone or brick wall repair
Outdoor fireplaces or firepit installations with bricks or natural stones
Paver repair, replacement, and installation for patios, driveways, and walkways
Commercial projects
Benefits of Choosing Wichita Stone Masonry
There are a number of big advantages to stone, brick, and paver installations. For much of history, masonry materials have been the preferred choice for premium building projects of all standard or basic types, and for obvious reasons—massive structures like the Roman Colosseum are still standing after nearly 2,000 years, and there are stone buildings that date back almost 6,000 years.
However, it's important to remember that those ancient structures were installed under the guidance of master masons. When it comes time to consider a new installation by a stone mason, Wichita, KS, homeowners often want to know more about the specific benefits of choosing one material over another. Whether it's bricks, concrete pavers, or natural stone materials, there are some major advantages that they can offer your property, especially when they are installed by experienced masons like the service professionals on our team. We can help you create a designated outdoor dining area or a functional brick outdoor patio.
Resistant to Fire and Decay
This is among the biggest benefits of working with a professional stone mason that Wichita homeowners should be aware of because most homeowners struggle to keep decay-causing factors like wood rot away from wooden patios, siding, stairs, and other timber structures on the outside of homes. While it is possible for some types of wood rot to travel across masonry, it is a wood-eating fungus that can't actually survive on or destroys stone, brick, or cement, making those structures impervious to the aggravating, unsightly, and sometimes dangerous problem of wood rot.
Of course, the very nature of these materials makes them nearly impervious to fire, which gives you peace of mind that your property is less prone to going up in flames. Wichita stone masonry surfaces and structures are also resistant or invulnerable to damage from elements that include wildlife, insects, vandalism, and harsh weather.
Durable and Long-Lasting
All that natural damage resistance gives masonry materials the durable, long-lasting qualities we associate with them. Your stone, brick, or cement paver installation may not last quite as long as the Colosseum—but with proper care and maintenance, it could be around for generations of your family to enjoy. Speaking of maintenance, these structures and surfaces are also known for ease of maintenance. An annual check for signs of water damage or other issues, combined with Wichita stone masonry repair services from your local handyman, will keep your unique type of installation looking great and functioning beautifully for many years to come.
Boosts Curb Appeal and Property Value
Whether you're thinking of putting your residential or commercial property on the real estate market in the near future or have no intention of leaving and just want to keep your property looking its best, our team can do a lot to improve your property value and curb appeal with the help of an expert stone mason. Wichita homeowners often find that the timeless beauty of these attractive materials adds sophistication and the impression of durability, from patios and walkways to beautiful accent walls and fences that will impress prospective buyers and encourage them to seal the deal.
Causes of Damage to Masonry Surfaces
As strong and dependable as masonry units and installations are, they can sometimes suffer damage. Wichita stone masonry damage is often related to the incursion of excess moisture. Here are a few of the common causes of damage.
Freeze and Thaw Cycle: When groundwater freezes in the winter, it expands and constricts around buried masonry components, potentially causing cracks and cement mortar damage.
Building Settling: It's natural for buildings to shift and settle over time, which can lead to issues like crumbling mortar or cracked concrete.
Vegetation Growth: If there are a lot of trees and bushes near your structures, the moisture-laden leaves can encourage the growth of mold and mildew on mortar. The best practice to avoid this is to trim branches back to at least a few feet away from any masonry.
Overflowing Gutters: When your rain gutters are broken or clogged, all the rainwater that falls on your roof has nowhere to go and spills down the exterior of your building instead, causing serious problems that range from cracked foundations to damaged deck footings. Don't have the time, ability, or inclination to climb a ladder and scoop out all that rotting muck? No problem—our Wichita handyman team can take care of that chore for you.
Signs Your Property Needs the Services of a Stone Mason in Wichita, KS
You may be wondering by now if your property is due—or perhaps very much overdue—for some professional help from a stone mason. Wichita, KS properties can suffer from a few problems with masonry surfaces, despite their incredible durability and longevity. Here are some of the major signs of trouble that property owners should be aware of.
Cracked, Crumbling Mortar
Mortar is one of the most vulnerable parts of your Wichita stone masonry installations, and deteriorated mortar joints are a common problem. When the mortar decays, cracks, and crumbles apart, the stones or bricks no longer have adequate support, and they come into contact with each other, causing them to rub or grind together and suffer damage or fall out of the structure entirely. Most brick or stone walls will require mortar repair every 15 to 20 years, but it could be more often based on the type of damaging elements it is exposed to. This type of repair is called repointing, and it involves removing the old damaged mortar and replacing it with new mortar while leaving the masonry units in place, similar to re-grouting a tile installation.
Broken or Loose Stones, Bricks or Pavers
When bricks, stones, or concrete pavers have loosened up in the mortar, have suffered cracks, or are missing pieces, they need to be replaced. While Wichita stone masonry is made up of individual units, their combined strength is what creates a durable structure, and a weak link can cause serious structural stability issues. Cracks and missing pieces can also make a surface such as a patio unsafe to walk on because it presents a tripping hazard that could lead to a twisted ankle or worse injuries.
Frost Boil
When moisture seeps into the space behind bricks, it disrupts the backing, causing it to push on the bricks, which can make them bulge outward or cave inward. This typically happens as a result of the freeze-and-thaw cycle during the winter because the water in the soil or underneath a layer of brick freezes and expands, putting a lot of pressure on the masonry surface. Needless to say, the ingress of water is a big problem that calls for the work of a professional stone mason. The experts on our team will need to remove the affected bricks, repair the moisture damage underneath, and put in a replacement section.
Interior Moisture Damage
If your house features a unique type of brick and stone exterior and you start to notice signs of internal water damage, that's a big indication that something's not right with your exterior siding. There are other possible causes, too, of course, like a hidden plumbing leak or a leaking roof. But it's important to have your siding checked out to rule that out as a possibility. Siding that is letting in moisture can cause severe problems for your house, including wood rot and structural instability issues. It also allows for heat transfer, which changes the temperature in your house and forces your HVAC system to operate for longer. That uses more fuel which is reflected as higher energy charges on your monthly utility bill. Find out more about our Wichita house siding repair services to learn more about exterior walls.
Some of the indications of interior moisture damage you may notice are:
Water stains on walls and ceilings
Softened, crumbling drywall
Rotting wooden trim or hardwood flooring
Air drafts coming from light switches or electrical sockets
Patches of soggy carpet or mysterious puddles on the floor
Increased energy bills
Efflorescence or Stains
If you notice your brick wall or any other kind of brick structure has a strange white sheen or looks like it's covered in a fine powder, that's a sure sign you need to call a stone mason. Brick installations sometimes develop this issue, which is called efflorescence. It's caused by soluble salts that seep through porous brick material and stain the surface as a result of exposure to moisture from rain, condensation, and dew. Luckily this is a simple fix for a Wichita stone masonry expert. We can rinse it off with pressure washing services quickly and easily to restore the appearance of your property.
Spalling
The word spalling refers to chipping on the surface of a brick or concrete installation, but it particularly pertains to concrete. Spalling happens when concrete delaminates from the substrate, and it can occur for a number of reasons, but the most common reason is corrosion on embedded steel reinforcement canes or other steel components that are embedded in the concrete.
Count on Your Local Handyman for Expert Wichita Stone Masonry
Regardless of whether you are in Wichita, KS, or another nearby community, such as Newton, Garden Plain, or Augusta, you can get the same top-tier workmanship and look forward to an excellent customer experience with the team of professionals at Mr. Handyman of the Wichita Metro Area. Our handyman team of stone specialists will tell you the difference between stone veneers and the real deal! We offer nothing but real quality products that you won't find anywhere else. From unique outdoor fireplaces to other quality masonry services, you can count on our wide selection of services to suit your needs.
Contact us today by picking up the phone and calling us to schedule a convenient appointment time or to speak with our friendly customer service staff about what else we can do to enhance the livability, comfort, and appeal of your property with custom masonry.