Hanging Service and Other Jobs You Didn't Know Your Handyman Could Do in Wichita, KS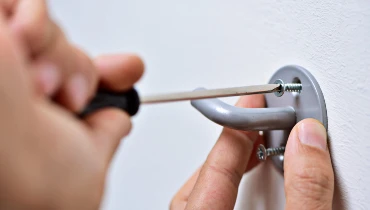 There's something you've been meaning to hang up on the wall, such as a new full-length mirror for your bedroom or a beautiful, framed painting to brighten up your living room—but you don't have the time, tools, or know-how to deal with picture hangers and hanging wire, so you just leaned it against a wall, and it's been there ever since. Or you bought a brand-new flat-screen television or a set of floating shelves—and you can't make heads or tails of the instructions to get it properly mounted on the wall. If these scenarios sound all too familiar, you need expert hanging service from a local handyman in Wichita, KS.
Some people have never considered hiring a handyman for hanging service because they didn't know that was something a handyman would or could do. From family photos to specialty medical equipment, our handyman experts have the skill to get just about anything safely and correctly hung on your wall or ceiling.
Regardless of what you need to put up in your house or commercial property, you can rely on your local Wichita handyman to get it done. The team of service professionals at Mr. Handyman of the Wichita Metro Area is proud to provide the best quality of workmanship and trustworthy customer service on every last job.
What Hanging Service Can Be Used For:
So, there's picture hanging . . . and wall clocks . . . and what else does hanging service apply to? Well, as it turns out, a lot! The qualified handyman professionals on our team will handle a wide range of hanging or wall mounting projects on both your outdoor and indoor surfaces. From gallery walls to brick walls, we have the expertise to deliver reliable services and get your item hung up properly.
Artwork and Framed Photos
There's a lot of room for interpretation when determining what belongs in the category of "artwork." Maybe you collect vintage albums and want to display them on the wall or love to create shadow boxes filled with mementos from your vacations. Maybe you love post-modern paintings and spend every weekend in galleries looking for the pieces that speak to you, or you can't imagine a better way to decorate your home than covering it in photos of your loved ones. Whatever it is that you want to put in the picture frames and display for all to see, our hanging service experts will make sure it's level and secure on the wall. All you have to do is tell us how to arrange them!
Mirrors
Mirrors are a great addition to a room to make it feel larger, and most people like to have them in key locations such as the bathroom, bedroom, and entryway to check that their look is on point before they leave the house. But mirror hanging can be a difficult task because the glass is heavy, awkward, and, of course, breakable—and nobody wants those seven years of bad luck hanging over their head. We will get your mirror up on the wall safely and securely, even extra-large or unusually-shaped ones. When you look into a mirror, it's helpful if you can actually see your reflection. That's why many people choose to add light fixtures above or around a mirror, especially in a bathroom or dressing area.
TV Wall Mounting
It's a big advantage to be able to hang your television on the wall—it saves so much space, you don't need an additional piece of furniture to set it on, the TV is easy to see, and it's not as noticeable when it's turned off. You can also get extendable brackets that pull out from the wall or allow you to swivel the TV in different directions depending on where you're watching from. But actually getting it up on the wall, especially by yourself, isn't always easy. We've all seen those videos of a shiny, huge flat screen television being dropped on the floor right out of the box. Our team has provided hanging service for many households in the Wichita area, and we will get your new acquisition up on the wall quickly and efficiently, so you don't miss the big game.
Bracketed or Floating Shelves
Most homeowners could use some extra storage space, and empty walls are just begging to be turned into useful places to store or display items. If you need utilitarian shelving to store stuff out of the way, bracketed shelves are a good choice. The brackets can be moved to different heights easily if you need to make more space or like to reconfigure. But if you want a more subtle look that fades into the background and lets the items you're displaying shine, floating shelves are the perfect solution. The part that's fastened to the wall is completely hidden, so the shelves look like they're floating and have a less obtrusive appearance. We will get either (or both!) of the types installed for you.
Curtains
Curtains are an excellent addition to any room because they serve as an attractive way to add your own personality to a room while at the same time giving you privacy when you need it. However, hanging drapes can be a big challenge. This is especially the case if you need to climb up a ladder. Many people aren't comfortable climbing ladders, and it makes good sense to be cautious—ladders are one of the top causes of injury in the United States. Don't take the risk while hanging curtains. Instead, trust our technicians to handle that task for you safely and effectively, so all you have to do is enjoy your new curtains or drapes.
Blinds and Shutters
Like curtains, blinds offer privacy and are essential for blocking out the heat during long summer days. They are usually made of horizontal slats, while shutters swing on hinges. They can also be very difficult to install correctly. Not only do you typically have to climb up a ladder, which may be unsafe, but different types of blinds or shutters require unique assembly methods that can be a bit of a pain to deal with if you don't have much experience with putting them together. Rely on our experts to get the job done with hanging services in Wichita. We can hang a wide range of blinds and shutters, including types such as:
Ceiling or Wall-Mounted Planters
If you have a green thumb and love being surrounded by beautiful living plants, you may be at risk of running out of available space on your floor and table surfaces. You could stop bringing new plants home—but why impose such a horrible restriction on yourself when there's tons of available space on your walls and ceilings? Hanging planter baskets and wall-mounted planters is the perfect solution to your space crunch, so you can keep right on collecting plants. Our hanging service experts will get all your planters put up for you, including specialty solutions like a vertical, indoor herb garden, or succulent wall.
Holiday Decorations
Decorating the exterior (or interior, for that matter) of your house for special holidays could be just the thing to get you in the spirit of celebration. But not everyone is ready and willing to clamber up a wobbly ladder to hang holiday lights, garlands, and other decorations. You don't have to forgo holiday decorations when expert hanging service is available from Mr. Handyman. Trust our team to get your string lights, garlands, and other decorative elements perfectly hung outside or inside your Wichita, KS, home, or business.
Blackboard or Whiteboard
Classrooms aren't the only place that could feature a blackboard or whiteboard (which are also called dry erase boards). They are the perfect addition to kitchens, playrooms, and home offices, not to mention cafés, boardrooms, and dozens of other possible commercial applications. Call us for hanging service to get any size of blackboard or whiteboard securely hung in your home or commercial business.
Smoke Alarms and Carbon Monoxide Detectors
Smoke detectors are an absolute necessity for Wichita homes. It may be a bit of a pain if it goes off every time you take something out of the oven, but it's well worth the hassle for the peace of mind that comes with knowing you'll be alerted in the event of a fire. Likewise, if you have appliances or systems such as HVAC that use natural gas, you need to have carbon monoxide detectors on every level of your house, especially near sleeping areas. Unlike smoke alarms, carbon monoxide detectors need to be installed down low, close to the floor, because carbon monoxide doesn't rise the way smoke does. We can install, test, and change batteries in your smoke and carbon monoxide detectors, even those that are on high ceilings or in difficult-to-reach areas.
Other Odd Jobs Our Handyman Team Can Complete for You
It may simply not have occurred to you before that you can get hanging service from your local handyman professionals. Here are a few additional services we could take care of while we're at it. In fact, we can save you time and money by efficiently crossing multiple tasks off your to-do list in a single appointment.
Ceiling Fan Installation
Ceiling fan installation comes with some big benefits that many people aren't aware of. Ceiling fans aren't for cooling in the same sense that a pedestal or desk fan is. Instead, they improve air circulation in a room, pushing down the warm air that rises to the ceiling and stirring up cold air that settles near the floor. It changes the temperature by keeping the air all mixed up, which means you can set your thermostat a few degrees warmer in the summer or cooler in the winter to increase your energy savings, and the room will still be at your preferred temperature. Learn more about the benefits of ceiling fan installation in Wichita.
Furniture Assembly
Ever brought home a brand-new piece of flat-pack furniture, certain that you'll have it put together in no time . . . only to discover that Allen keys are useless and the instructions appear to be written in ancient hieroglyphics? If the words "some assembly required" cause you to break into a cold sweat, don't panic. Our handyman team has plenty of experience assembling furniture and other items like grills and large sports equipment. We'll get it all put together correctly so you can enjoy your new items.
Pet Door Installation
If you have a dog with a small bladder or a cat that loathes the sight of a closed door, you probably haven't had a full night's sleep in years. You can get the rest you need and keep your pet happy with pet door installation service from your Wichita handyman. We can put in manual or automatic pet doors on the exterior of your home that will give your dog the freedom to go outside whenever they feel the need, and we can also install cat flaps in interior walls so the kitty can come and go as it pleases and you can keep the door shut for your privacy from other family members.
Your Local Handyman Provides Hanging Service and Other Reliable Services!
Residents of Wichita, KS, and nearby communities such as Andover, Newton, and Augusta don't have to look far for reliable, expert handyman services. The team of professionals at Mr. Handyman of the Wichita Metro Area is ready to enhance your home or business with services that will make it more comfortable, appealing, and livable.
Ready to make a service request? Pick up the phone and give us a call today to book a convenient appointment or to speak with our knowledgeable customer service staff and find out more about the home improvements your local handyman can provide.