Home & Office Improvement Services
At Mr. Handyman serving Windermere, W and S Orlando, we are proud to be your one-call solution for home improvement services. Backed by a nationally renowned brand with over 2 decades of industry-leading experience, our technicians deliver exceptional repair, installation, and maintenance services. We are committed to safety, cleanliness, and honesty. From transparent, upfront price estimates to cleaning the entire job site before we leave, you can expect a seamless customer experience.
Finding a reliable contractor can be nerve-wracking. No one wants to hire an inexperienced or unprepared amateur. With Mr. Handyman, you won't have to worry! Our thoroughly qualified technicians offer an average of 10 years of work experience. We show up to every site equipped with the resources, knowledge, and training necessary to deliver flawless results. We are also fully insured with general liability and workers' compensation.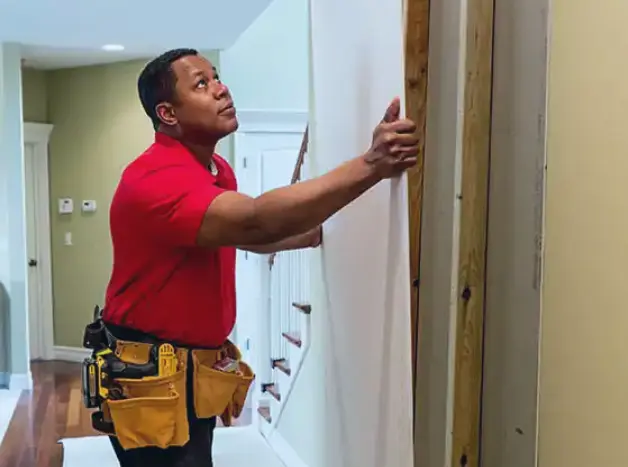 Why Choose Mr. Handyman?
Convenient one-call solution.

Safe, worry-free experience.

Fully insured with general liability and workers' compensation.

We'll clean up when we're done.

Our workmanship is guaranteed.
Our Mission
Mr. Handyman is your one-stop shop for a wide range of home maintenance and repair solutions. Mr. Handyman's service technicians are highly skilled craftsmen, so you know they will get the job done right the first time.
Professional Handyman Services For Every Task
Comprehensive Handyman Services from Seasoned Professionals
Whether you are looking for a specialist to patch your drywall, clean your vents, or install a new appliance, our highly skilled craftsmen will get the job done right the first time. From repairing fixtures to assembling new furniture, we can help around your home, office, or commercial facility in countless ways.
Some popular handyman services we offer include:
Carpentry – We can repair furniture, add weatherstripping to wooden window frames, reface cabinets, install crown molding, and build custom mantels.
Painting– A new coat of paint or a freshly stained deck can transform your property. We have the tools, experience, and skills to complete painting projects quickly and efficiently.
Remodeling – Are you looking to renovate your kitchen, bathroom, or basement? If you need a new faucet, bathtub coating, or kitchen tiling, we are ready to help. Due to local licensing requirements, we can't perform certain plumbing-related services.
We back up our workmanship with the Neighborly Done Right Promise, which provides the reassurance you deserve. If any problems arise within 6 months with our service visit, contact us right away, and we'll rectify the issue!
To learn more about our many services, call us or contact us online.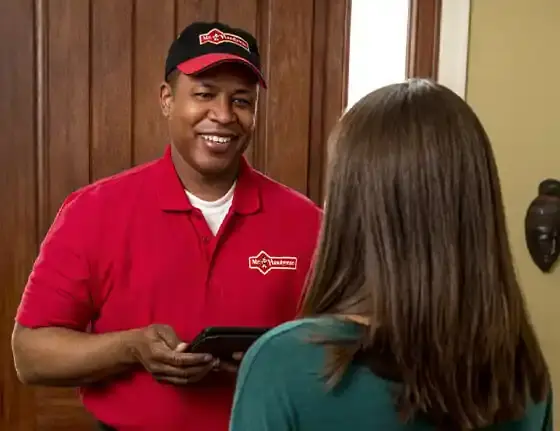 Mr. Handyman serving Windermere, W and S Orlando
Choose the right handyman services team in your area. When it comes to selecting the right team for your home improvement needs, Mr. Handyman is the right choice.
Areas We Serve:
Altamonte Springs, Clarcona, Gotha, Killarney, Oakland, Ocoee, Orlando, Windermere, Winter Garden
Best Handyman Services Near Orlando, FL
Home repair and maintenance is a crucial part of home ownership, but finding the time to take care of it on your own can feel like a gigantic project all on its own.
Thankfully Mr. Handyman® serving Windermere, W, and S Orlando puts you in touch with top-notch service and repair experts. Our handymen can help you with any significant upkeep and make repairs, take care of maintenance, and help you improve the quality of your home. Our complete list of services offers peace of mind, knowing your home is always in good shape. Plus, we deliver exceptional service backed by the Neighborly Done Right Promise™, so you can ensure a job well done the first time.
Handyman Repair Services
With Mr. Handyman, you'll find excellent repair professionals who can fix all kinds of things around your home. Whether you need help restoring doors, replacing grout, performing general carpentry, and a whole lot beyond that, contact us, and we'll get help to you quickly, providing the very best in home repair services.
Handyman Maintenance Services
Mr. Handyman aims to provide a complete set of home maintenance services that can address your home's needs. These services include dryer vent cleaning, power washing, and caulking. Every service provides crucial elements to home care and helps you keep your home prettier, more comfortable, and more durable.
Mr. Handyman Serving Windermere, W, and S Orlando FAQs
If you are considering handyman services in the greater Orlando area, you might have questions about how it works. Below are some of the most frequently asked questions and their complete answers.
What is a handyman?
A handyman is someone you rely on to help care for your home. They complete many tasks related to home care and improvement. They can fix all kinds of things, perform home maintenance services, or even build stuff you need. They are all-around service providers.
What does a handyman do?
A handyman helps you with repairs, maintenance, and home improvement opportunities. They might clean out your gutters, replace a door, fix furniture, or even power wash a deck for you. The full range of tasks they can complete is vast, but all those tasks aim to improve the general quality of your home.
Does a handyman in Orlando, FL, need a license?
There is no such thing as a handyman license in Florida. No license is necessary as long as the work provided does not fall under regulated tasks within the state. There is also no formal registration process. However, there are regulated tasks that would fall under a general contractor's license. Those tasks are all associated with construction and are regulated by the Florida Department of Business & Professional Regulation. Any work on load-bearing structures, new construction, plumbing, or air conditioning would require this license.