Professional Repair, Maintenance and Improvement Services
Mr. Handyman of Castle Rock, Parker, Monument is your local destination for home and business improvement assistance. Our esteemed technicians have the skills and experience to perform exceptional repair, installation, and maintenance services for homeowners and business owners who need the help of a qualified handyman in Monument, CO. We belong to a nationally trusted and esteemed franchise family with over two decades of industry-best experience! Let us know what you need help repairing or rebuilding, and we'll get to work right away.
Our versatile technicians can tackle a wide range of home and office projects. We will assess your request and offer a competitive, upfront price estimate free of hidden fees. When we finish, we'll clean up the entire job site. You won't need to lift a finger. We also offer a Neighborly Done Right Promise because it's important to us to provide our clients with the peace of mind they deserve. Just contact us within six months of your service visit, and we'll return to fix any issue!
Comprehensive Monument Handyman Services from Seasoned Professionals
Finding a dependable handyman/contractor can be stressful and challenging. Many inexperienced amateurs pretend to have the professional skills, resources, and experience they lack. That's why it's wise to trust the renowned service team at Mr. Handyman in Monument, CO. Our technicians are qualified, vetted, and certified in countless areas. On average, our team offers ten years of relevant work experience. We are also insured with workers' compensation and general liability.
You can count on our technicians to arrive equipped with the materials and tools necessary to get the job done correctly and efficiently.
Our popular menu of handyman services includes:
Drywall repair
Vent cleaning
Appliance installations
Furniture assembly or repair
Window weather stripping
Cabinet refacing
Crown molding and custom mantel installations
Interior and exterior painting
Reach out today if you're ready to upgrade or renovate your kitchen, bathroom, or basement. We can work on virtually any residential or commercial property.
Residential Handyman in Monument, CO
There are many advantages to being a homeowner, but there are a few drawbacks as well—and chief among them is the struggle to keep up with a long to-do list of home improvement, maintenance, and repair tasks. Even people who are experienced with DIY improvements can find it a challenge to take care of every last task because they may not have the right tools and equipment or the willingness to sacrifice all their spare time in the pursuit of a perfectly maintained home and property.
When your to-do list seems to be getting longer rather than shorter, no matter how much you try, it's time to call your professional, licensed handyman in Monument, CO. From patching that hole in the drywall where someone got over-enthusiastic with the amateur karate moves to nailing down loose deck boards so grandma doesn't take a tumble at the family barbecue, we can take care of it so you have the peace of mind that comes with knowing your home is in safe, comfortable condition and is able to operate efficiently. But our team is also capable of handling larger projects as well, such as kitchen remodeling, exterior door installation, and much more. Whatever your home needs to be in excellent shape and meet your household's needs, you can count on your trustworthy residential handyman in Monument, CO.
Commercial Monument Handyman Services
If you're a business owner, you don't have a lot of free time available. Every day, there are numerous questions, tasks, and decisions that can only be solved by you—commercial improvement, repair, and maintenance shouldn't be among them. The team at Mr. Handyman of Castle Rock, Parker, Monument can take those burdens off your shoulders with dependable, capable commercial handyman services.
Local business owners sometimes tell us that they're frustrated with service providers who don't answer their phones, don't show up on time for scheduled appointments (or don't show up at all). Plus, some don't seem to be capable of getting the work done correctly. You'll never encounter those problems when you contact us for commercial service from a handyman in Monument, CO. As a locally owned and operated business ourselves, we understand what goes into superior customer service and expert workmanship. We always strive to deliver the very best to our clients in Monument and nearby areas such as Parker and Elizabeth. Whether you operate a corporate business, a retail shop, or a hotel, keeping your workspace safe and in shape should be a high priority. Need to book regular facility maintenance with a local handyman? You can count on us to get the job done right and on time! Even if you're just looking for a trustworthy service professional to keep on speed dial in case a problem pops up, we're there for you.
Want to learn more about our popular Monument handyman services? Contact us today and speak to our customer care team!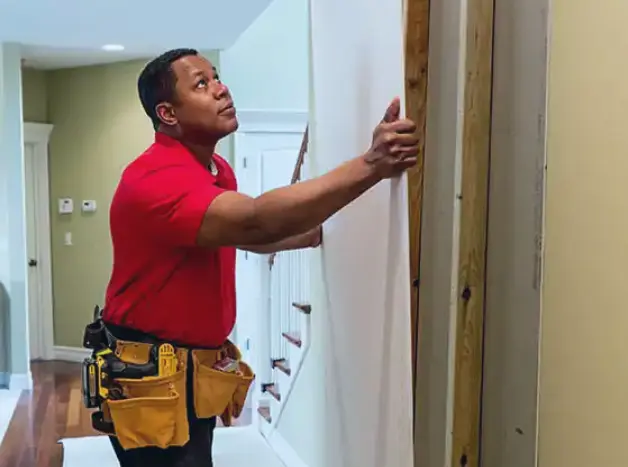 Why Choose Mr. Handyman?
Convenient one-call solution.

Safe, worry-free experience.

Fully insured with general liability and workers' compensation.

We'll clean up when we're done.

Our workmanship is guaranteed.
Our Mission
Mr. Handyman is your one-stop shop for a wide range of home maintenance and repair solutions. Mr. Handyman's service technicians are highly skilled craftsmen, so you know they will get the job done right the first time.
Partnerships & Achievements
Need a Trusted Service Professional? Call the Experts at Mr. Handyman in Monument, CO!
When a local resident is asking for advice on finding the right Monument handyman, friends, family members, and neighbors often recommend our capable, highly qualified professionals by name. Here are some of the biggest reasons why Mr. Handyman is the right choice for outstanding Monument handyman services.
Save Time and Money
If you have a long list of projects and tasks that need to be taken care of around your home, you may be considering hiring a carpenter to do this, a painter to do that, and an installation professional to take care of the other thing. But the truth is, you can save time and money by leaving all of those things to a qualified handyman in Monument, CO. Our technicians are skilled with a wide variety of tasks, which means we can save you the hassle and expense of dealing with multiple specialized contractors by getting more than one smaller task completed in a single appointment. We can also handle larger projects such as remodeling smoothly because there's no need to hire individual contractors for each part of the remodel when our team coordinates to get everything done to the highest industry standards.
Excellent Workmanship Guaranteed
Whether you own a local business or your own home, your property is right up there among your most precious possessions—and when it requires Monument handyman services, you need to know that your property is in capable hands. Our handyman professionals have years, and even decades, of experience in repair trades, which includes specializations in trades like remodeling, carpentry, tile installation, and more.
We don't just apply a "band-aid solution" that will frustrate you by letting the problem reoccur in a few weeks or months and require yet another appointment with a handyman in Monument, CO. Our reliable handyman professionals will take the time to thoroughly evaluate the work you need to be done and come up with a dependable repair strategy to deliver a long-lasting solution. When you get work done on your property, you want reassurance that it will be handled correctly the first time. That's why we stand behind our skilled Monument handyman team with the Done Right Promise, a guarantee on our workmanship. If it's not done right, we'll make it right!
Customer Service That Goes the Extra Mile
At Mr. Handyman of Castle Rock, Parker, Monument, our handyman service is only part of the package. Our team understands the importance of top-notch customer service, and that's why we always go the extra mile to ensure complete customer satisfaction. We will arrive on time for your scheduled service appointment, in uniform, and driving a company vehicle so you know who you're letting on to your property. Please check our online ratings if you need more convincing! We take the time to thoroughly investigate your project, answer any questions you may have, and explain our recommendations clearly so you can make an informed decision about the care of your property.
Trustworthy, Courteous Professionals
It can sometimes be stressful when you need to hire a professional to do work on your home or commercial business. You need to know that they are capable of getting the work done correctly and efficiently without cutting corners, but you also want to know that you and your property will be in safe hands. Our expert team strives to provide a safe, worry-free experience by displaying courteous, professional behavior at all times. You can rely on us to treat your property with the same high level of respect and care we would offer our own friends and family members. All of our professional technicians are screened by an employee background check program, but more importantly, they have proven themselves to be trustworthy members of our work family.
Frequently Asked Questions for a Handyman in Monument, CO
Is Your Team Licensed and Insured?
Yes! When you call our team of Monument handyman professionals, you can have the peace of mind that comes with knowing the person who shows up at your door will be properly insured and have all applicable state-level licenses. That means our team has the ongoing training and experience necessary to work safely, adhere to municipal regulations and building codes, and follow up-to-date best practices for repair, remodeling and more. It also means that, in the unlikely event that something is damaged or someone is injured, you won't be responsible for covering costs.
Does Your Handyman Have to Enter My Home?
Whether or not it's necessary for a handyman to go inside your house really depends on the type of home repair, maintenance or improvement project your home needs from a handyman in Monument, CO. If our technicians are taking care of repairs or other services on the exterior of your house or another part of your property, they can absolutely avoid entering your home to ensure you feel comfortable with their presence. If the work necessitates accessing the inside of your house, for example, to carry out a bathroom remodel or drywall repair, of course, your Monument handyman will need to come inside. That being said, you can rest assured that our service technicians will behave professionally at all times and display a friendly demeanor to put your mind at ease.
How Much Does It Cost to Hire a Handyman in Monument, CO?
Because there are so many potential Monument handyman services we can provide, and we don't know the specific circumstances at your residential or commercial property, we can't give you an accurate cost range without learning more information first. We'll provide a quote once we've had the opportunity to assess the work in person and take note of any complicated or unusual circumstances. You can trust our team to offer a competitive price for handyman services and make good on our promises.
Expert Handyman Services Near Me
Choose the right handyman service team in your area. If you need Monument handyman services for your residential or commercial property, the experienced team at Mr. Handyman of Castle Rock, Parker, Monument is here to help. But we don't just limit our services to Monument—property owners in nearby areas can expect the same outstanding workmanship and genuine customer service from our team. When it comes to selecting the best team for your home improvement needs, Mr. Handyman is the right choice.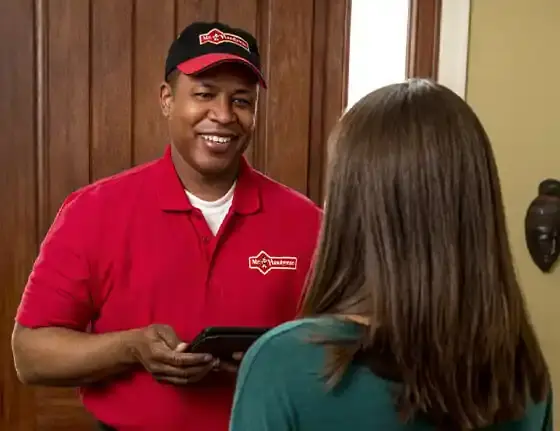 Mr. Handyman of Castle Rock, Parker, Monument
Choose the right handyman services team in your area. When it comes to selecting the right team for your home improvement needs, Mr. Handyman is the right choice.
Areas We Serve:
Castle Pines, Castle Rock, Deckers, Elizabeth, Franktown, Kiowa, Larkspur, Monument, Palmer Lake, Parker, Perry Park, Ponderosa Park, Sedalia and West Creek